Jarvis Green Foundation to Host 3rd Annual Jarvis Green Foundation Wine Tasting Gala at the Rhode Island Convention Center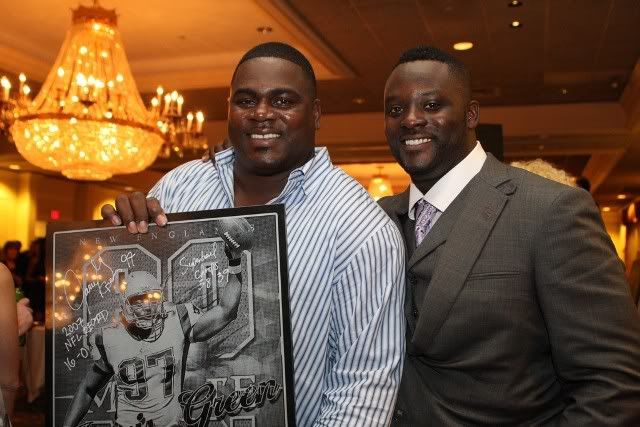 Proceeds will benefit single mothers in disadvantaged, low income areas
On November 6, 2009 at 7pm,
Jarvis Green
of the New England Patriots will host the 3rd annual
Jarvis Green Foundation Wine Tasting Gala
at the Rhode Island Convention Center. The foundation promises the evening to be an unforgettable event with "great people, great food and great entertainment." In photo is Pepper Johnson and Jarvis Green at the 2008 gala in Seekonk, MA.
Jarvis Green has made it his goal to help families in underserved areas, some of whom are still suffering the effects of Hurricane Katrina, and will be joined by some of his Patriots teammates and other local celebrities in hosting this fundraising event. Tickets can be purchased through
www.jarvisgreen.com
. For further information about the Foundation, please contact Eric Eisenberg at (636)294-5353. (See photos from last year's event
HERE
.)
ATLANTA: "Cocktails & Couture Fundraiser"
A Meet & Greet with the Ladies of BET Reality Shows
Chit Chat Communications & Caribe Media Network Presents Cocktails & Couture Fundraiser with the ladies of BET Reality

Friday, October 23, 2009, 6pm-9pm at FUSE Lounge (formerly M Bar), 257 Peters Street, (Castleberry Hill) downtown, Atlanta. $20 donation.
Via Press Release: "Cocktails & Couture" Fundraiser is a networking event and high-end fashion show with "Pieces of Adrene" Boutique. The event will have a Caribbean flair by Caribe Media Network with specialty sangrias made by the owner of FUSE Lounge and a variety of food options. A meet & greet with the ladies of BET reality: Antonia "Toya" Carter of "Tiny & Toya" and Neffe of "The Frankie & Neffe Show" with a surprise BET celebrity guest.
Networking is a must all while giving to charity. "This event is to raise funds for Sisters of Today & Tomorrow (SOT) nonprofit organization's programs that take place throughout the year," states Carla Morrison, Founder of SOT. "We are also introducing our celebrity spokesperson and our collaborative efforts that will be taking place. Neffe will be autographing and selling copies of her book ($12) 'My Happiness Is My Sanity,' with a portion of the proceeds to benefit Sisters of Today & Tomorrow."
For more information, log onto:
http://www.sistersoftodayandtomorrow.org/
or call (404) 815-5667. For dinner reservations contact FUSE Lounge at (404) 228-7977 or
http://www.fusedowntown.com/
.
NEW YORK: NYC Mayor Michael R. Bloomberg To Award Entertainers 4 Education Alliance with Proclamation Declaring October 27, 2009 "I Will Graduate Day" for the City of New York
Via Press Release: New York Mayor Michael R. Bloomberg will declare October 27th as the "first ever" I WILL GRADUATE DAY and recognize the efforts of Entertainers 4 Education Alliance, the entertainment industry's charitable organization. Entertainment 4 Education Alliance (E4EA) has developed the "I WILL GRADUATE CAMPAIGN," as an extension of their organization's mission which utilizes the influence of celebrities, musicians, sports figures, and high profile individuals to promote positive messages to young people about the importance of education, personal advancement, and social commitment. The proclamation will be presented to Entertainers 4 Education Alliance at their 4th Annual Stay In School Pep Rally event on October 27th from 2pm-6pm at the Tribeca Performing Arts Center, 199 Chamber Street, NYC.
Five years ago, celebrity publicist Tonya Lewis and former music executive J.P. Taylor, learned about the enormous drop-out rate in America's schools while doing an event for a celebrity client. Disturbed by the statistics, they created E4EA to develop campaigns, concerts, rallies, and events, using their relationships with celebrities to emphasize the importance of education.
The "I WILL GRADUATE CAMPAIGN" is a drop-out prevention movement and call to action for students, parents, and the entire community to communicate the importance of education, increase educational achievement, and encourage high school seniors to pursue higher education. A PSA of the celebrities supporting the I WILL GRADUATE initiative can be viewed at
http://www.e4ea.org/
and
http://www.iwillgraduate.org/
.
Performances and Appearances by: Michael R. Bloomberg (NYC Mayor); Russell Simmons (Entrepreneur, Philanthropist); John Starks (NBA LEGEND); Al Harrington (NY Knicks); Nate Robinson (NY Knicks); Calvin Pace (NY Jets); Juelz Santana (Def Jam recording artist); Ryan Leslie (Atlantic/Next Selection recording artist) and Sway Calloway (TV & Radio Personality)
In related news, Mayor Bloomberg was among the honorees at the 2009 Carnegie Medal of Philanthropy ceremony. Given every two years, the Carnegie Medal of Philanthropy celebrates social investment and catalytic philanthropy. Much like the Nobel Prize in honoring individual contributions to society, the Carnegie Medal of Philanthropy recognizes individuals who live in the same spirit as Andrew Carnegie: "private wealth for the public good." The other honorees were The Koç family of Turkey, Gordon & Betty Moore, and Sanford & Joan Weill.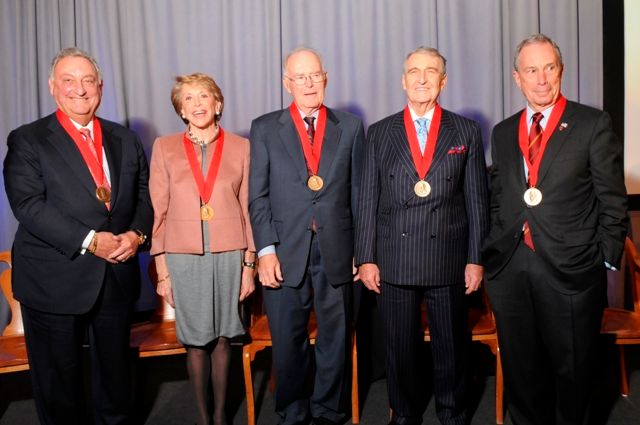 The 2009 Carnegie Medal of Philanthropy honorees
WASHINGTON, DC: International Non-profit Hosts 2nd Annual Night of Celebration
Ibriori! A Celebration of Rwandan Progress
Friday Nov. 6, 2009 – 7:00 – 10:00 pm
Josephine Butler Parks Center
2437 15th Street NW
Attendees have a chance to win a trip to Rwanda
To commemorate Rwanda's progress over the past 15 years, Indego Africa will host the second annual Ibriori! fundraiser. The event will feature traditional Rwandan cuisine and lively African dancing by DC-based Amariza N'Amasonga dance troupe. Matt Mitro, founder of Indego Africa, will speak about the vital role women are playing in Rwanda's post-Genocidal development and the impact social enterprise is having on their lives and their community.
At the event, Indego Africa will raffle a trip to Rwanda including airfare and lodging, equal to $3,000. The winner will be able to see first-hand the impact of the Rwandan women on the economy and the country's growth since the 1994 Genocide. Raffle tickets are $25 each and can be purchased online at
www.indegoafrica.org/fundraisers
or on the night of the drawing.
"This is one of the most festive events in Washington, DC," said Mitro. "We have a unique opportunity to celebrate Rwandan livelihood and support vital job skill training in a time when the global economy needs it the most."
The event is open to the public, and tickets are available online for $45 at
www.indegoafrica.org/fundraisers
. A combination package of an event and raffle ticket is available at a discounted price of $65. Indego Africa's signature products, all made by cooperative groups of Rwandan women, will also be available for purchase. All proceeds will benefit Indego Africa, a fair trade organization that gives 100% of fundraising efforts to Rwandan women who are rebuilding their communities and economy through local crafts. (See previous post with photos
HERE
.)
SAN FRANCISCO: THE CALIFORNIA WELLNESS FOUNDATION ANNOUNCES 2009 CALIFORNIA PEACE PRIZE HONOREES
Unsung Heroes To Receive $25,000 Cash Awards for Violence Prevention Work
On October 28, The California Wellness Foundation (TCWF) will honor three community leaders with its 17th annual California Peace Prize at a ceremony in San Francisco. Among the honorees are:
Brian King
: As co-founder and chief executive of
Fresno Street Saints
, Brian King has come a long way from his days as a gang member and drug dealer in Chicago. Fresno Street Saints, a faith-based organization that seeks to restore southwest Fresno as a safe and healthy community, provides services and support to at-risk youth and their families.
The organization's services include gang prevention and intervention programs that offer educational enrichment, youth employment training, grief counseling and family leadership development. "What we're doing is taking back these streets and directing resources right to the people, especially to the youth," said King. "The community leaders and resources must be as visible and as accessible as the gangs are, or the gangs will continue to win."
Olis Simmons
: Olis Simmons has devoted her career to developing systems and programs that foster community wellness. Simmons helped found
Youth UpRising (YU)
and serves as its executive director. YU is a youth leadership development center that serves young people (ages 13 to 24) from Alameda County's lowest-income communities.
This public-private partnership offers services in health and wellness, anchored by a school-linked health clinic and integrated mental health services; art and expression, featuring dance, music and film production; and career, pipeline preparation and placement. "The best prevention is investing in young people, in their education and sense of possibility," said Simmons. "Be expansive in your notion of prevention. It's not simply preventing a physical disease; it's preventing the loss of hope."
The California Wellness Foundation is a private independent, private foundation, created in 1992, with a mission to improve the health of the people of California by making grants for health promotion, wellness education and disease prevention. Visit TCWF's website at
www.CalWellness.org
.
Source: Lagrant Communications
DALLAS/FT. WORTH, TEXAS
Nonprofit, Faith-Based and For-Profit Organizations Ban Together to Make A Difference
Several organizations are joining forces to support Keystone Community Outreach Church by hosting a community fair for over 700 residents from 1-5 p.m. on Saturday, October 24, 2009, in the Cavile Housing Development located on 5020 East Rosedale Fort Worth, TX. This Saturday is nationally recognized as Make a Difference Day.
Local nonprofit organizations will set-up booths to raise community awareness about their causes, conduct workshops on health and financial literacy, and provide family-centered entertainment such as a three-on-three basketball tournament and a talent show for residents.
"The goal of the event is to connect this community with resources in their area while also providing hope and encouragement for the residents in the Cavile Housing Development," said
Froswa Booker-Drew
, Director of the Texas Office of Partners of Sacred Places. "We are so excited to partner with wonderful nonprofit and for-profit organizations to demonstrate our unified commitment to bettering this community. This is the perfect example of neighbors helping neighbors."
In the spirit of
Make a Difference Day
, a national day of neighbors helping neighbors, volunteers are asked to sign-up to assist with event set-up, running the basketball tournament, and directing community residents to workshops. According to the Make a Difference Day website, in 2008, more than three million American citizens participated throughout the country. The day of service is always held the fourth Saturday in October. For more information about Make a Difference Day, visit
http://www.usaweekend.com/diffday/aboutmadd.html
.
GROOMING MEN OF THE FUTURE HOPES TO RECRUIT MENTORS FOR WAITING AFRICAN-AMERICAN BOYS
African-American barbershops can serve as equal parts debate club, school, man cave, sports bar and therapists' couch for men who enjoy the lively multi-topic conversations each weekend. On Saturday, October 31, members of Alpha Phi Alpha Fraternity, Inc. and Big Brothers Big Sisters hope to interject the need for African-American male mentors into the morning conversations at barbershops throughout North Texas. Both Alpha Phi Alpha members and Big Brothers Big Sisters representatives will spend their mornings at participating shops sharing the tremendous need for mentors with customers.
"While many of our members are mentors in the Big Brothers Big Sisters program, the need for African-American mentors greatly exceeds what our local chapters can provide," said Alpha Phi Alpha Xi Tau Lambda President Lewis Brewer. "Through the Grooming Men of the Future barbershop event, we hope to recruit mentors that day and also encourage folks to get involved and ensure that these boys are matched with positive role models."
Recognizing that traditional mentor recruitment efforts were attracting a very small number of African-American males, Alpha Phi Alpha Fraternity, Inc. worked with Big Brothers Big Sisters to develop a barbershop mentor recruitment event five years ago. The 2009 event hopes to recruit at least 40 mentors. Currently, more than 1,500 African-American boys are waiting for a mentor in North Texas.
Participating barbershops in the
Dallas/Forth Worth Area-DALLAS
: L.A. Elite Cutz, 19009 Preston Road – Suite 117; Legends Ditty Slim Barber Shop,13331 Preston Road.
FORT WORTH
: Chop Shop Barbershop,6700 Brentwood Stair Road.
PLANO
: Tye's Barber & Beauty Salon, 910 W Parker Road.
LEWISVILLE
: Ray's Barber & Beauty Salon,1565 W Main Street – Suite 215 and Natural Edges, 937 E Southwest Pkwy. – Suite 106**Former Little Brother Michael Johnson cuts hair at this shop.
ARLINGTON
: Platinum Cuts Barbershop, 800 SW Green Oaks Blvd and Kut it Up Barbershop & Beauty Salon, 2290 SE Green Oaks Blvd. – Suite 110.
For more information, contact 888.887.BIGS or
http://www.bbbstx.org/
.