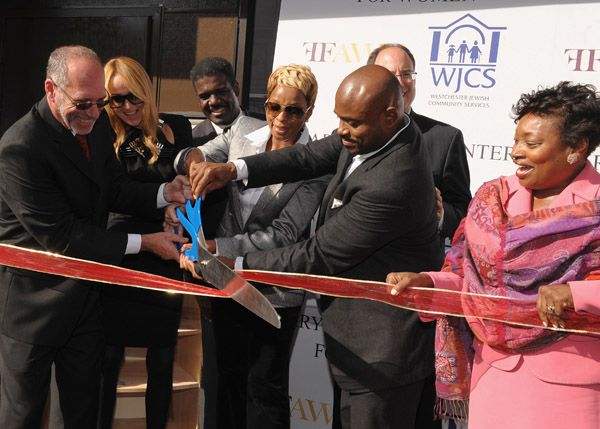 Grammy award winning artist Mary J. Blige, your #1 pick for the top black celebrity philanthropist of 2008, cuts the ribbon to the Mary J. Blige Center for Women in Yonkers, NY on October 22, 2009
Who's your favorite celebrity philanthropist of 2009? Visit
HERE
to vote now! This year, we witnessed the historic inauguration of our nation's first African American president - a president who is a champion for community service. And celebrities stepped up to the challenge this year! Read about the 2009 finalists below:
In September, Mary J. Blige
partnered with Gucci
to create a charity watch to benefit her foundation, FFAWN, and last month, Mary tweeted that she opened the first Mary J. Blige Center for Women in her hometown of Yonkers, New York. Other celebrities whose charitable work benefited women and girls include actress Gabrielle Union, and her work in the fight against breast cancer in the African American community by serving as an ambassador for the Susan G. Komen for the Cure's
Circle of Promise
, and Rihanna, who recently broke her silence on the assault she suffered at the hands of Chris Brown. She is honored this month by
Glamour magazine
as a Woman of the Year for her philanthropy, which includes her work in supporting bone marrow drives and bringing awareness to domestic violence. She shares, "Domestic violence is a big secret. I want to give as much insight as I can to young women…to help speak for them."
Moving on to hip hop, some of your favorite artists not only dominated the charts, but held elaborate concerts and galas, all for charity. Jay-Z performed a sold out charity concert,
'Answer the Call'
on September 11 at Madison Square Garden, benefiting the New York Police and Fire Widows and Children's Benefit Fund. He shared,"This is my chance to help out and do something."
Kanye West
supported education by hosting his foundation's 2nd annual stay in school concert and fundraiser in his hometown of Chicago, performing for hundreds of students with good attendance.
Big Boi
of the hip hop duo Outkast traveled to his hometown this year to encourage youth to do well, and Ludacris held his foundation's 6th annual benefit dinner, and
gave away automobiles
to needy Atlanta families.
R&B artists Usher, John Legend, Ruben Studdard, Alicia Keys, Ne-yo and Wyclef Jean all championed causes important to them. Usher
traveled to Capitol Hill
to bring awareness to volunteerism and donated $1M of his own funds to launch an
international youth service movement
. John Legend was honored by Africare this month with a humanitarian award for his work with combating the spread of malaria in Africa,
Ruben Studdard
used his gift of song to record a song for a sickle cell campaign, Alicia Keys continues her efforts to raise funds for HIV/AIDS prevention and treatment in Africa, Ne-yo and his Compound Foundation continued their work with children in foster care, and Wyclef Jean recently partnered with the company Timberland to help raise environmental awareness in Haiti.
Making the finalist list for the first time are radio personalities Steve Harvey and Tom Joyner, both of whom have their own foundations. Steve Harvey held a mentoring weekend for young boys during Father's Day weekend and hosted his annual Disney Dreamers Academy for promising young leaders of color (information on the 2010 Disney Dreamers Academy weekend is
HERE
). Tom Joyner continued his fundraising for HBCUs by unveiling a new partnership with Ford Motor company to raise funds and launching an initiative to
support HIV/AIDS education
for HBCUs.
Also making the finalist list for the first time are actors/producers Tyler Perry and Terri J. Vaughn. Perry donated 100k this year
to support homeless youth
in Atlanta, and announced plans to
create a foundation
to benefit youth. Vaughn supports young girls in her hometown of San Francisco through her Take Wings foundation, and has lent her time to other charitable initiatives as well, such as
Wonderland Gardens
in Georgia.
Lastly, NBA star Dwyane Wade and his foundation Wade's World Foundation, partnered with Alonzo Mourning on his annual
Zo's Summer Groove
to raise funds for Miami area youth.
So there you have it! The finalists for the top black celebrity philanthropists of 2009. It's now up to you - who is your favorite celebrity philanthropist? Visit
HERE
to vote!
Voting will end on November 30th.
Beginning in December I'll announce your top picks as well as the winner of the top celebrity philanthropist website award. The Ludacris Foundation took last year's honors and I have a team of awesome judges who will decide the winner. Make your vote today!!