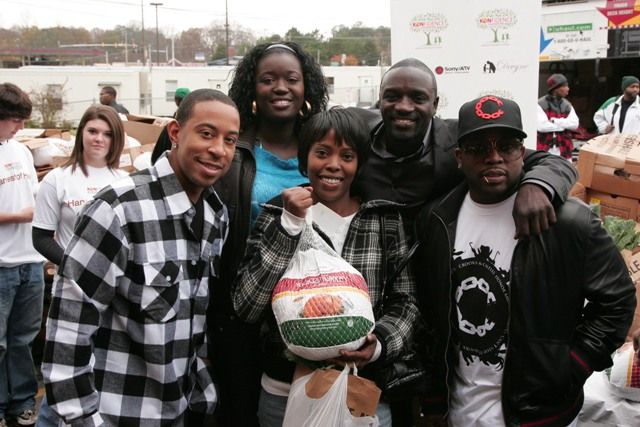 Konfidence Foundation's Harvest of Heart and The Ludacris Foundation's LudaCares Thanksgiving Joined Forces To Distribute 2,000 Holiday Turkeys To Metro Atlanta Families In Need
Via Press Release: Atlanta recordings stars Akon and Ludacris united their charitable organizations' annual Thanksgiving community programs and called upon friends and colleagues to extend a helping hand to those that are less fortunate this holiday season.
The Konfidence Foundation's 2nd Annual Turkey Giveaway program and The Ludacris Foundation's LudaCares Thanksgiving program teamed up to give back by donating 2,000 holiday turkeys to help metro Atlanta flood survivors and low-income families in need. Each family received a fresh holiday turkey, along with two side items - sweet potatoes and collard greens.
This private charity event was held at South Cobb High School and the recipient families were pre-selected by partnering 20 community-based organizations including: Cobb Schools Foundation, United Way, Cobb Disaster Recovery, and Christian Aid Mission Partnership (C.A.M.P.), among others.
Ludacris, Ms. Kine Thiam (Akon's mother and President of the Konfidence Foundation), Akon, Big Boi and Bu Thiam (Akon's brother and VP of Def Jam Records)
Contributions and support on behalf of the Konfidence Foundation came from Akon's longtime friend and business partner Darrick "DeVyne" Stephens on behalf of his youth focused charity DeVyne Intervention; Akon's brother Bu Thiam, Def Jam VP and founder of new record label BuVision; Martin Bandier, Chairman & CEO of SONY/ATV Music Publishing; Antwan "Big Boi" Patton on behalf of his charity Big Kidz Foundation, Publix, and Sam's Club. The Ludacris Foundation received help from sponsors including Straits Restaurant, and celebrity Chef Ashley Clay of The Elegant Experience who prepared 40 cooked meals for Cobb County homeless and senior citizens. In addition, the Konfidence Foundation donated 100 turkeys and sides to Hosea Feed The Hungry & Homeless for their 40th Annual Thanksgiving dinner at Turner Field.
Source: Susan Blond, Inc.
Photo credit: Walter Poole/Konfidence.org