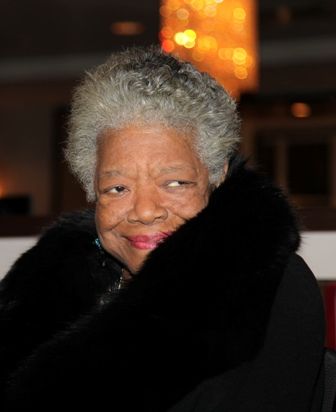 Saks Fifth Avenue and the Maya Angelou Center for Health Equity at Wake Forest University Medical School, Present Cocktails & Conversations with Dr. Maya Angelou
Via Press Release: On Wednesday, November 4, 2009, the elegant café at tony Saks Fifth Avenue in New York City was not filled with weary shoppers but an elegant crowd of the Black elite to hear the legendary Dr. Maya Angelou speak and a most distinguished panel of leading educators, doctors and activists for change on a subject dear to her heart, the growing disparity in health care for minorities.
Dr. Angelou is one of the most renowned and influential voices of our time. Hailed as a global renaissance woman, Dr. Angelou is a celebrated poet, memoirist, novelist, educator, dramatist, producer, actress, historian, filmmaker, and civil rights activist. So the opportunity to sit in conversation with this woman of extraordinary talents made this one very hot ticket.
Following cocktails and hors d'oeuvres, journalist, writer and actress Rolonda Watts, the evening's emcee, welcomed guests to the conversation with her "Auntie Maya." Rolonda joked that, "I almost didn't get here as I had to walk through Saks' shoe department which is eeee-normous!" She's not kidding either, the Shoe Department at Saks is so large it has its own zip code!
The topic for the evening's discussion was "What does health care equity mean to you and how do you plan to change, agent or promote health equity?" In addition to Dr. Angelou, other panelists included
Dr. Thomas DuBose
, Chair for Internal Medicine, Wake Forest University Baptist Medical Center;
Michele Ebanks
, President, Essence Magazine;
Dr. Angela Diaz
, Vice Chair of Pediatrics & Director, Adolescent Health Center Mount Sinai; and
Marc Morial
, President/CEO, National Urban League. In a brief musical interlude, internationally famed Irish singer Red Hurley raised the roof with a powerful rendition of "Peace in the Valley."
The Maya Angelou Center for Health Equity at Wake Forest University School of Medicine is addressing one of the most compelling demographic trends in modern American history—the increasing diversity of the U.S. population. By 2050, the country will be split almost evenly between non-Hispanic Whites and all other minority groups.
Dr. Velma Watts and Rolond Watts with daughter Rolonda Watts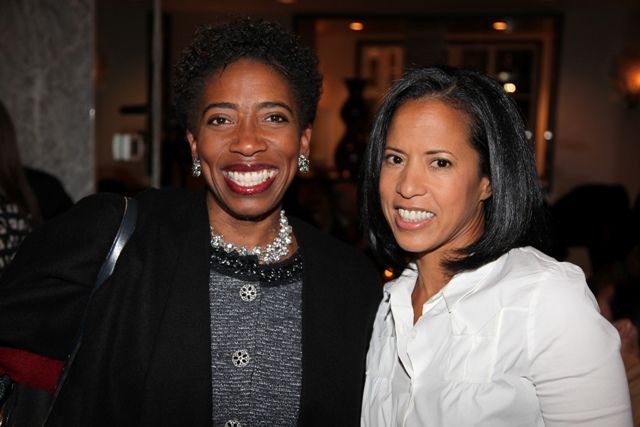 Carla Harris of Morgan Stanley, and Michelle Ebanks, President of Essence Magazine
Initially focused on African Americans, Hispanics/Latinos, and American Indians, the expertise developed at the Angelou Center will position it as a key national resource to reduce the gap in health disparities for an increasingly diverse society. A number of shocking facts were brought up in the discussion including: the gap between blacks and whites in the (age-adjusted) death rate from all causes has decreased only slightly from 1950 to 2000. Minority adults and children are less likely than whites to have a usual source of health care; some minority adults have a higher mortality rate than whites due to heart disease, stroke, diabetes, and cancer; the incidence of some communicable diseases, especially HIV/AIDS, is higher among some minority groups; and minorities tend to receive lower-quality health care than whites even when insurance status, income, age, and severity of conditions are comparable.
Among the stellar crowd were Dr. Velma Watts and her husband Rolond Watts, former Chair of Fine Arts at Wake Forest; Morgan Stanley powerhouse Carla Harris, Carol Becker, Turquoise Irving, Cliff Love, Tyrone Smith and scores more helping to raise funds for the
Maya Angelou Center for Health Equity
.
Turquoise Irving and Carol Becker
Edward Callaghan of Alchimia Public Relations & Marketing, and emcee Rolonda Watts
National Urban League president/CEO Marc Morial and son