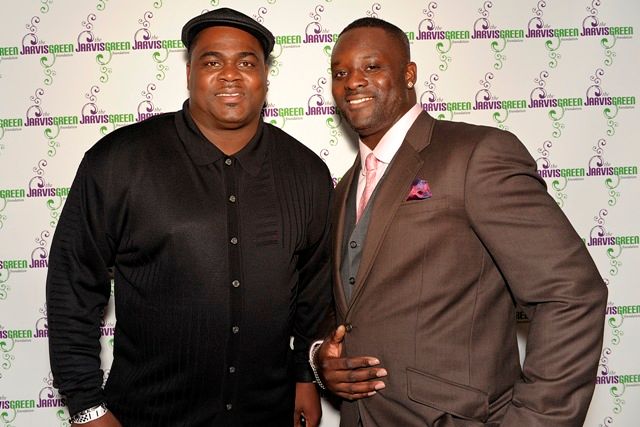 Jarvis Green (right) and Coach Pepper Johnson at Jarvis Green Foundation's 3rd Annual Wine Tasting Gala
Via Press Release: PROVIDENCE, RI – November 6th, 2009 - "The Jarvis Green Foundation's Third Annual Wine Tasting Gala, which benefits single mothers of two or more children in disadvantaged areas, saw an impressive turnout. Approximately 300 people filed into the Rhode Island convention center that night to dine on gourmet food, sip fine wines and bid on items at a silent auction. As a result, approximately $30,000 will go to improving the lives of struggling families.
In addition to swilling wines of various flavors and origins from stations placed throughout the venue, attendees also sampled international cuisine catered by area restaurants. In addition, as they grooved to music provided by The Nate Mott Band and Slim Pocket, they were entertained by magicians, a flame thrower and an aerialist.
Rakia and Jarvis Green
Jarvis was joined by fellow Patriots players including Eric Alexander, George Bussey, Kevin Faulk, BenJarvus Green-Ellis, Matt Light, Brandon Meriweather, Randy Moss, Stephen Neal, Terrence Nunn, Myron Pryor, Junior Seau, Shawn Springs, Adalius Thomas and Mike Wright. Coach Pepper Johnson and former Patriot player Joe Andruzzi also came out in support of the foundation.
Patroits players Erik Alexander and Shawn Springs
During the event, Green made it a point to acknowledge Tracie Gowette, an Attleboro, Massachusetts woman who has been dubbed "Super Mom" by her community. A single mother of three, Tracie once had to live in a shelter with her children. However, after finding her financial footing and moving her family out of the shelter, she undertook the task of helping others. She cared for neighborhood children and provided some with transportation to and from school. She also noticed that the neighborhood playground needed rebuilding, and contacted Jarvis for assistance. Though Jarvis was in training camp at the time, he reached out to others who were able to donate their time to the effort.
Jarvis is genuinely dedicated to his foundation and its cause. That said, he truly appreciates all who attended and/or assisted with the event. Some of the money raised will fund the 2009 grant that greatly improves the circumstances of a deserving family. Green will soon announce the recipient. For more information on the foundation, visit
http://www.jarvisgreen.com/
."
Source: D4SM
Photo credit: Marcus C. Eddings/MCE Photography