NYC Retailer Donates Percentage of Sales to Famed Brooklyn Dance Group
Via Press Release: New York – "It was VIP shopping at its most spoiled as Richard Mast, Senior Vice President and General Manager of Bloomingdale's, and Ronald K. Brown, Artistic Director of Evidence, A Dance Company, welcomed friends and supporters for a very special holiday shopping event to benefit Brown's internationally acclaimed dance company on December 15. In the photo is Princess Keisha Omilana, Vice Chair of Evidence Joyce Mullins-Jackson, and Gail Monroe Perry.
Bloomingdale's has always been a strong supporter of the arts and in recent years has increased their level of funding through a number of innovative strategies. Now they are championing one of the world's premier dance ensembles. Founded by Ronald K. Brown, Evidence, A Dance Company's mission is to promote understanding of the human experience in the African Diaspora through dance and storytelling and to provide sensory connections to history and tradition through music, movement, and spoken word, leading deeper into issues of spirituality, community responsibility and liberation. For almost a quarter of a century, Evidence under the artistic direction of Brown has won critical acclaim and performed on stages around the world.
The event began with guests greeted on the luxurious 4th Floor Personal Shoppers Suite, where Sauvignon Blanc and hors d'oeuvres were passed to fuel the guests before hitting the designer shops.
Nicole Cokley, Operating Vice President of Diversity and Community Relations for Bloomingdales, introduced the guests to Marian H. Goodman, Vice President of Personal Shopping, who was filled with savvy advice for the eager shoppers. Then, Reginald Van Lee, Chairman of the Evidence Board gave the "ready set, shop for Evidence" and the guests dispersed with a personal shopper by their side. Bloomingdale's elite team of personal shoppers were on hand to offer tips, answer questions and direct guests to the department of their choice in the famed New York designer emporium.
The festive and beautifully planned shopping event treated guests to personal shopping with a capital "P" and allowed some very busy New Yorkers and Hamptonites a chance to shop leisurely with old friends and enjoy an evening in the fabulous environment of Bloomingdale's recently redesigned flagship store. Most importantly, they knew that a percentage of their purchases would go to Evidence, a New York cultural treasure.
Bloomingdale's executives Marian H. Goodman, Tiffany Canty, Richard Pittelli, Nicole Cokley, and Lori Griffith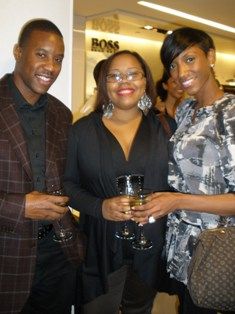 Rasheed Thompson, Jacqueline McAllister and Tamira Passe; Danielle Schiffren, Austin Stevenson and Lara Schriffen
Board member Andrea Hoffman with Evidence Founder & Artistic Director Ronald K. Brown; Bruce Michael, Executive Director and Reginald Van Lee, Chairman of the Board
With the upcoming Grace in Winter Silver Ball celebrating Evidence's 25th Anniversary at the Plaza Hotel on February 8th that will feature and benefit Evidence, many of the ladies took the opportunity to shop for a drop dead glam dress or the perfect accessories to go with black tie and a touch of silver, the colors for the gala. And did they shop! After quaffing a glass of wine, Monique Nelson Butts and her mother Dorothy Nelson headed off to Bloomingdale's enormous shoe department for that perfect pair of silver slippers. Peter Theil was in search of a natty silver bow tie and Princess Keisha Omilana was thinking of a silver lame gown. Edward Callaghan had his sights set on the midnight blue mink lined Lora Piana coat and didn't have to be coerced to model it for the crowd.
Guests Chris Lee, Dalila Kee, and Sule Adams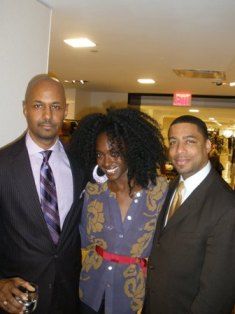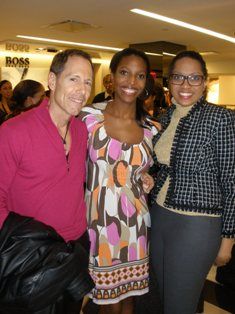 Ken Smaltz, Princess Keisha Omilana and Dan Johnson; Peter Theil, author Keli Goff and Jenna Bond
Among the many elegant shoppers were Evidence Vice Chair Joyce Mullins-Jackson, Board members Gail Monroe Perry, Dr. Ancy Verdier and Andrea Hoffman; Marion Burnside, Lara and Danielle Schiffren with Austin Stevenson, Stephen Wald, Rasheed Thompson, Ken Smaltz, Keli Goff, Tamara Passee, Jenna Bond, Jacqueline McAllister, Lorrie Kin, Dan Johnson, Chris Lee, and Dalila Kee.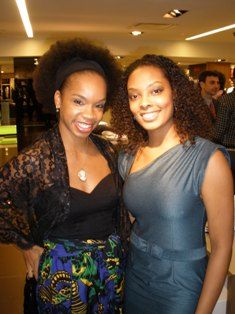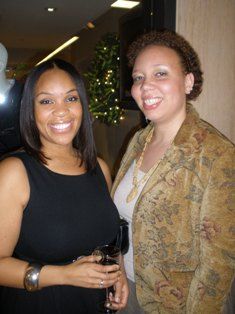 Annique Roberts and Clarice Young; Ayesha Harrell and Evidence Dancer Francine Ott
Next year will mark the Company's 25th Anniversary which will be highlighted by major celebrations: A special performance at the Vancouver Winter Olympics, a tour of Africa, and the Grace in Winter Silver Ball at The Plaza Hotel in New York. Always one of the most eagerly anticipated, glamorous social events of the season, the gala has been featured in New York Social Diary and Town & Country. The gala will honor founder Ronald K. Brown and longtime supporter and Chairman of the Board Reginald Van Lee and Booz Allen Hamilton. The evening will begin with cocktails, an online auction of luxury items and a performance of "Grace," Evidence's signature dance piece, along with dinner, a live auction and special performances by Tony Award winner Jennifer Holliday and jazz great Peven Everett. Victoria Rowell will host the evening and dress is black tie with a touch of silver.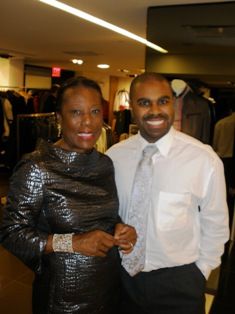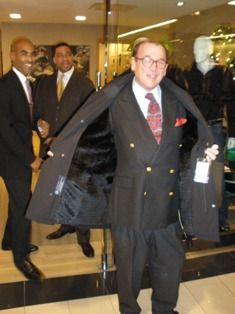 Board Vice Chair Joyce Mullins-Jackson and Board member Dr. Ancy Verdier of Sag Harbor; Edward Callaghan models Lora Piana stormcoat with mink lining.
For Grace in Winter Silver Ball tickets, sponsorship and underwriting 0pportunities, contact Alex Diaz, The JFM Group, 438 Fifth Avenue, Pelham, New York, 212-921-9070 ext 16 or by email to
evidence@thejfmgroup.com
.
For more information about Evidence, A Dance Company, its upcoming and special appearances visit
http://www.evidencedance.com/
."