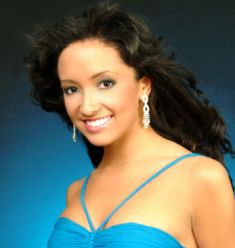 On August 2, 2009, history was made as Jasmine Alexis was crowned the first Miss Black USA Talented Teen 2009. In the twenty-three years of its existence, the Miss Black USA Scholarship Organization instituted a teen component to its tradition in the development of young women of color. Competing against representatives from across the United States, Miss Alexis captured the prestigious honor of Miss Black USA Talented Teen 2009. Jasmine is currently a freshman attending Concordia University in Bronxville, New York.
Throughout her year of service, Jasmine will travel the country speaking on behalf of various organizations all while continuing her support for a chance at a safer, healthier and brighter future for young women. One program she supports is
JEWELGIRLS
, an economic and art therapy program for adolescent girl survivors of human trafficking, sexual violence and street life. Currently the program supports 200 teen women in Bosnia, Serbia, Russia, Uganda and Washington, DC. Through JEWELGIRLS, participants come together to create unique jewelry while gaining access to therapy, life and financial management skills leading to a pathway toward a future free of violence and poverty.
A former Miss DC Teen USA (2007) and Miss District of Columbia's Outstanding Teen (2008), Jasmine competed in the 2009 Miss America's Outstanding Teen Pageant where she placed in the top ten as a national semi-finalist. A talented and accomplished dancer, Miss Alexis has won numerous first place awards in International Latin Ballroom Dancing, including the 2008 Mid-Atlantic Dancesports Championships. She has also been the featured halftime entertainment for the NBA's Washington Wizards.
Dedicated and committed to service projects, Jasmine's volunteer and community work in the DC area includes the Help the Homeless Walk-A-Thon, Ronald McDonald House, Covenant House, Children's National Medical Center, Hoop Dreams Scholarship Fund, DC Campaign to Prevent Teenage Pregnancy, Hispanic Heritage Foundation, USO, the National Urban League, Washington Redskins Toys-for-Tots, Project Giveback, 2009 Inauguration Presidential Classroom Speaker, Pink Ladies Power Summit and visiting our wounded heroes at Walter Reed Army Medical Center.
When asked what she feels is the most important issue facing young girls today, she shared, "One of the most important issues facing young girls today is a lack of self esteem. Low self esteem can lead young women to make poor choices and succumb to peer pressure. Loving yourself and believing in yourself is vital to the survival and growth of young women, especially young African American women."
Jasmine is available for appearances in Washington, DC, New York City, and other cities. Contact
jmwright01@gmail.com
.