Like many urban cities in America, Newark, New Jersey is plagued by poverty, low graduation rates, drugs and crime. Combating these societal ills is not easy, but the city has passionate and committed people dedicated to making Newark a safer and stronger community. Among them are three African American men, who have gained national attention for their efforts. They are Sampson Davis, Rameck Hunt and George Jenkins. You may not know them by their individual names, but collectively, they're known as The Three Doctors.
While growing up in the tough inner-city streets of Newark, they each made a pact to each other. That they would finish high school, enroll in college and become doctors. This pact wasn't easy, as the odds were stacked against them. They were raised in fatherless homes, surrounded by negative influences and few positive role models. Today, Dr. Hunt is a Board certified internist at University Medical Center at Princeton and Assistant Professor of Medicine at Robert Wood Johnson Medical School. Dr. Jenkins serves as Assistant Professor of Clinical Dentistry at Columbia University, and Dr. Davis is a Board Certified Emergency Medicine Physician at St. Michaels Medical Center and Raritan Bay Medical Center. Davis is also a consultant for the Violence Prevention Institute focusing on gang awareness and preventative medicine in Essex County.
Not only did they accomplish their goals, but they have dedicated their lives to helping other young people achieve their goals too. Dr Hunt shares, "We have a compelling passion for speaking and telling our story. This is not to boast or brag, we just recognize that we are in head-to-head combat with drugs, mental and physical illnesses, teenage pregnancy and all kinds of abuse and we accept the responsibility of making a difference by being role models and touching lives."
The Three Doctors have established the Three Doctors Foundation, and have written three books that share their story of triumph and beating the odds:
The Pact
,
We Beat the Street
, and
The Bond
. Read on to learn more about the foundation, their books, and efforts to help youth:
Share more about your Foundation and how The Three Doctors gives back to the community:
"The Three Doctors give back to the community in a number of ways. First, we serve as realistic examples of what you can be if you take your education seriously and reach for the stars. As role models, we encourage youth to form pacts and support one another through positive peer pressure.
We also have an extreme passion for community service, and over 10 years ago we formed a non-profit organization called The Three Doctors Foundation
(www.threedoctorsfoundation.org
) whose mission is to create opportunities in our communities through health, education, leadership and mentoring. For over a decade our foundation has offered numerous youth and family programs including our Positive Peer Pressure Challenge, Health Fairs and our annual Mentor Day event. Next year, on February 28th, we're excited to share that the New Jersey Nets will be recognizing our foundation for the impact we've made over the years.
And finally, we continue to use the lessons we learned growing up on the streets of Newark to guide us in helping those most vulnerable. To this end, and as our schedules will allow, we additionally accept invitations to speak to audiences across the country about our story and to address the many health and education disparities affecting underserved groups."
For those who may not be familiar with your books can you outline the message and target audience for each?
"Our first book "The Pact," is a NY Times Best Seller and continues to this day to be embraced by a multitude of readers across the country. The focus of The Pact shows how we as teenagers came together and made a promise to support one another as we traveled from the streets of Newark, an inner city in New Jersey, to medical and dental school fulfilling our promise in becoming doctors and a dentist. Everyone can relate to the book as it touches on overcoming some of the most difficult obstacles in life and shows how friendship and faith helped us to succeed. To this day, it continues to be a must read by young and old (it's also downloadable on itunes).
"We Beat the Street" is an adolescent adaptation of The Pact. We Beat the Street was a result of teachers, who demanded that we outline our story for an even younger audience. We quickly agreed as we strongly believe it is important to reach our youth at an early age. Because our first book, The Pact hit home with so many adults and teenagers, the development of a book for middle school youth served as an ideal opportunity to provide younger audiences with one of their first road maps to ensure a brighter future.
"The Bond," our latest book, is also a national best seller which focuses upon the three of us reconnecting with our fathers. Each one of us experienced a different level of fatherlessness and although we are adults now, we felt that it was extremely important to go back and revisit our feelings and thoughts about growing up without Dads. This book is our most emotional piece to date and allowed us to gain insight on what our fathers were going through and how personal decisions shaped the outcome of their lives. Each one of us shared our story in The Bond, followed by our fathers' chapter in their own voices. This book helped to answer a great deal of questions for the three of us and has done the same for thousands of readers across the country. Given the growing issue of fatherlessness and the impact it continues to have on our communities, we believe that The Bond is an important book for the entire family as it thoughtfully provides messages of hope, healing and inspiration."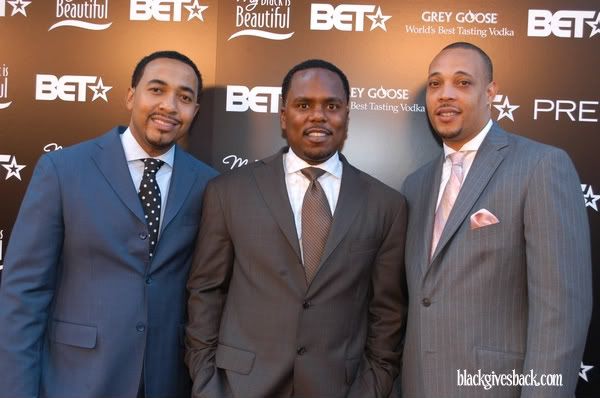 The Three Doctors were honored with the Humanitarian Award at the annual BET Awards show in June, 2009
Given the educational crisis in our country, in what way are The Three Doctors addressing the growing youth drop out rates?

"We are giving youth a realistic view of what education can do to improve the quality of their lives. With our books, individuals from all walks of life are realizing the potential they have and the success they can achieve with education. It is our hope that our example will inspire our young people to dream bigger and pursue the highest heights of academic success so that we ultimately eliminate the growing drop out rates across our nation."
What's next for The Three Doctors?
"We remain busy as full time practicing physicians and dentist. Outside of our hospital duties we travel the country delivering timely speeches on the importance of education and health. This year we were recognized at the annual BET Music Awards with their Humanitarian Award. This was a tremendous moment for us as entities and companies such as BET understand and appreciate what The Three Doctors have done for education and health. As we continue to perform community work through our Three Doctors Foundation, we want to make sure that every youth across the country understand and believe they are talented and gifted to be whatever they want in life. If The Three Doctors did it, so can you. Lastly, we implore marketing companies to get behind education and health. We are in a midst of a movement and want to be the role models that all point to for inspiration.
We truly appreciate the continued support and also welcome our fans to stay in touch via our website
http://www.threedoctors.com/
or on facebook at
http://www.facebook.com/ThreeDoctors
."