NEW YORK
: The Stars Are Brightly Shining -- Annual Benefit Concert for Songs of Solomon
SONGS OF SOLOMON
-- AN INSPIRATIONAL ENSEMBLE
http://www.sosinspirations.org/
, is a renowned Harlem, NYC-based 50-member, not-for-profit, youth vocal ensemble. They will host 'The Stars Are Brightly Shining' Annual Benefit Concert on Saturday, December 19, 2009 at the Community Church of New York (40 East 35th Street) in New York City at 5:30 pm. Songs of Solomon will perform with special "soon to be announced" entertainers just in time for the holidays. Sponsorship consideration and in-kind support are quite welcomed and needed. Perhaps it's now time for you to experience Songs of Solomon.
Songs of Solomon with actress Lynn Whitfield
Songs of Solomon recently performed at stellar events, including being part of the entertainment for the Glamour Women of the Year event held on November 10, 2009 at New York City's Carnegie Hall. Songs of Solomon is looking forward to experiencing the world's cultural/film/music industry happenings beyond their school and program itineraries. They are available for guest appearances, performance and venue bookings, jingle and commercial assignments, and more. Please contact Chantel Wright (SOS) at 917-375-3168 for concert information and tickets. Kindly contact Chuck Garrett (PUMP) at 347-666-0477 or
cg@pumpny.org
or
pumpny@aol.com
with any booking, media, sponsorship, and in-kind donations interests.
LOS ANGELES
:
Project MuszEd
Holiday Fundraiser Hosted by Eddie Steeples ('My Name is Earl,' 'Akeelah & The Bee')
Join them for this very special holiday event to help bring joy to the lives of youth with little or no access to music education resources, instruments and learning materials.
WHEN: Saturday, December 5, 2009//6:30 pm-midnight//VIP Reception, 6:30-8:30 pm
WHERE: House of Armour, 4065 Kenway Avenue, Los Angeles, CA 90008
Special surprise performances and music by DJ Kiilu GranD (Macy Gray)
Visit the website at
http://www.projectmuszed.org/
to purchase tickets.
LA Nights...On the Terrace Event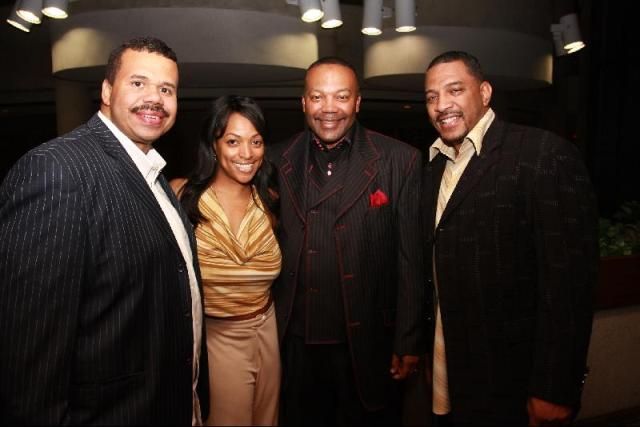 Pernell Clark, actress Kellita Smith, Kevin Rouse and Lennell Jones
Beverly Hills, CA - Over 400 Angelenos partook in the fun at the recent "LA Nights...On the Terrace" at the Bonaventure Brewing Company inside of the fabulous Westin Bonaventure Hotel, including actress Kellita Smith ( "The Bernie Mac Show"). December will see "LA Nights...in Beverly Hills" as event hosts Kevin Rouse, Pernell Clark and Lennell Jones take the festivities to the Camden House on Friday, December 18th from 7:30 p.m. to 1:30 a.m. The Camden House is located at 430 N. Camden Drive in Beverly Hills.
"LA Nights" continues to offer a live, fresh, new perspective for Los Angeles' night lifers. Cover charge is $15 with $3.00 parking available. Limited VIP reserved table seating available. A portion of the proceeds from the evening will benefit Brother II Brother, (
http://www.brotheriibrother.org/
) a city wide mentoring program for at risk, inner city kids. . For additional information and a list of the event's entertainment line up, check out
http://www.thelooponline.com/email/lanights1218.html
or contact
kevinarouse@msn.com
,
nellsomerset@earthlink.net
or
lennell600@yahoo.com
.
Photo: Curt Sanchez
ATLANTA
:
Sisters of Today & Tomorrow
(SOT) is hosting an Etiquette Class with SOT Spokesperson Antonia "Toya" Carter of BET's Tiny & Toya Show, Friday, December 11, 2009, 6pm-8pm. The organization is running a contest where the first 8 girls, who can provide proof of their grades ranging from 3.0-4.0 GPA, the opportunity to participate in this special event with Toya Carter, and also featuring Mrs. Jayda Cabbell of Divva Dishes as the Etiquette Instructor. The winners will also receive complimentary membership into SOT for 2010.
Please forward a copy of your report card to:
register@sistersoftodayandtomorrow.org
. Place in the Subject heading:
SOT Etiquette Class Contest
. All winners will be contacted no later than Tuesday, December 8, 2009.
DC AREA
:
Paws, Purrs & Exotics Animal Hospital and Barkley Square Bakery & Boutique Host "Santa Paws is Coming to Town" Holiday Fundraiser
Celebrate the Spirit of the Season and Get Your Pet's Photo Taken with Santa
(Alexandria, VA) , Celebrate the holidays with your four-legged "best friend" at 'Santa Paws is Coming to Town' hosted by Barkley Square Bakery & Boutique and Paws, Purrs & Exotics, a black owned animal hospital in Old Town Alexandria, Virginia on Saturday, December 12, 2009 from 1:00 - 4:00 p.m. The event will be held in conjunction with the Washington Humane Society, which will bring their Adoption Mobile filled with shelter dogs and cats who are looking for good homes this holiday season. Holiday music will fill the air, while attendees enjoy complimentary holiday treats and beverages, and meet all the adorable animals from the Washington Humane Society's shelter.
For a $15 donation to the Washington Humane Society, attendees will be able to have their child or pet's photo taken with Santa. Barkley Square will provide complimentary treats for the four-legged attendees, and will have special holiday treats and other great holiday gift ideas for the special pet in your life.
WHERE: Paws, Purrs & Exotics Animal Hospital, 133 South Peyton Street, Alexandria, VA 22314//703-549-7297
For more information, contact Andrea Rodgers at 202-422-2692,
andrea@socialitemarketing.com
, or visit
http://www.pawspurrsandexotics.com/
or
http://www.barkleysquarebakery.com/
.
TEXAS
:
Consolidated Sports Management & Former Dallas Cowboy Leon Lett to host Fundraiser benefiting Toys For Tots
Leon Lett will be signing autographs at Joe's Crab Shack in Arlington, TX with the proceeds to benefit Toys For Tots. Dine in at Joe's Crab Shack and a portion of the proceeds will be donated to the organization. Bring an unwrapped toy and receive an autograph for only $10 or a photo with Mr. Lett. The event will take place prior to the Dallas Cowboys/San Diego Charger football game as the restaurant is adjacent to the stadium.
When: Sunday, December 13, 2009 11AM-1PM
Where: Joe's Crab Shack, 1520 Nolan Ryan Expy, Arlington TX 76011