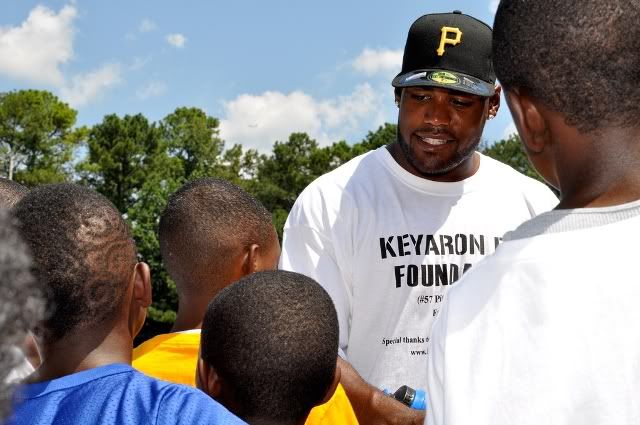 One of the greatest societal ills currently facing the African American community is children growing up in fatherless homes. Only 30 percent of black children are growing up in two parent homes. It has been well documented in research studies that these children are more likely to do poorly in school, to drop out of school, and to become involved in criminal activity. President Obama knows firsthand about growing up without a father. In a letter he wrote to his daughters that was published last Father's Day, he shared that as he walked the streets in Chicago's south side as a community organizer, he often saw boys struggling with the absence of their fathers. And Bill Cosby stated in his best selling book, Come on People!, that "a neighborhood without fathers is a catastrophe."

The title of this post is the theme for this year's 2010 Annual National Mentoring Month campaign, that highlights the need and importance of mentors in helping our youth succeed in life. Across the nation, there are thousands of black boys waiting to be paired with a mentor, but there aren't enough black males stepping up to become mentors.

General Colin L. Powell is headlining this year's campaign and shares, "Nothing is more important to our Nation's future than preparing our children to lead productive and fulfilling lives. And they need good role models. You can play an important part by volunteering as a mentor. It doesn't require special skills, just a willingness to listen and to care. You will experience the satisfaction that comes from inspiring a young person to reach for the stars."

My first experience with mentoring wasn't a good one. I was in my early 20s, and thought I'd volunteer as a mentor as a way to give back as an undergrad psychology major. I was paired with a 14 year old girl, whose mother was addicted to crack. The organization that matched me didn't know about the girl's home environment. When I first visited her, I was sent to her home in a heavily drug infested housing project and was greeted by her skinny and pregnant mother, who immediately asked me for money. As time went on, when I would visit my mentee to take her on outings, the rest of her siblings wanted to go and cried when we left. So I not only became a mentee to one young girl, but to her entire family. I even picked up her older sister from her prom. I did tell the organization about her mother, but nothing was immediately done. Eventually, child protective services removed all children from the home.

Of course, this experience made me not want to ever mentor again. Several years later, I was asked to help a DC area mentoring program recruit mentors. I initially scoffed at the idea, but then I thought I could use my experience to help prepare mentors in their new role. As I worked with the mentors in that program, I began to see firsthand how mentoring makes a positive and lasting impact. I then became a passionate advocate for mentoring. Once, we even got a call from the Judge Hatchett show asking for a mentor!

You may be thinking that you don't have the time to mentor a child, but it was at this program that I learned about group mentoring, that is, a group of individuals that mentor a small group of youth together. As a suggestion, you can gather your friends together to take a group of youth on field trips and participate in community service projects. I hope that African American men reading this will take on a new opportunity in 2010 by mentoring!

Each year since its launch in 2002, National Mentoring Month has enjoyed the strong support of the President and the United States Congress. Other prominent individuals who have participated in the campaign include: Maya Angelou, former President Bill Clinton, Clint Eastwood, Senator John McCain, Quincy Jones, Cal Ripken, Jr., Bill Russell and Usher. Visit the National Mentoring Month website HERE to learn 10 things you can do this month to support mentoring and to learn of mentoring opportunities in your community.

In observance of National Mentoring Month, check out my previous posts on African American boys and mentoring:

The Insider: Cameron Miles - Mentoring Male Teens In the Hood
Radio Hosts Launch National Campaign to Get Black Men to Become Mentors
Alton Jamison: Against All Odds (Alton has a new book, "No More Handcuffs." It's available at http://www.altonjamison.com/ for $10)
Harlem CARES: Harlem Community Joins National Mentoring Movement

Upcoming Event: If you're in NYC, visit HERE for information on an upcoming happy hour and fundraiser for Bigs United on January 11th. Bigs United is a group of African American mentors and volunteers who have launched an aggressive grassroots campaign to recruit additional African American volunteers to mentor youth in New York City.
Resources:
National Cares Mentoring Movement - for mentoring opportunities and mentor circles in your community
Urban Leadership Institute - For the 2008 report,
Man Up: Recruiting and Retaining African American Male Mentors
In photo: NFL player Keyaron Fox at his foundation's 'Will of Steel Family Fun Day' in Atlanta, June 2009//Photo credit: Catherine Tolbert via Garner Circle PR