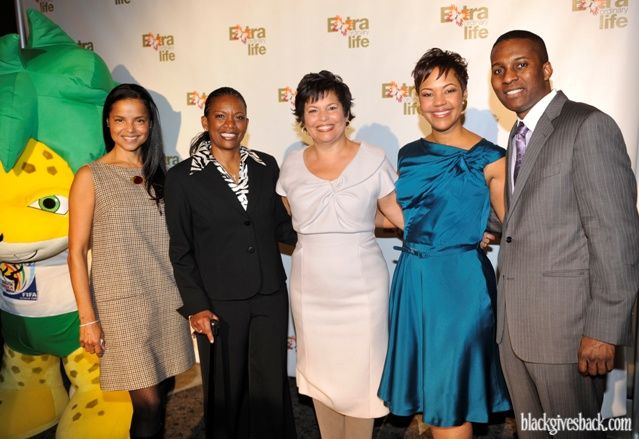 Event co-chair Victoria Rowell, Pursuit of Dreams founder Beverly Kearney, Event co-chair Debra Lee, Extra-Ordinary Life Foundation founder Stacie Turner, and Proctor & Gamble's Vince Hudson attend the kick off event for the Extra-Ordinary Life Foundation on January 15, 2010 in Washington, DC.
BET CEO Debra Lee, Actress Victoria Rowell and Entrepreneur Stacie Turner Give D.C. Foster Girls An "Extra-Ordinary Life" with Countdown To The World Cup
Stacie Turner is an accomplished businesswoman and entrepreneur, with a MBA from Harvard and an impressive corporate career, working for companies such as BET, Sprint, and Proctor and Gamble. Her desire to achieve came from her parents, who provided her with a nurturing childhood, a stable home life and exposure to people, places and experiences that built her positive image of self. One may think that Stacie was born into privilege, but she was born into the DC foster care system.
On January 15th at the W Hotel in Washington, DC, Stacie kicked off the launch of the Extra-Ordinary Life Foundation, a life-changing program that benefits DC area teen girls living in foster care. The kick off luncheon theme was "Journey to South Africa: 165 Days to the World Cup," and is the first of several upcoming events to raise funds to take 15 DC teen girls from foster care to South Africa during the World Cup. The event was co-chaired by BET CEO Debra Lee and Victoria Rowell, actress and founder of Rowell's Foster Children Positive Plan. "I spent my entire childhood in foster care, and am thrilled to get involved with this positive and uplifting campaign," said Victoria Rowell, author of the book, The Women Who Raised Me. "Children need role models, particularly strong women. I look forward to being a part of this Extra-Ordinary Life initiative and to helping further the importance of finding permanent homes for children living in foster care."
My DC contributor Jenn attended this event along with 200 other guests that included DC City Council members Marion Barry, David Cantania, Muriel Bowser, Yvette Alexander, and Council Chairman, Vincent Gray; and former first mother Virginia Williams, herself a foster child and foster parent. Other special guests included South African rapper Hip Hop Pantsula, former DC Councilmember Charlene Drew Jarvis, and Joigie and Ken Tolson representing the Melvin B. Tolson Foundation.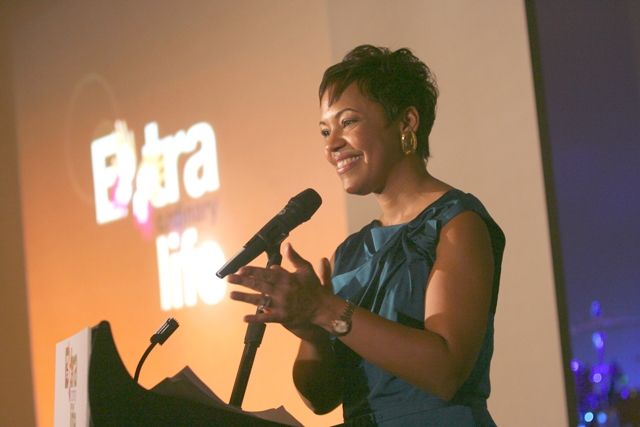 "My goal is to show teenage girls that the world is their oyster by providing extraordinary experiences," shares Stacie Turner, Founder, Extra-Ordinary Life Foundation and product of the DC Foster Care system.
During the program, Stacie talked about her organization and showed a heart wrenching short film featuring children in the foster care system, some of whom have not found permanent homes yet. There were sad stories but also triumphant stories that provided hope from those who found loving homes. She talked about the fact that there are 2100 foster children in DC. Debra Lee announced that BET will sponsor girls on this life-altering trip and shared about BET's efforts to start a network in South Africa. Vince Gordon representing Proctor & Gamble's Cover Girl, spoke about inner beauty and self esteem, also sharing that their company would sponsor a girl.
Johnny Moloto, Deputy Chief of Mission at the Embassy of South Africa, reinforced their first lady MaNtuli Zuma's commitment to Extra-Ordinary Life. The Spousal Office of the President of South Africa and first lady Zuma, will host the group once they arrive in South Africa. Zuma leads South Africa's orphan outreach effort that provides homes for orphan children in the rural provinces of South Africa. This collaboration will bring local, national and international visibility to the foster care/orphan issue; connect teens living in similar situations in the respective countries, and importantly, forge sustainable relationships that extend beyond the inaugural trip to the World Cup.
Kiana Dancie, a local comedienne served as MC, Kelly Chapman sang the Lord's Prayer and Frederic Yonnet, an uplifting harmonicist provided an amazingly mind-blowing performance as he walked among the crowd to the delight of many. His tie-in to the event was about unlimited potential. As the harmonica is such a small instrument, people often underestimate its power and impact. Likewise, the foundation wants youth in foster care to realize their unlimited potential. Stacie shares, "Kids in foster care just want an "ordinary" life. If we can give them that and more, then they will have a chance at an extraordinary life."
About the Foundation
: Extra-Ordinary Life is a Washington DC-based program that operates within the Pursuit of Dreams Foundation (PDF), an established 501(c)(3) that provides intervention resources, motivation and guidance to youth. The PDF is founded/led by legendary University of Texas Track & Cross Country Coach Beverly Kearney. Visit the website at
http://www.extra-ordinarylife.org/
and thanks to Carla Sims for the invite!
Source and photos: Extra-ordinary Life Foundation