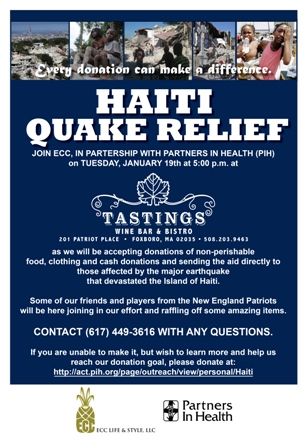 Via ECC Life and Style: "ECC Life and Style, LLC in partnership with the New England Patriots and Partners in Health (PIH) will be collecting goods and sending aid directly to the people of Haiti. PIH has worked in Haiti for nearly twenty-five years, and today is one of the largest non-governmental health care providers in the country, having one of the lowest administrative expenses overhead, meaning more goes to the people! The event is today, January 19th, 5pm at Tastings Wine Bar & Bistro in Foxboro, MA.
The event will collect donations as well as clothing - shoes, sandals, t-shirts, pants, underwear, shorts, socks, etc.; eye wear - glasses, contact solution, cases, contacts; diapers and other items for babies, women's hygiene needs, toiletries, first-aid kits, canned food and can openers, bottled water, flashlights, batteries, blankets and towels, games and toys for youth, and any other items."
For more information on their fundraising efforts, visit
HERE.
Source: Shawn J. Harris, CEO - ECC Life and Style, LLC