Actors Queen Latifah and Dania Ramirez attend the Covergirl Clean Makeup For Clean Water Campaign Announcement at Four Seasons Hotel on January 5, 2010 in Beverly Hills, California.
In a press release, Cover Girl announced a charitable partnership between its Clean brand of makeup and the Children's Safe Drinking Water (CSDW) program, an organization dedicated to addressing the critical, global need for clean, safe drinking water. The brand donated $500,000 to its "COVERGIRL Clean Makeup for Clean Water" campaign that will provide 50 million liters of clean water to children in need around the world.
This past September, actor Dania Ramirez, the newest spokesmodel for COVERGIRL and the face of COVERGIRL Clean Makeup's new Sensitive Skin formula, returned to her native Dominican Republic to help deliver a year's supply of clean drinking water to villages in need as part of the Campaign.
Win a Humanitarian Trip to Africa
: COVERGIRL is making it possible for their consumers to join the global effort to supply clean, safe drinking water to children in need. COVERGIRL consumers can enter an online contest by submitting a short video explaining how you give back to make the world a better place and why this makes you beautiful, inside and out. For every entry received, COVERGIRL will provide one week's worth of clean drinking water to a child in need. Entrants also have a chance to win a humanitarian trip to Africa as part of the next Clean Makeup for Clean Water mission. Visit
www.covergirl.com/cleanforclean
to enter and learn more about the COVERGIRL Clean Makeup for Clean Water Campaign.
Source: PRNewswire
Actress Tatyana Ali (C), actor Kyle Massey (L) and actor Chris Massey attend the 41st NAACP Image Awards Nomination Announcement and Press Conference at SLS Hotel on January 6, 2010 in Beverly Hills, California.
The NAACP Image Awards highlights the outstanding achievements and performances of people of color in the arts and those who promote social justice. I'd like to give a special congratulations to R. Dwayne Betts, author of
'A Question of Freedom'
for his nomination in the category of Outstanding Literary Work - Debut Author! (See my previous post on Dwayne
HERE
). The awards ceremony will air live on Fox, February 26th at 8/7c.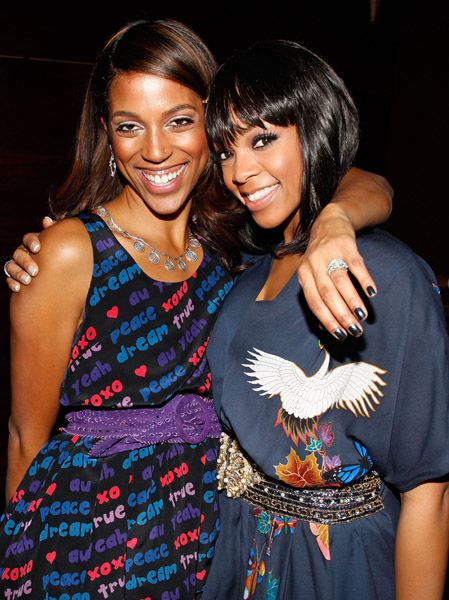 Off The Market Events founders Dr. Jerika Johnstone (wife of former NFL Oakland Raiders and Minnesota Vikings player Lance Johnstone) and Tia Robbins(wife of New York Giants defensive tackle Fred Robbins) attend the Off The Market Events Launch Party: Couples Only at Taj on December 28, 2009 in New York City.
I received an email from the proud mother of Tia Robbins, co-founder of Off The Market Events, a new event company that seeks to strengthen the relationships of committed couples by producing exclusive, one of-a-kind events for couples committed to sustaining a positive, healthy, sexy, rewarding, fun, and exciting relationship with their mate. For more information on Off The Market Events, visit the website at
http://www.offthemarketevents.com/
.
College Scholarships!
Attention Washington, DC Area High School Seniors:
The Thursday Network, The Young Professional's Auxiliary of the Greater Washington Urban League
, is pleased to announce the
2010 I Empower Scholarship
. Since 1992, the Thursday Network "I EMPOWER" Scholarship Fund has awarded more than $140,000 in financial assistance to deserving high school graduates from the District of Columbia, Montgomery County Maryland, and Prince George's County Maryland. Students use their scholarship awards to fund their education at any accredited four-year college or university in the United States.
Visit
HERE
to obtain an application form. All materials must be postmarked by February 5, 2010. Please direct all inquiries to
Scholarship@thursdaynetwork.org
.
The Lagrant Foundation to Award $125,000 to Ethnic Minority Students
Via Press Release: The LAGRANT Foundation (TLF) is now accepting applications for $125,000 in scholarships for the 2010/2011 academic year. Applications must be submitted to TLF by Friday, February 26, 2010 for consideration.
Ethnic minority undergraduate and graduate students majoring in advertising, marketing or public relations are eligible for the TLF scholarships. A total of 20 scholarships will be awarded. Undergraduate scholarships are worth $5,000 each and graduate scholarships are worth $10,000 each.
TLF was established in 1998 by Mr. Kim L. Hunter, whose vision is to see more ethnic representation within the fields of advertising, marketing and public relations. By targeting college students, TLF paves the path toward a successful career right from the start.
TLF scholarship requirements are as follows: students must be of African American, Asian/Pacific Islander, Hispanic/Latino or Native American descent; must have a 2.75 GPA if undergraduate or 3.2 GPA if graduate; must be seeking an undergraduate or graduate degree at an accredited college or university; must be enrolled in one of the three programs mentioned above; and must make a commitment to maintain contact with TLF for assistance with professional development.
Scholarship applications may be obtained through TLF's website at
http://www.lagrantfoundation.org/
or by calling Programs Manager Ericka Avila at 323.469.8680, ext. 233 or
erickaavila@lagrant.com
.
Source: V-Newswire
Also in the news, the
Tom Joyner Foundation Kicks Off 2010 Fundraising Campaign
Foundation will help 11 Historically Black Colleges & Universities raise money to help students complete their education
Dallas, TX, December 25, 2009 --(PR.com)-- The Tom Joyner Foundation, a major driving force in raising money for historically black colleges since 1998, today announced the 11 historically black colleges and universities (HBCUs) that it will raise money for in 2010.
The foundation, formed by the nationally syndicated radio personality, unveiled the names of the 2010 schools as part of its on-going effort to broaden and strengthen these institutions' efforts to raise money to help keep students attending HBCUs.
As one of the Tom Joyner Foundation 'Schools of the Month' next year, each school will be promoted by the Tom Joyner Morning Show and receive those funds raised from listeners, alumni and other interested parties that month.
"We're excited to announce this year's schools," said Joyner, a graduate of Tuskegee Institute, who is the foundation's chairman and host of the Tom Joyner Morning Show. "All of these schools have wonderful histories and traditions, and we want to make sure their students are able to stay in school and have the great experience, as I did, from graduating from a HBCU."
This year's schools are: Tuskegee University, Tuskegee, AL (January); Fayetteville State University, Fayetteville, NC (February); Shaw University, Raleigh, NC (March); Voorhees College, Denmark, SC (April); Virginia State University, Petersburg, VA (May); Philander Smith College, Little Rock, AR (June); Paine College, Augusta, GA (July); North Carolina Central University, Durham, NC (August); Texas Southern University, Houston, TX (September); Fort Valley State University, Fort Valley, GA (October); and University of Arkansas at Pine Bluff, Pine Bluff, AR (November).