Miami Heat superstar and philanthropist Alonzo Mourning and Julius Hollis, Chairman of The Alliance for Digital Equality at "A Gridiron Toast to Excellence," on February 5th in Miami, Florida.
The Alliance for Digital Equality Celebrates Super Bowl XLIV In Style As They Host "A Gridiron Toast to Excellence"
Honorees Included Congressmen James E. Clyburn, Tom Joyner, Debra Lee, Alonzo Mourning, Vicki Palmer, and Gloria and Emilio Estefan
MIAMI (February 8, 2010) – Julius Hollis, Earl Cummings, Sean Pittman, Daniel Halpern, Robert Shumake, Sen. Rodney Ellis, David Rivers and Art Collins, in support of The Alliance for Digital Equality (ADE), kicked off Super Bowl XLIV weekend in style, as they hosted a private celebration, "A Gridiron Toast to Excellence," at the lush Mia at Biscayne on Friday, February 5, 2010. The lavish event primarily served to honor well-respected luminaries who excel in their respective fields of practice, consistently enriching the communities in which they live and work.
In the field of politics, the ADE honored U.S. House of Representatives Majority Whip (SC-Dem), Congressman James E. Clyburn; in the field of media, honorees included nationally syndicated radio personality and philanthropist, Tom Joyner, as well as Chairman and CEO of BET Holdings, Debra Lee; in the field of sports/philanthropy, Miami Heat superstar and Chairman Emeritus of Alonzo Mourning Charities, Alonzo Mourning was honored; in the field of business, retired Executive Vice President of Coca-Cola, Vicki Palmer was recognized; and Miami legends, Gloria and Emilio Estefan were recognized in the field of entertainment/philanthropy.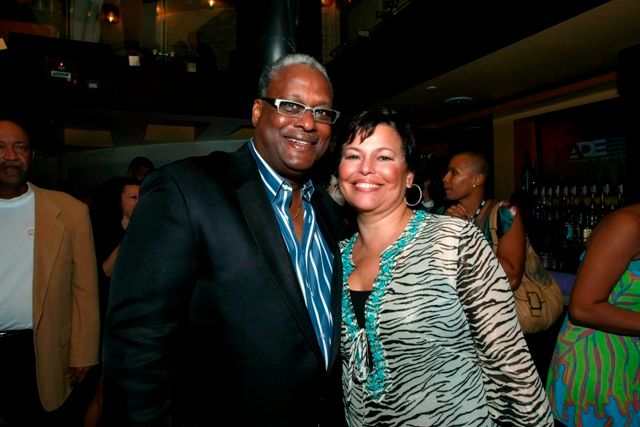 Julius Hollis and Honoree BET CEO Debra Lee
Julius Hollis, Chairman of The Alliance for Digital Equality, a non-partisan, non-profit organization that seeks to bridge the technology divide between underserved ethnic and minority communities within the United States and the technology advanced marketplace, has staged this event since 1993 with past honorees including Atlanta Mayor Shirley Franklin; former Mayor of Houston, Lee P. Brown; music business pioneer and chief executive, Clarence Avant; Chairman of the Democratic Leadership Council, Harold Ford, Jr., real estate magnate, R. Donahue Peebles; and Ernie Greene to name only a few.
Earlier during the day of the event, ADE along with Tom Joyner and Alonzo Mourning made made a donation of 50 computers to Miami Northwestern Senior High School in Liberty City, 50 computers to Maya Angelou Elementary School in Allapattah and 100 computers to the Overtown Youth Center in Overtown.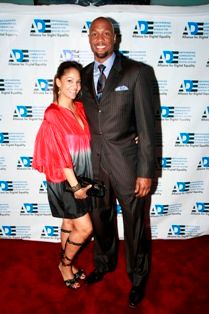 Tracy and Alonzo Mourning; Miami Gardens mayor Shirley Gibson and Debra Lee
"I was extremely proud and honored to have been able to recognize these individuals during our 17th Annual Pre-Super Bowl celebration. It is men and women like Congressman Clyburn, Mr. Joyner, Ms. Lee, Mr. Mourning, Ms. Palmer and Mr. & Mrs. Estefan that lift up the African-American and Hispanic communities with their tireless philanthropic efforts," stated Julius Hollis, chairman of the Alliance for Digital Equality.
Seeking to end the ever-increasing "digital divide," the ADE is becoming the leading voice of underserved communities on matters that not only pertain to technology, but to telecommunications reform and product awareness as well. By establishing "digital empowerment councils" in cities as diverse as Miami, Atlanta, Detroit, Houston, Charleston, Boston, Chicago, Washington DC and Los Angeles, actively involved citizens (with sponsorship from the ADE) are able to establish local policies in regards to broadband initiatives, making sure that those living in underserved communities stay on par with technological advancements.
Former VP of Coca Cola Vicki Palmer, Debra Lee, Alonzo Mourning, Tom Joyner, and Julius Hollis
For information on The Alliance for Digital Equality, visit
www.alliancefordigitalequality.org
.
Source and photos: Circle of One Marketing