At the age of 8, Samuel Roberson, Jr., was diagnosed with leukemia, a cancer of the blood. A bone marrow transplant was his best hope for survival, but after a family and national registry search, no suitable match was found. He went through chemotherapy, but relapsed two and a half years later. By the age of 11, Samuel had beaten cancer twice.
Due to an experimental transplant, Samuel is here today. He feels that because his life was spared, he wants to share his story to help save others like him. Today, the chance of African–American patients finding a match is around 17%. Sam wants to change this with your help.
As the Founder and President of the organization Make Me A Match Project, Inc., Samuel's mission is to raise awareness of the shockingly low number of people on the national bone marrow donor registry, particularly amongst minorities, and to educate the public on the bone marrow registration and process through entertainment, social media, and the arts, as Samuel is an accomplished actor and playwright. In fact, in just three short weeks, Samuel wrote his life story and received an amazing response from audiences. He stated, "It was an amazing experience and from audience responses I realized that this was something that might inspire people to join the registry and possibly save lives." If you're in the Chicago area, Samuel will be performing his play, "And They Said I Wouldn't Make It: A Story of Hope," on Monday, February 22, 2010. See below for details: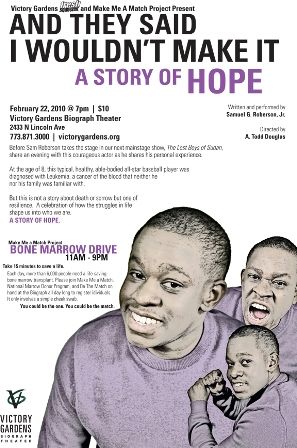 WHERE
: Victory Gardens Theater, 2433 N. Lincoln Avenue, Chicago
WHEN
: 7 pm
Tickets: $10
Earlier in the day, the Make Me A Match Project will host a bone marrow drive, from 11-6pm at the same location. For more information, please contact Sam Roberson at sam [at] makemeamatch [dot] org or call (707) 816-2211.
Visit the Make Me A Match website at
www.makemeamatch.org
.