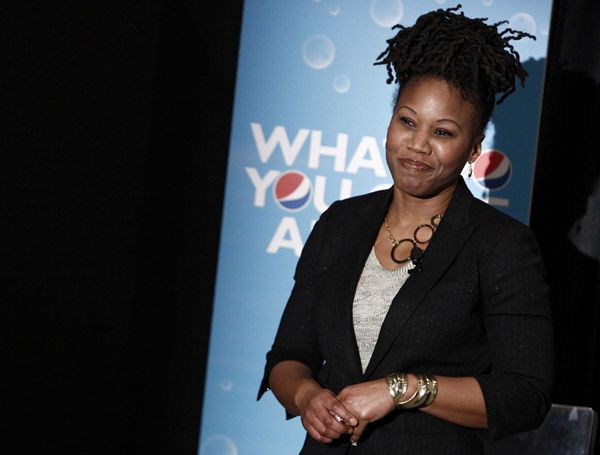 Majora Carter of the Pepsi Refresh Advisory Board attends The Pepsi Refresh Everything Through Great Ideas Brainstorm at the Soho House on February 1, 2010 in New York City.


Majora Carter, President and CEO of the Majora Carter Group, is a MacArthur Genius grant recipient, and founder of the non profit Sustainable South Bronx, where she pioneered green-collar job training and placement in one of the most environmentally and economically challenged parts in the country. She is also among those listed on 'The Grio's 100: History Makers in the Making' list. This
exclusive list of leaders
in the African American community highlights the standing generation of history makers and industry leaders.
Majora is serving on the Pepsi Refresh Advisory Board of the Pepsi Refresh Project, that will award more than $20 million this year for innovative projects that benefit communities. Individuals can apply for grants and site visitors can vote for their favorite projects to receive funding. Visit the website at
http://www.refresheverything.com/
.
Newly crowned Miss America Caressa Cameron visits DSW to meet fans on February 2, 2010 in New York City.
Congratulations to Virginia native Caressa Cameron, who was crowned Miss America 2010! Caressa's platform is HIV/AIDS prevention, particularly among teenagers. Immediately after winning her crown, she announced that she will serve as spokesperson for IHOP's fifth National Pancake Day celebration benefiting Children's Miracle Network. IHOP will give away millions of its signature buttermilk pancakes on Tuesday, February 23, 2010 from 7 a.m. to 10 p.m., in an effort to raise more than $1.75 million for children's hospital programs. "I am delighted that as Miss America 2010, I will have the opportunity to kick-off my reign as a national Goodwill Ambassador for Children's Miracle Network and its fundraising partnership with IHOP on National Pancake Day," said Caressa. "Five million dollars over five years is an impressive fundraising feat, and I look forward to working closely with IHOP and Children's Miracle Network to turn this goal into a reality."
Source: IHOP/Wills Communications, Inc.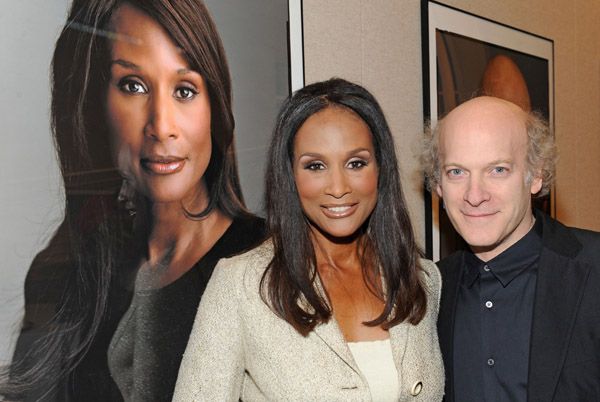 Actress/model Beverly Johnson and photographer Timothy Greenfield-Sanders attend the Paley Center for Media's presentation of "The Black List Volume 3" at The Paley Center for Media on February 1, 2010 in Beverly Hills, California.

Via Paleycenter.org: Photographer Timothy Greenfield-Sanders and critic Elvis Mitchell continue their exploration of what it means to be African-American today with the third volume of their acclaimed series 'The Black List.' The Paley Center is pleased to premiere this new edition, which features interviews with John Legend, Whoopi Goldberg, Lee Daniels, Debra Lee, and Beverly Johnson. After the screening, which also includes highlights of the previous two programs, panelists will discuss this ambitious and illuminating project, which encompasses the documentaries for HBO, a book, and a gallery exhibition of photographs, on display in the Paley Center's main gallery starting February 3. The New York premiere will be held tonight at the Paley Center, with guests Dr. Michael Lomax, president of United Negro College Fund and Faye Wattleton, Cofounder/President, The Center for the Advancement of Women (CFAW).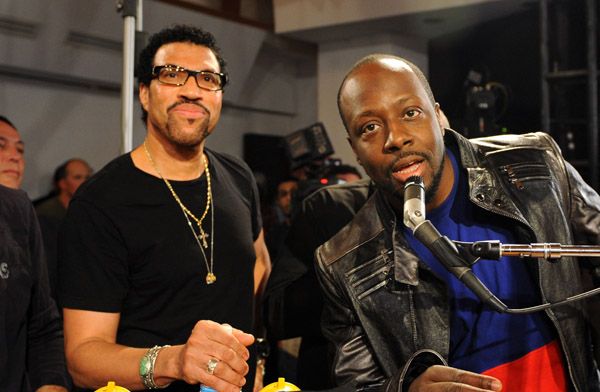 Singers Lionel Richie and Wyclef Jean at the "We Are The World 25 Years for Haiti" recording session held at Jim Henson Studios on February 1, 2010 in Hollywood, California.

Twenty five years ago, famed music producer Quincy Jones along with Lionel Richie and Michael Jackson wrote the song "We Are The World" for African famine relief. The recording of the song was an historic event in music, bringing together the most famous artists at that time. On February 1, 2010, over 80 celebrities and music artists recorded a remake of the hit song, that will be available for purchase, benefiting Haiti relief efforts. According to MTV.com, the inspirational lyrics were laid down over a track that had a more modern Southern hip-hop bounce to it.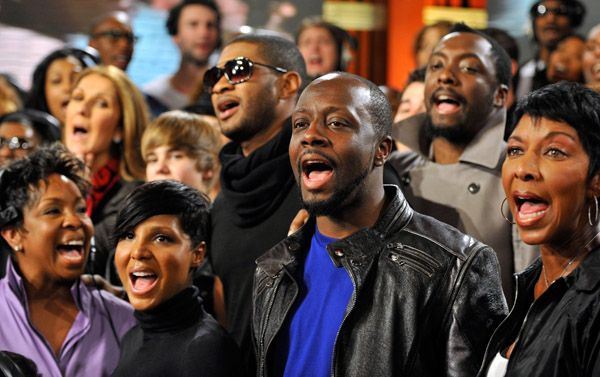 Gladys Knight, Toni Braxton, Usher, Will.i.am, Wyclef Jean and Natalie Cole record the remake of "We Are The World 25 Years for Haiti"

Quincy Jones shared, "Twenty five years ago, the entertainment industry showed the power of community to help our fellow man when we recorded 'We Are The World' to bring relief to those suffering from famine in Ethiopia. And while the need to assist Africa continues, today the country of Haiti is suffering immeasurably from the destruction due to the recent earthquake and is in immediate need of relief that will last long after the television cameras have left. As artists, we have joined together on this 25th anniversary and in the spirit of 'We Are The World' to help meet that need." Source: MTV

Photos: Wireimage