Meet William Mack and Ja'Mal Willis, teen CEO's of J&W Sensations from Baltimore, Maryland. While in science class one day, they discovered that many hand and body lotions had chemicals in them. So they created a natural, chemical free cucumber scent lotion that the female students loved. They then created a business plan for their company, which won first place in Baltimore's citywide business plan competition. In a city where 42% of African American boys drop out of school, William and Ja'Mal are succeeding against the odds. So what's the story behind their success?
As students at Baltimore's Patterson High School, they participated in the Network for Teaching Entrepreneurship (NFTE) program, an international non profit business education program that teaches young people from low-income communities to think like entrepreneurs, so they can take control of their futures. William and Ja'Mal learned how to create their business plan that helped them win first place. William shared about the program, "I plan to use the skills I learned in my NFTE class to help my family with their revenue and expenses. But I also plan to do many other things and continue my education further than I even thought possible."
William and Ja'Mal are among the NFTE youth featured in the new documentary, TEN9EIGHT, that follows inner city kids as they prepare for NFTE's Oppenheimer national finals in New York for a chance to win $10,000 to launch their business. The film showcases future entrepreneurs that come from the foster care system, and families impacted by drugs and gangs, to compete for a national title. Among the youth featured is the film's narrator, Rodney Walker. He entered foster care at age 5 along with his 10 brothers and sisters, and his brothers fell prey to the streets by joining gangs and dropping out of school. Rodney participated in a NFTE program at his school, and is now on the Dean's list at Morehouse College.
The film's title refers to the fact that every nine seconds in this country, a youth drops out of high school. The film states that it's release is timely, as the nation is battling two crises, the economic recession, in which entrepreneurship skills are especially valuable, and the dropout crisis, in which ways must be found to engage youth to keep them in school.
On Wednesday, January 27th, Baltimore's non profit, education, business and philanthropic community came out to celebrate the film's premiere. The event was held at the Eddie and Sylvia Brown Center, at the Maryland Institute College of Art and Design. Eddie and Sylvia Brown (in photo below) who served as event hosts, are prominent philanthropists in Baltimore. (I was so excited to meet them! See my previous post on the Browns
HERE
). Mr. Brown shared with me that he is among three honorees to be honored at NFTE's annual gala in New York this April. As an honoree, he has pledged to raise $200 -$300,000 for Baltimore's NFTE, a goal he is making progress on.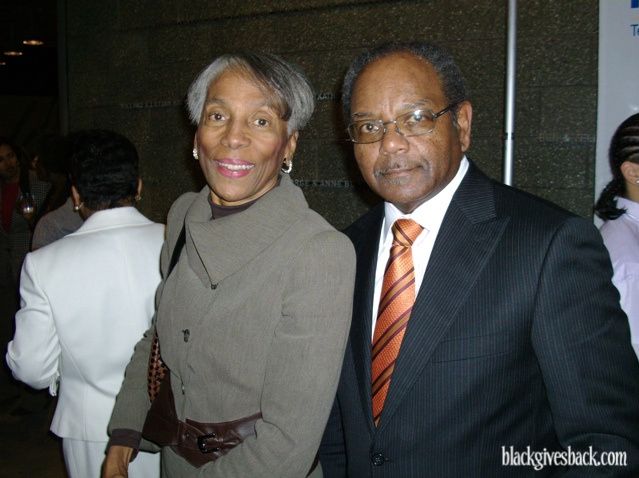 Sylvia and Eddie Brown of the Brown Family Foundation, event hosts for the TEN9EIGHT Baltimore premiere.
Prior to the film's premiere, a highlight of the evening was the presentation of a $1,000 check to Associated Black Charities of Maryland, by NFTE's alumni. In addition to creating business plans, students are required to create a philanthropy plan to instill the importance of giving back. The organization's Executive Director then announced that they would donate the gift towards Haiti relief efforts.
The film is a wonderful testimony to the great work this organization provides. Be sure to catch TEN9EIGHT's premiere on BET, Superbowl Sunday on February 7th at noon and February 8 at 8 pm EST. Thanks to Sonjé Productions for the invitation!
On the web:
Network for Teaching Entrepreneurship
&
TEN9EIGHT