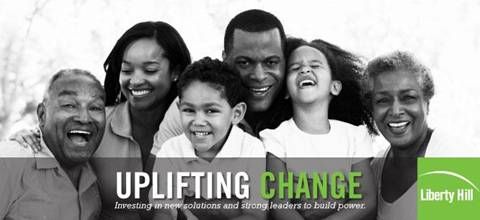 On Thursday, February 11, 2010, foundation and corporate grant makers; individual donor-activists and community and business leaders from Southern California will come together for the Uplifting Change Summit.
This day-long program will address how philanthropy can respond to our current socio-economic crises and promote positive change in the African-American community. Participants will share strategies, challenges, and best practices in philanthropy.
Learn strategies to help you leverage your giving. Increase investment in new solutions,strong leaders and effective organizations. Uplifting Change begins with you. Join them!
Uplifting Change Summit
Presented by the Honorable Karen Bass, Speaker of the California Assembly
February 11, 2010
at the
Center for Healthy Communities
1000 N. Alameda St.
Los Angeles, CA 90012
8:00 - 5:30 pmFree Parking Available on Site
Space is limited but kindly visit
www.libertyhill.org/upliftingchange
for more information. Or call Vincent Jones at 310-453-3611 x 132.
Strategy Sessions Presented By: The Brotherhood Crusade and California Community Foundation with additional sponsors: The 21st Century Foundation, The Los Angeles Sentinel, Southern California Grantmakers and Southern California Blacks in Philanthropy. Luncheon sponsored by Broadway Federal Bank.
For a recent segment about African-American philanthropy and the Uplifting Change Summit on the Tavis Smiley Show see:
www.tavissmileyradio.com
.
About the Liberty Hill Foundation
: The Foundation partners with innovative and effective Los Angeles grassroots organizations to combat poverty and injustice. Their Uplifting Change Initiative is designed to invest in new solutions, more leaders, and strong organizations advancing social change, that brings together African-Americans from across Los Angeles, to inspire more to support social justice philanthropy and provide more resources to invest in South Los Angeles and beyond.
Uplifting Change Leadership Circle: Tanya Acker, Esq., Kibi Anderson, California Assembly Speaker Karen Bass, Rev. Wendell Davis, Brickson Diamond, Earl Fowlkes, Hill Harper, Paul C. Hudson, Fran Jemmott, Rev. Eric Lee, Paula & Barry Litt, Holly Mitchell, Steve Phillips & Susan Sandler, Nii-Quartelai Quartey, Effie & Edward Sanders, Alison Taylor, LA City Council Member Jan Perry, and Keith Weaver.
To learn more about the organization and the Uplifting Change Initiative, visit the site at
http://www.libertyhill.org/
. Also, more information on the summit can be found
HERE
.
Source: The Liberty Hill Foundation