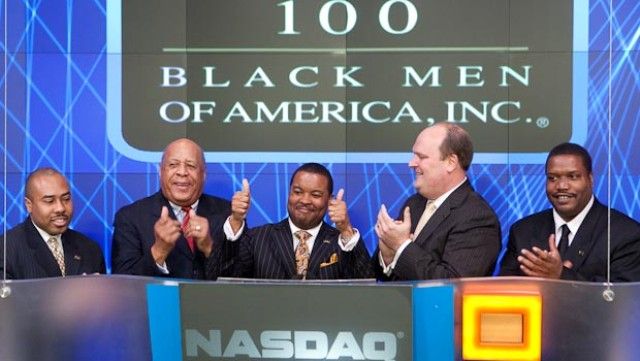 100 BLACK MEN OF AMERICA, INC. RINGS NASDAQ STOCK MARKET CLOSING BELL
In photo (L to R): Warren Woodberry Jr. (100 Black Men of Long Island); Hon. William B. Wise (100 Black Men of Long Island); Jerrid Douglas (President, 100 Black Men of New Jersey); David Wicks (NASDAQ V.P.); Phillip Andrews (President, 100 Black Men of Long Island)
[Atlanta, GA]– NASDAQ recently recognized the accomplishments of 100 Black Men of America, Inc. and invited leaders of the international organization to ring the closing bell on February 26, 2010 in New York City. Jerrid Douglas, President of 100 Black Men of New Jersey; Phillip Andrews, President of 100 Black Men of Long Island; and other members from various founding chapters of the 100 were on hand for the symbolic ringing of the closing bell.
"I would like to thank NASDAQ for acknowledging the work of 100 Black Men of America, our 116 chapters, our 10,000 members worldwide and the 125,000 youth we mentor annually," said Albert E. Doston, Jr., Chairman of the Board, 100 Black Men of America, Inc. "I would like to commend the many businesses, corporations and contributors who have enabled the 100 to impact lives globally and who recognize both the need and the value in mentoring young adults and future leaders.
The 100 remains committed to economic development through various programs including financial literacy initiatives aimed at families and youth. Our chapters have implemented successful financial literacy programs that educate and prepare families for homeownership," added Dotson. "Additionally, our signature Dollars & $ense program provides young mentees with a curriculum that focuses on financial management, investment strategies and more."
100 Black Men of America, Inc. will host their 24th Annual Conference on June 16-20, 2010 at the Westin Diplomat in Ft. Lauderdale, Florida. For more information on the 100 Black Men of America, Inc. or to register for the upcoming conference, visit
www.100blackmen.org
.
About 100 Black Men of America, Inc
.: 100 Black Men was founded as an organization in New York City in 1963. The national organization, 100 Black Men of America, Inc., began with nine chapters in 1986 as a national alliance of leading African American men of business, public affairs and government with a mission to improve the quality of life for African Americans, particularly African American youth. Today, under the direction of Albert E. Dotson, Jr., the organization has 116 chapters in the United States, England and the Caribbean. The 100 serves as an international coalition focused on creating educational opportunities, promoting economic empowerment, addressing health disparities and creating positive mentoring relationships.