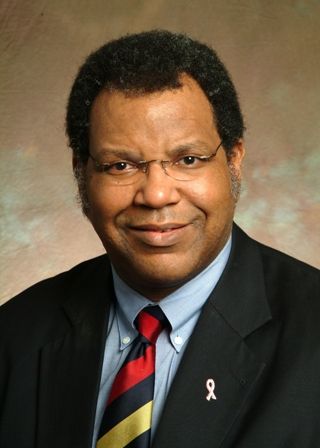 ATLANTA – February 23, 2010 – Otis W. Brawley, M.D, chief medical officer of the American Cancer Society, the nation's largest voluntary health organization, has been named as one of 100 African Americans making history and is listed alongside such names as media mogul Oprah Winfrey; artist and humanitarian Wyclef Jean; and supermodel and TV personality Tyra Banks. TheGrio, NBC's African American news portal, compiled a list of "100 History Makers in the Making" in honor of Black history month. The full article is available
HERE
.
In the article, Dr. Brawley is noted as a leader in the field of cancer research, especially in the area of cancer disparities. His work in breast cancer and health disparities research is applauded, and his expertise and straight-talk celebrated by many of his colleagues. The article also states that he grew up in inner-city Detroit, witnessing firsthand the lack of healthcare his neighbors received, and the mistrust among African Americans of doctors. He states,"There were a lot of blacks who were suspicious of people in medicine...there was a lot of concern that people weren't being given the truth."
As the chief medical officer of the American Cancer Society, Dr. Brawley champions efforts to decrease smoking, improve diet, detect cancer at the earliest stage, and provide the critical support cancer patients need. Further, as an acknowledged global leader in the field of health disparities research, Dr. Brawley is a key leader in the Society's work to eliminate disparities in access to quality cancer care.
"The American Cancer Society is extremely proud of Dr. Brawley for making TheGrio's list of 100 leading African Americans who are making history," said John R. Seffrin, Ph.D., chief executive officer of the American Cancer Society. "We saw Dr. Brawley's outstanding leadership qualities when we recruited him three years ago, and we are lucky to have him leading our fight to eliminate cancer disparities in all communities in order to create a world with less cancer and more birthdays."
Dr. Brawley is a member of the American College of Physicians, the National Medical Association, the American Society of Clinical Oncology and the American Association for Clinical Research. He has received numerous awards throughout his career, including in 2006 the U.S. Public Health Service Crisis Response Service Award, the U.S. Public Health Service Distinguished Service Commendation and the Key to St. Bernard Parish for his work in New Orleans after Hurricane Katrina. Dr. Brawley currently serves as chair of the National Institutes of Health Consensus Panel on the treatment of Sickle Cell Anemia, and as a member of the Centers for Disease Control and Prevention Breast and Cervical Cancer Early Detection and Control Advisory Committee.
According to TheGrio.com, TheGrio "is the first video-centric news community site devoted to providing African Americans with stories that appeal to them but are underrepresented in existing news outlets." The creator of TheGrio.com is David Wilson, a 28-year old African American journalist who was inspired to create the website after filming "Meeting David Wilson," a feature length documentary about the enduring legacy of slavery in today's young black society.
In the film, Wilson travels to North Carolina to meet another David Wilson, a descendant of a white family who once owned his ancestors during slavery. This discovery leads to a momentous encounter between these two men of the same name but whose ancestors were on the opposite sides of freedom. Through DNA testing, David determines his African roots and returns to his native land. To commemorate the 40th anniversary of Dr. Martin Luther King's assassination, MSNBC premiered the documentary that was hosted by Today correspondent Tiki Barber. The DVD is available on Amazon.com, but you can win a copy here!
To enter the "Meeting David Wilson" contest, answer the following question
:
This man is the president and CEO of the Children's Aid Society. Named to the post in July, he is the youngest person and the first African-American appointed since the society was founded. Who is this African American leader?
Check
http://www.thegrio.com/black-history/
to find the answer! Send me an email with your answer to blackgivesback[at]gmail[dot]com with "DVD Contest" in the subject line by Friday, March 12th.
Sources: Footsteps Group and MS&L Digital