Black Is the New Green authors Andrea Hoffman (left) and Len Burnett (right) with film director Lee Daniels at the DC launch of "Black Is the New Green: Marketing to Affluent African Americans," on March 18, 2010.
There's a particular reason why the colors of my blog are black and green. I chose green, being the color of money, and black, representing the black community, to show that African Americans significantly contribute to causes we care about. And not just our money, but our time and talents as well. Within the black community, there is a growing segment that has been largely overlooked by marketers, major corporations and even non profit organizations: the affluent African American. This growing segment is the subject of the new book, "Black Is the New Green: Marketing to Affluent African Americans." Published by Palgrave Macmillan, this book outlines the $87.3 billion in buying power that affluent African Americans possess. And in 2012, this massive buying power is expected to reach $1.1 trillion!
So why is this book important to share with you, my valued readers? I know that many of you are social entrepreneurs and non profit professionals who are continually seeking ways to obtain donations and new supporters. You've probably written grants and have even tried to get a celebrity to attend your fundraiser (which by the way, is not the first thing to do if you're trying to raise funds, but that's the subject of an upcoming post). My suggestion to you is to increase your individual donor base by targeting, you guessed it, the affluent African American.
The book's authors have a combined total of over 40 years of experience catering to this market segment. Len Burnett, Jr. is a pioneer in urban media, as one of the original team members of VIBE magazine, and as the co-founder of Vanguarde Media. He is currently co-CEO and group publisher of Uptown Media Group, which publishes Uptown Magazine. Andrea Hoffman is a former marketing specialist and trend forecaster. She's the founder and CEO of
Diversity Affluence
, a research, marketing communications and business development firm that helps brand marketers, the media and entrepreneurs understand and reach out to this segment, termed the "Royaltons."
In the book, readers are shown how to follow in the footsteps of brands like Gucci, Sony Electronics, and Aston Martin and become successful in marketing to a segment that can no longer be overlooked.
Together, they share valuable research, insights and strategies for this segment, who are defined as having a minimum annual salary of $75,000. You'll learn what they like, where to find them, what makes them brand loyal, and how to engage them. There's one tip they give when inviting this group to an event which is dead on. I remember I received an invitation for a fundraiser from an organization using their method, and I must say, I was impressed and made it a point to be there (and donate). For entrepreneurs, corporate brands, marketers, public relations professionals and companies, the book shares the top trends predicted for the affluent African American, eight essential components of an effective marketing plan, and advertising ideas, one of which is utilizing social media and blogs - and yours truly is mentioned!
To celebrate the launch of the book, many amazing guests from celebrities to high profile executives and business leaders gathered in New York and Washington, DC. On March 18th, I attended the DC book launch that was held at the Watergate home of business executive and philanthropist Mr. Reginald Van Lee, that provided an amazing view of the Potomac from his terrace, and guests were in the mood to celebrate. Attendees were treated to fabulous tastings from Spoonbread Catering while sipping Veuve Clique.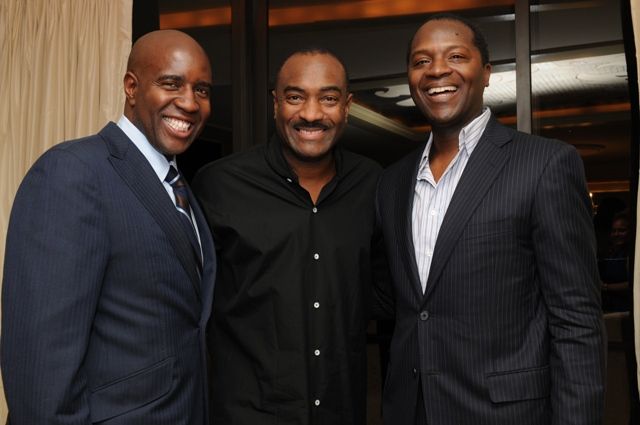 Co-author Len Burnett, Reginald Van Lee, Senior VP of Booz Allen Hamilton; and Clyde Williams, DNC Political Director. Mr. Lee serves on the boards of Evidence, A Dance Company and the Thurgood Marshall College Fund.
Stacie Turner

, Founder of An Extra-Ordinary Life Foundation with co-author Andrea Hoffman
Lobbyist Kevin Parker, public relations executive Carla Sims, and C. Brian Williams of Step Afrika
Tracey Otey Blunt of RLJ Companies; Carl Brooks, CEO of the Executive Leadership Council and Guest
Troy White of Whitehouse Marketing; Rick Wade, Deputy Chief of Staff, US Department of Commerce, Len Burnett and Guest
Also in attendance were entertainment executive Mignon Espy, Reta Lewis, model Keisha Omilana; Carolyn Stennett, Deputy Director/General Counsel for National Head Start Association; Shirley Marcus Allen, Partner at Venture Philanthropy Partners; Cyrus Mehri of Mehri & Skalet PLLC; Gallup CEO, Jim Clifton; and JoAnn Williams and Ivan Fitzgerald of the African Continuum Theatre Company.
For the New York launch held on March 16th at the Maritime Hotel, the event attracted actor Anthony Anderson, media personality Kimberly Richardson, former Motown Records President and founder of Kedar Entertainment, Kedar Massenburg; clarinetist
Anthony McGill
who performed with Yo-Yo Ma at the Obama Inauguration, fashion photographer Keith Major; Keisha Vaughn, Senior Director of Leadership Development, Diversity & Inclusion for Draftfcb; Diane Ashley, Vice President and Chief Diversity Officer for the Federal Reserve Board of New York; and Noel Hankin, Senior VP Multicultural Relations for Moet Hennessy USA.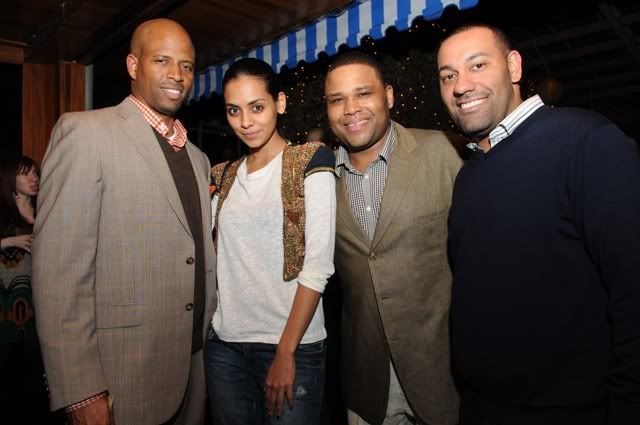 Actor Anthony Anderson (second from right) and Guests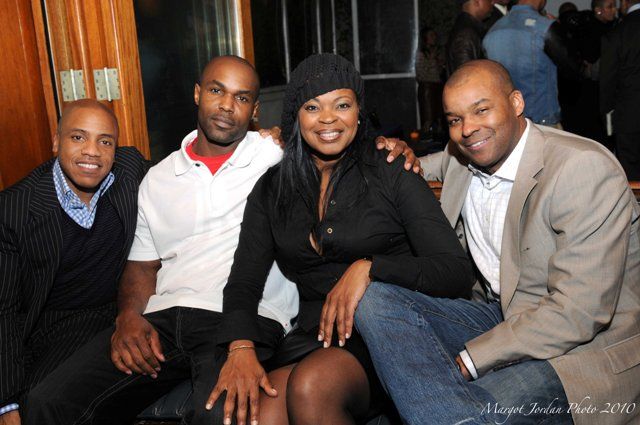 Kedar Massenburg, Founder and President of Kedar Entertainment (left) and Guests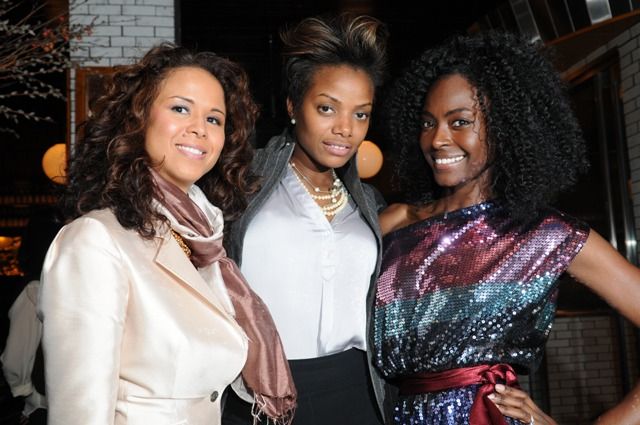 Ken Smaltz

(center), TV personality Kimberly Richardson (right) and Guest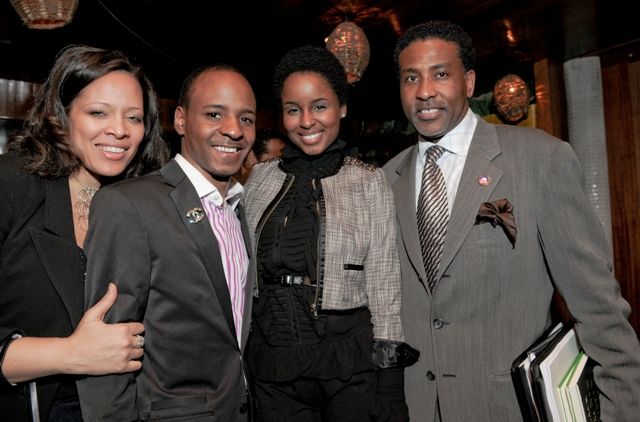 New York book launch Guests
Other guests caught sipping on the "Belvedere Sparkle" specialty cocktails included Antoinette Hamilton of L'Oreal; Alexis Clark, Events Editor for Town & Country Magazine; Emmy Award winning director and producer, Rudy Gaskins and his wife, voice coach, Joan Baker; VP of Brand Integration and Entertainment at UniWorld, Monique L. Nelson; Nicole Cokley of Bloomingdale's, Kathleen Vita of MCM, Felicia Daniels of Continental Airlines, Keke Cargill of Elizabeth Arden and many others. Red carpet interviews were conducted by model and actress Princess Keisha Omilana and the celebration was sponsored by Belvedere. Events were produced by Cookie Patten.
Guests of the events received a complimentary copy of the book, which includes a notable mention and statistics on affluent African Americans and philanthropy. Black is the New Green is a must-read for anyone interested in learning more about this market.
The book is now available at all speciality book stores, including Barnes & Noble, Borders and Amazon.