Northern Virginia Urban League Hosts Black Opal, A Fundraising Event to Support Scholarship and other Community Empowerment Programs
Young professionals from Northern Virginia and the greater Washington, DC region gathered on Saturday, March 6th for Black Opal: Celebrating Decade of Excellence, a fundraising gala and 10th anniversary celebration hosted by the Northern Virginia Urban League Young Professionals Network (YPN). Over 200 young professionals dressed in all black, semi-formal attire dined and danced at the George Washington Masonic Memorial in Old Town Alexandria. The evening commenced at 8 pm with a VIP reception, and guests enjoyed music along with premium food and drinks from 9 pm to 2 am. Pictured in photo above: Lavern J. Chatman, President and CEO, Northern Virginia Urban League; Pamela Perkins, President, YPN; Karen James, Director of Social Programs, YPN; and The Honorable William D. Euille, mayor of Alexandria.
"Tonight was an incredible success," said Pamela Perkins, current president of YPN. "We are excited that so many young professionals joined us for a great night, and I believe many have been inspired to become a part of our movement toward the social and economic empowerment of African Americans and other underserved populations in the community."
During the evening, remarks were made by The Honorable William D. Euille, mayor of Alexandria, who praised YPN for its service to the Northern Virginia community and acknowledged the historic nature of the gathering at the George Washington Masonic Memorial, a building that African Americans were prohibited from entering for many years. Lavern J. Chatman, president and CEO of the Northern Virginia Urban League, also congratulated YPN and reminded guests about the importance that this year holds for the Urban League organization.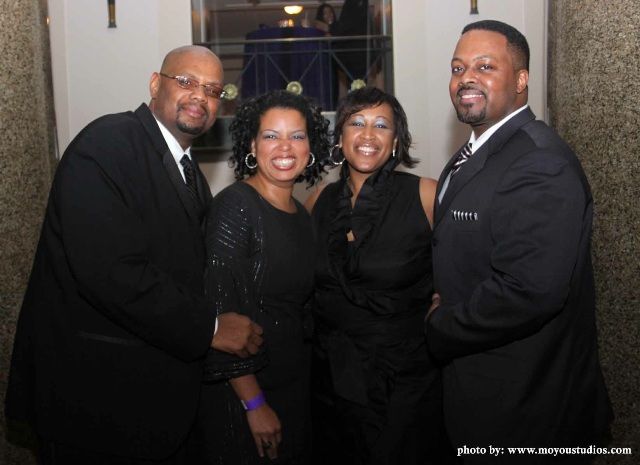 In this photo taken on March 6, 2010 at the George Washington Masonic Memorial, YPN founders return for Black Opal, YPN's 10th anniversary gala and fundraiser. Left to right: Marvin Reese, Paula Fisher, Danyelle Taylor and Kevin Taylor.
"This year, YPN celebrates 10 years, the Northern Virginia Urban League celebrates 20 years and the National Urban League is celebrating 100 years of empowering communities across the country," said Chatman. Chatman encouraged guests to learn more about the National Urban League movement, including its centennial activities and "I Am Empowered" campaign at
www.iamempowered.com
.
Providing concluding remarks for the evening, Perkins thanked past leaders for their work in establishing a strong foundation for YPN's success. Several of the organization's past leaders returned to celebrate, including former presidents Marvin Reese, Danyelle Taylor and Chasiti Dawson. Reese and Taylor co-founded YPN with Paula Fisher and Kevin Taylor, who also attended. The National Urban League Young Professionals was represented by former presidents Ryan Meyers and Karla Ballard, along with Lorie Rowe, current vice president of the eastern region.
Black Opal program partners included The Dale Consulting Group, Magnificence of YOU Studios, DJ CEO and Sourei Studio.
Visit the Northern Virginia Urban League at
http://www.nvul.org/
.
Source: Northern Virginia Urban League/Photo credit:Moyoustudios.com