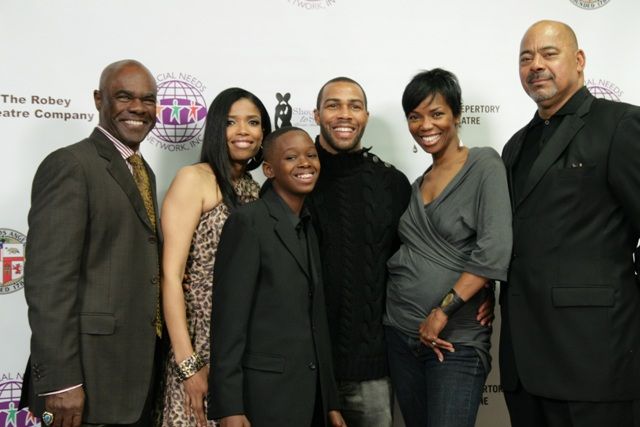 Shoulder to Shoulder Cast: Glynn Turman; Areva Martin, Esq., President & Co-Founder, Special Needs Network; Ashton Sanders, Omari Hardwick, Vanessa Williams and Ben Guillory, Producing Artistic Director, Robey Theatre Company
(Los Angeles, CA--March 1, 2010)--Over 300 community members, arts enthusiasts, families, elected officials and celebrity guests turned out on February 25th for the inaugural, sold-out "
Shoulder to Shoulder: African Americans, the Arts and Autism
" presented by Special Needs Network, Inc. (SNN), The Robey Theatre Company and Ebony Repertory Theatre at the Nate Holden Performing Arts Center in Los Angeles. The evening was filled with inspirational theatrical and musical performances raising awareness around the Autism Spectrum disorder and celebrating the lives of African Americans who have played a significant role in shaping black history.
The evening began with a moving performance by 11-year-old musical savant Adam Mandela Walden from HBO's Autism The Musical, who graced the crowd with his musical genius through classical music. Spoken word artists Sabra Marie & Azure Antoinette delivered inspirational words of wisdom and warmed the audience up for an evening sure to never forget. Celebrity actors James Avery, Glynn Turman, Anna Maria Horsford, Omari Hardwick, Elliott Gould, Vanessa Williams, CCH Pounder and Honorary Event Co-Chair Danny Glover filled the stage to participate in the evening's moving presentation directed and narrated by Ben Guillory.
The evening of theatrical readings celebrated African American heritage and the pursuit of human rights. The audience was moved to tears and laughs as the Actors presented a powerful, educational and inspirational performance. The highlight of the evening was heartfelt performances by Special Needs Network kids who proved that despite having autism they too could be accomplished actors and entertainers such as the cast. Soulful R&B artist, Elaine Gibbs closed the show with a powerful medley of "I'll Be There," "You Got a Friend" and "We are the World" moving everyone to their feet and joining hands to stand shoulder to shoulder.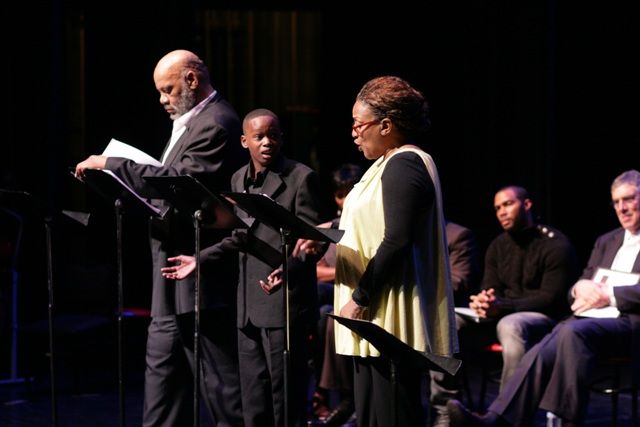 James Avery, Ashton Sanders and CCH Pounder live on stage.
"Shoulder to Shoulder exceeded every expectation set by Special Needs Network and its Board of Directors. We are grateful to the many actors, community leaders, elected officials and parents who supported this event and who assisted SNN in its mission to raise awareness of autism and the need for persistent advocacy on behalf of special needs children and their families," said Managing Partner, Martin & Martin, LLP and SNN Co-Founder and President,
Areva D. Martin, Esq
.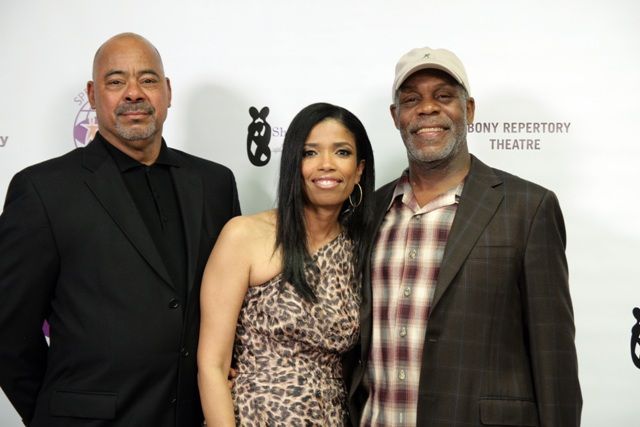 Ben Guillory, Producing Artistic Director, Robey Theatre Company; Areva Martin, and Honorary Event Co-Chair Danny Glover

According to the Center for Disease Control, autism now impacts one in every 91 children and one in every 58 boys. "An estimated 50 children are diagnosed with autism every day. Individuals diagnosed with autism are now estimated to be in the tens of millions. These alarming statistics highlight the need for events like this in terms of raising awareness of the need for additional funding and services for those families living in poor and low income communities," says Martin, a legal analyst for the Dr. Phil Show, who was identified by Redbook Magazine as one of 10 women across the nation changing the face of autism and by Woman's Day as one of its 50 Women on a Mission to Change the World.
Founded in 2005 to address the epidemic proportions in which children of color were being diagnosed with autism and other developmental disorders, SNN is the premier Los Angeles parent-led grass-roots nonprofit organization working specifically on issues of awareness, policy advocacy and support for families in underrepresented communities. The organization has served over 10,000 families since its inception and has received accolades from local, state and elected officials for its innovative service delivery model. SNN has been featured in the Los Angeles Times and other national publications.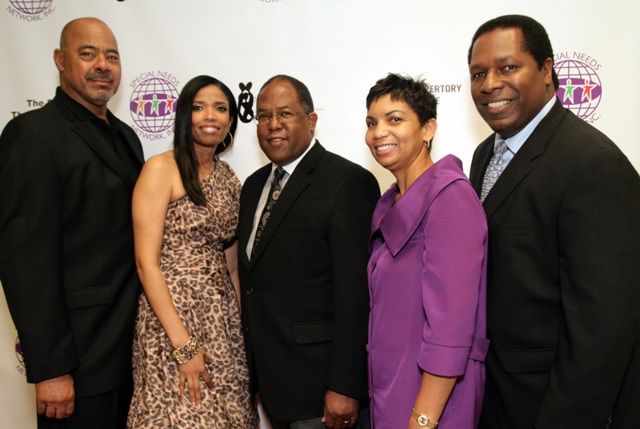 Ben Guillory, Producing Artistic Director, Robey Theatre Company; Areva Martin; LA County Supervisor Mark Ridley-Thomas; Bonnie Berry LaMon, Event Chair; and Wren T. Brown, Founder & Artistic Director, Ebony Repertory Theatre
Robey Theatre is a non-profit organization that takes its name from the pioneering Black actor and activist, Paul Robeson. Led by Producing Artistic Director, Ben Guillory, Robey's mission is to explore and develop relevant provocative, and innovative new plays written about the Black American experience, as well as to reinterpret established works.
The Ebony Repertory Theatre is the resident company and operator of the Nate Holden Performing Arts Center. Under the leadership of Wren T. Brown, it is committed to bringing diverse, high-standard, professional performing arts to the Mid-City community, as well as the greater Los Angeles area.
Shoulder to Shoulder was generously sponsored by: Martin & Martin LLP, Disney, City of Los Angeles Mayor Antonio R. Villaraigosa, KJLH Radio, Los Angeles Sparks, One Hope Wine, Ebony Repertory Theatre and the Robey Theatre Company. Todd Hawkins of
The Todd Group
orchestrated the event.
For more information about Special Needs Network, contact 213-389-7100 and visit
www.specialneedsnetwork.org
. To learn more about the founder of SNN, Areva Martin, visit
www.arevamartin.com
. For more information on The Todd Group, visit
www.thetoddgroup.net
.
Photo Credit: Debra Simmons