To celebrate the arrival of spring, here's an update on the wonderful individuals I've previously profiled! Check out what they've been up to:
Kaneisha Northern, second from right, along with Clark Atlanta University Alumni Tekquiree Spencer, Kisha Celistan and Nichole Celistan volunteering at the Howl Away Hunger event at the Los Angeles Regional Food Bank on October 31, 2009.
In November of last year, I profiled
Kaneisha Northern
, founder of the Los Angeles based Grad Girls Network, a non profit organization that helps shape underprivileged teen girls into confident and productive high school graduates. Recently the organization hosted a network fundraiser mixer that featured local news personalities and the owner of the L.A. Sparks, providing words of encouragement for the young ladies. See the video below:
Keep up the great work Kaneisha! Visit the Grad Girls Network at
http://www.gradgirlsnetwork.org/
.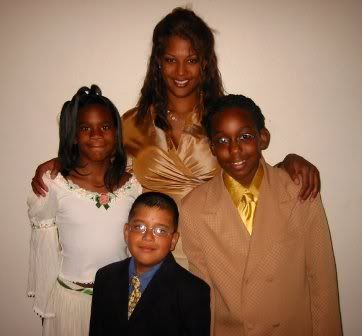 In July of last year, I profiled
Charyn Harris
, founder of Project MuszEd, a non profit organization that provides free and low cost music instruction, instruments and opportunities for lower income youth in Los Angeles. A former keyboardist for R&B legend Barry White, Harris along with her organization raises funds to send these youth to summer camp at the Berklee College of Music, her alma mater.
I am pleased to share that Charyn has been selected to be honored with the Pioneer Women Award by the city of Los Angeles for her significant contributions toward improving the status of women in the city. In addition to Project MuszEd, Charyn serves as the coordinator of music programs for A Place Called Home (APCH). She was instrumental in forming a partnership with APCH and the Berklee City Music Network, a national initiative providing inner city youth with access to music education and scholarship opportunities. Charyn shared, "The need for music education is critical, especially in under-served areas. These kids are just as bright as any and given the opportunity and guidance, have the potential to achieve far and beyond what is usually expected of them." Congratulations Charyn! Visit the Project MuszEd website at
www.projectmuszed.org
.
In the past I've
highlighted the annual gala
hosted by the
Jackie Robinson Foundation
, that provides financial assistance and mentoring to students of color to obtain a college education.
BlackVoices.com
has a feature on
Della Britton Baeza
, the President and CEO of the Foundation, that recently held its annual fundraising gala raising 1.8 million dollars. As the article states, learn more about business and black philanthropy from this seasoned African American executive, who knows how to merge social activism and corporate thinking in a harmonious and helpful way! Read it
HERE
.
Have a great weekend!