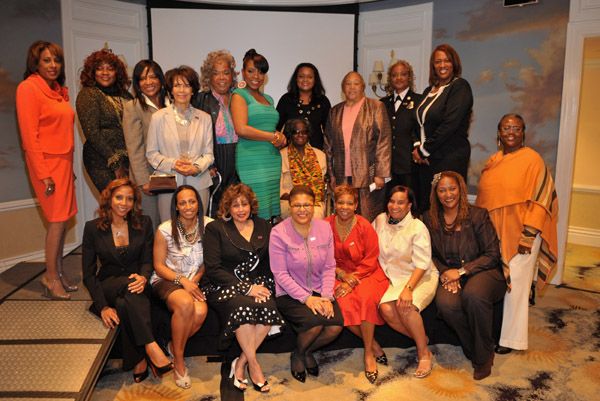 Ford's Freedom's Sisters Honorees pose at the Ford Freedom's Sisters Luncheon at The Beverly Hills Hotel, February 25, 2010 in Beverly Hills, California.
After conducting a citywide search for exceptional women who live in the Southern California community, Ford Motor Company honored twenty women as Southern California Freedom's Sisters. The honorees exemplify dedication to social causes and humanitarian efforts, attributes which are celebrated by the Freedom's Sisters traveling exhibition.
The honorees are:
Speaker Karen Bass
, California State Assembly; Actress
Holly Robinson Peete
, HollyRod Foundation; Deputy City Mayor
Miriam Scott Long
; Entertainer
Rev. Della Reese
; News Anchor
Pat Harvey
, KCAL 9; Actress
Loretta Devine
; former LA County Supervisor
Yvonne B. Burke
; Actress
Sheryl Lee Ralph
, HIV/AIDS Activist; Community Activist
"Sweet Alice" Harris
;
Denise Pines
, Tavis Smiley Group; Publisher
Natalie Cole
, Our Weekly News; Sculptor & Painter
Artis Lane
; Community Activist
Lillian Mobley
; Captain
d'Lisa Davies
, LA Fire Department;
Cynthia Davis
, Charles Drew University of Medicine & Science; Community Activist
LaWanda Hawkins
, Justice For Murdered Children; Auto Advocate
Glenda Gill
; Rainbow PUSH Community Leader
Charisse Bremond-Weaver
, Brotherhood Crusade; Child Care Advocate
Holly J. Mitchell
; and Youth Advocate
Angela B. Winston
, Challengers Boys & Girls Club. The event was hosted by actress Taraji P. Henson and the keynote speaker was Myrlie Evers-Williams.
The interactive, multimedia Freedom's Sisters exhibition was launched in 2008 through funding from the Ford Motor Company Fund in partnership with the Cincinnati Museum Center and the Smithsonian Institution Traveling Exhibition Service (SITES). Freedom's Sisters honors 20 extraordinary African American women, from key 19th century historical figures to contemporary leaders, through their stories of courage, commitment and struggles on behalf of the rights of all Americans. The exhibition will travel to nine venues during its three year tour.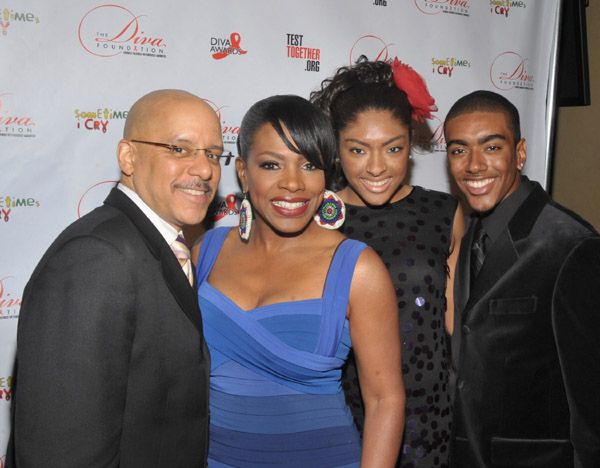 Actress and HIV/AIDS activist Sheryl Lee Ralph is surrounded by her family, husband Vincent Hughes, and her children Ivy-Victoria Ralph and Etienne Ralph at the 1st Annual D.I.V.A. awards on February 27, 2010 in Los Angeles, California.
The D.I.V.A. (Divinely Inspired; Victoriously Anointed) Foundation was founded by Sheryl Lee Ralph to honor the many friends she had lost to HIV/AIDS. The website states that the foundation focuses on generating resources and coordinating activities to create awareness of and combat against HIV/AIDS. The Foundation utilizes music, entertainment, and the arts as a vehicle to raise HIV/AIDS awareness and funds, to educate people, and to help erase the stigma attached to this deadly disease.
One of the central themes of the Oscar nominated film "Precious" is the impact of HIV/AIDS, which gave Ralph the idea to host the D.I.V.A. awards. The event honored Oscar nominees Lee Daniels, Director of the film along with actress Mo'Nique. For more information and to view a video from the event, visit the website at
http://www.divaawards.org/
.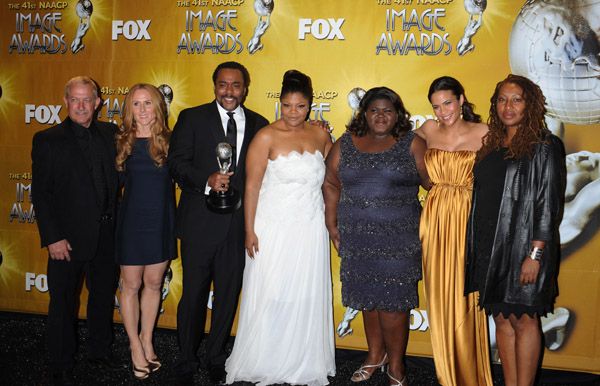 And congratulations to Director Lee Daniels and the cast and producers of "Precious: Based on the Novel 'Push' by Sapphire" on their 2010 NAACP Image Award for Outstanding Motion Picture. In photo: Producers Gary Magness and Sarah Siegel-Magness (who invested $12 million in the film), Director Lee Daniels, actresses Mo'Nique, Gabourey Sidibe, Paula Patton and producer Simone Sheffield. The 41st Annual NAACP Image Awards was held at the Shrine Auditorium on February 26, 2010 in Los Angeles, California.
Photos: Wireimage