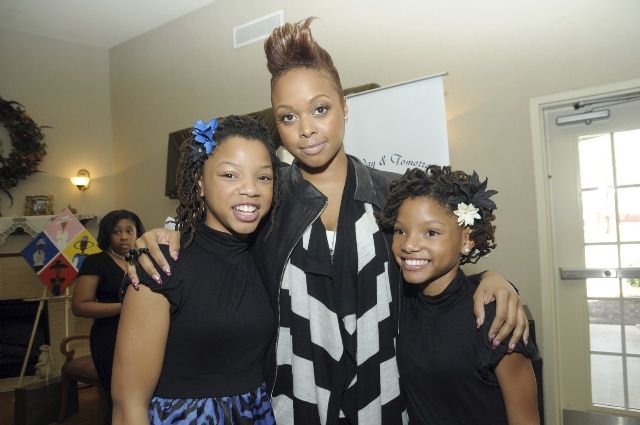 Chrisette Michele celebrates Women's History Month with Atlanta based organization, Sisters of Today and Tomorrow
Atlanta, GA -- Sisters of Today & Tomorrow (SOT) hosted "Celebrating Women of Color… One Young Lady at a Time" brunch and celebration on March 6, 2010 in Atlanta, Georgia. The event marked their 6th Annual Women's History Month Celebration and took place at Big Bethel Village, a senior living facility in affluent Southwest Atlanta, where women, young girls and senior women gathered in celebration of one another with words of encouragement, empowering messages, inspirational songs and dramatic performances. In the above photo, Chrisette is pictured with actresses Chloe Bailey and Halle Bailey.
From politics to music, radio, pageantry, acting and poetry, the speakers and performers were all phenomenal! Def Jam R&B recording artist Chrisette Michele was SOT's special guest, who excited the crowd of women and girls as she told the audience, "I stand before you as an entrepreneur." Chrisette and her mother Linette Payne have created "Chrisette Michele LLC," where they have put together their own tour and merchandising items, employing other women to help develop their businesses. "To all my entrepreneurs be encouraged. It's a crazy world, however, everything that we do - when we follow our dreams is hard." She also encouraged the elated audience to "keep your chin up, because often times we may speak to one another with our head down. Let them see you!" she shouted. "A potential investor, sponsor, business partner or boyfriend/husband, can't see you if your head is down."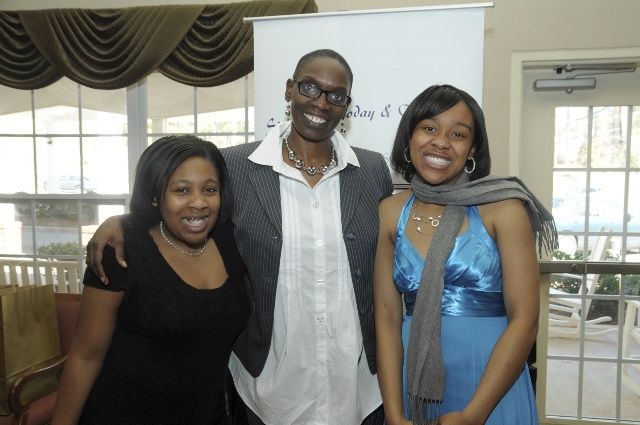 SOT Member Kristen Britton, SOT Founder Carla Morrison and SOT Member Briteny Houston
The keynote address was presented by Dr. Evelyn Winn-Dixon, Mayor of the City of Riverdale, Georgia, who gave the attentive crowd an overview of her life as a post teenage mother who was on governmental assistance, to becoming a college graduate at the age of 35. She raised four children on her own, three of which have become successful in their respective fields, to now becoming the Mayor of Riverdale, Georgia. "When you learn who you are, life becomes easy," said Mayor Winn-Dixon.
Featured speakers included Elle Duncan of Atlanta's V103 who spoke about distractions. Elle suggested that girls and women alike are too focused on the wrong things, i.e. boys, clothes, the car, how cute someone is. "Be inspired by each other," Elle told the young ladies of SOT who she also had a private meeting with prior to the start of the program. "And when those distractions pop up, just know it's the devil's work." Duncan also spoke directly to the parents, who are ultimately responsible for the girls in our community, suggesting them to "be mindful at the things you put in your child's mind."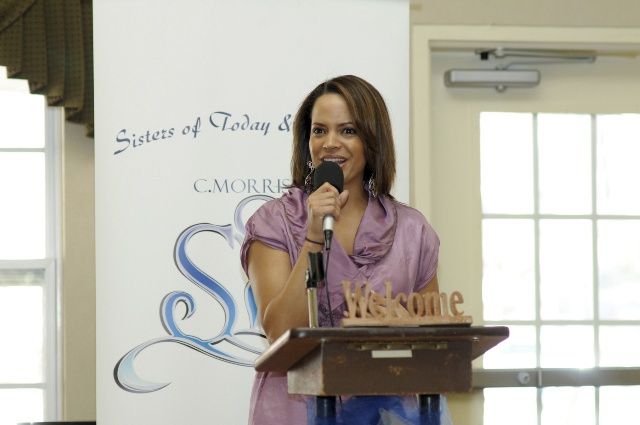 Elle Duncan of Atlanta's V103 radio station served as a featured speaker.
Ronelle Keglar, Miss Black Georgia USA 2010, brought greetings from her platform of health and fitness. Actress Yakini Horn performed a dramatic poem, "Death of a Black Woman," which described the life and times we live in and how women die from not taking care of their needs. SOT's Courtney Britton recited a poem "Black Woman" showcasing our positive attributes, and musical entertainment was provided by SOT's sister singing duo Chloe & Halle Bailey, who performed "Beautiful Flower" by India Irie and "Fly Away," an original piece written by the girls. The event was co-hosted by SOT members Briteny Houston & Kristen Britton. Visual artist Aarica Blackett drew a portrait of the program to be shown later in the month.
"This Women's History Month Celebration was right on target," stated Carla Morrison, Founder of Sisters of Today & Tomorrow. "It bridged the generational gap of young ladies, women and seniors." SOT will continue to celebrate Women's History Month every Saturday with a "Mommy & Me" series, culminating the celebration with a Mommy & Me 'High Tea and Pampering Session' with Carol's Daughter Lenox in Atlanta.
The event was sponsored by Big Bethel Village, Chit Chat Communications, Carol's Daughter, Debnam Group, Dryerbuzz.com, Miami Jo Photograph's & Press Company, The Beautiful Restaurant and Mr. Everything Cafe.
For more information on SOT or Celebrating Women of Color, log onto:
http://www.sistersoftodayandtomorrow.org/
or call (404) 319-2130.