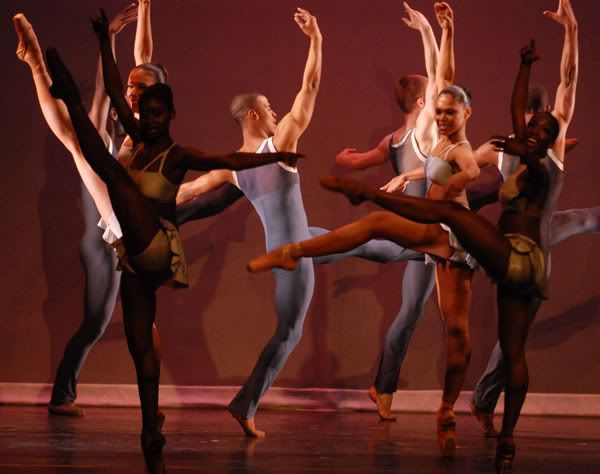 I'm celebrating my three year blogging anniversary by revisting some of my favorite posts all month long! So here's a post I featured in 2008 about the Dance Theatre of Harlem. I made a major faux pas when I incorrectly identified a photo of Dance Theatre of Harlem dancers as dancers from the Alvin Ailey American Dance Theater. A dancer from the Dance Theatre of Harlem emailed me and politely told me I was wrong!
In her email she stated, "Please know that, while both companies represent minorities and the African-American experience in dance, there is a world of difference between them. Primarily: Ailey is a modern company, Dance Theatre of Harlem is a ballet company. Those women (in above photo) are wearing pointe shoes and dancing a ballet that was choreographed on the DTH company by a former DTH company member and remains in active DTH Ensemble repertoire. That has nothing, absolutely nothing, to do with Ailey." View the entire post
HERE
.
In related news, "Dance Theatre of Harlem: 40 Years of Firsts" has opened at the California African American Museum (CAAM) in Los Angeles. The exhibit will be at the museum until June 6, 2010. For more information, visit
HERE
.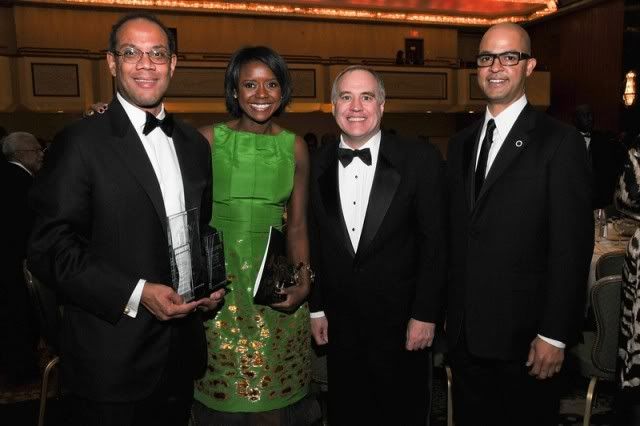 In 2009, the 100 Black Men of New York honored business, finance, real estate and health care titans at their 29th annual benefit gala "Recognizing Our Past, Shaping Our Future" at the New York Hilton grand ballroom that raised $450,000! Pictured are honoree John Rogers, Chairman and CEO, Ariel Investments; Mellody Hobson, ABC News money expert; Honoree Tom DiNapoli, New York State Comptroller; and Craig Simmons, Gala Chairman. View the post
HERE
.
In related news, Thomas W. Dortch, Chairman Emeritus of 100 Black Men of America, celebrated his 60th birthday with a celebrity charity weekend April 9th thru 11th in Atlanta that featured empowerment sessions, a birthday bash and a jazz brunch. Currently he is serving as Chairman of the National Cares Mentoring Movement, and proceeds from the charity weekend benefited The Thomas W. Dortch Foundation and the National Black College Alumni Hall of Fame.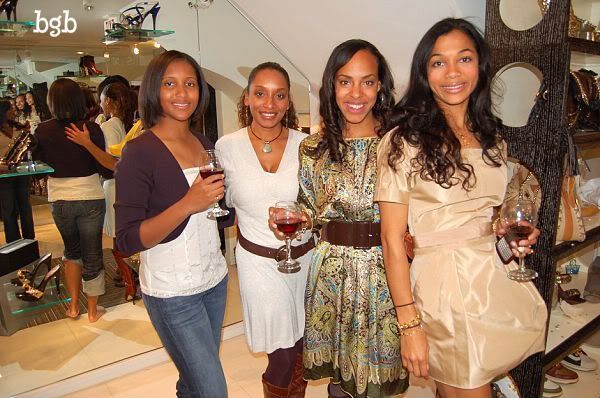 I love it when businesses and non profit organizations team up for a good cause! In 2008, a Harlem shoe boutique, Bourgeoise Shoes, along with the NY Giants football organization hosted a private shopping event that benefited the Emmett Till Legacy Foundation. View the post
HERE
. The owner of the boutique, Rashidah Ali, was honored with a
racial harmony award
last year (thanks to Swizz Beatz for tweeting that post), and recently she opened a new shoe boutique in the Buckhead area of Atlanta.