This month is BlackGivesBack's three year anniversary!
I wrote my first post on April 24, 2007, and I'm amazed at how far this blog has come. I enjoy sharing what black America is doing to better our communities. I've met great people, and have attended amazing charitable events hosted by us, for us, that have raised thousands and even millions of dollars. Blogging on a regular basis takes dedication and passion (especially because I have a FT job!) and I am truly passionate about black philanthropy.
As I embark upon another year, I have exciting new initiatives to share! First is the events page that highlights charity and community events across the country. It's very important to support non profit organizations in this economic climate that are providing services in your community. If you are a non profit organization or community group, list your event for free! View the Events Page
HERE
.
And....I'm branching out! BlackGivesBack NY will be launching soon, and other cities are planned as well. So THANK YOU, my readers, for your support and my hope is that as you read my blog, you will become inspired to give back in new and more ways in your community. In observance of my three year anniversary, I'm revisiting some of my favorite posts!
Earlier this year, the report,
'Potential On the Rise: African American Family Foundations'
was published, that highlighted the growing number of black family foundations. The author noted that little to no research had been conducted about the growing number of African American family foundations in the U.S., and the author's research found that there are 103 such foundations: 75% founded by athletes, 15% created by musicians or actors, and the remaining 10% by business people and doctors.
Among the African American foundations created by business people is the Reginald F. Lewis Foundation. In June 2009, the foundation held its 2nd annual luncheon gala honoring real estate executive R. Donahue Peebles in East Hampton, NY. The foundation is named after the great businessman, Reginald F. Lewis, who was the first African American to build a billion dollar company. A museum is named in his honor in Baltimore, that will host the upcoming Thurgood Marshall College Fund Awards of Excellence gala. In the photo are Lewis' two daughters, Leslie Lewis Sword and Christina Lewis with Don King. Read the post about the gala
HERE
.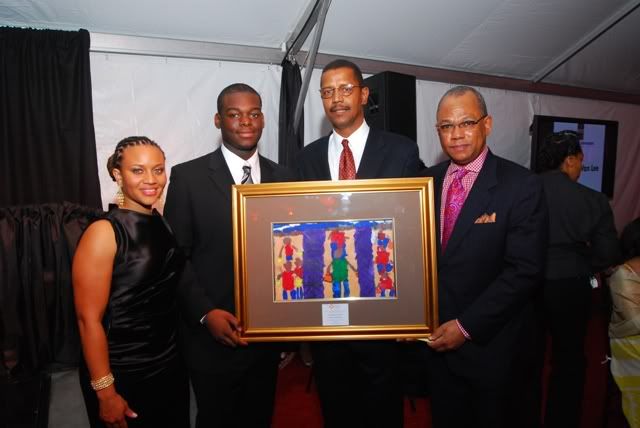 I love to attend charity events across the country, and this event was one of my favorites! In June 2009, hundreds of Harlem's elite gathered at the PS 175 School in Harlem to attend the
2009 Harlem Renaissance Ball
and to celebrate the 20th anniversary of the Abyssinian Development Corporation (ADC). I attended the gala as a guest of one of the event's sponsors, Morris + King, and the ball raised a whopping quarter of a million dollars for the Harlem community. In the photo: President and CEO of the ADC Sheena Wright, ADC student Elie Rinchere, Honoree Lionel McIntyre and the Rev. Calvin Butts. Read the post about the event
HERE
.
In January of 2009, I talked with Ronald Lopes (in photo on the left along with his sister Reigndrop), the Executive Director of the Lisa 'Left Eye' Lopes Foundation about the legacy of his late sister, Lisa 'Left Eye' Lopes of the group TLC. Before her unexpected passing in Honduras in 2002, she shared with her family and friends her vision for opening up a youth center in the country she called her second home. Read the interview
HERE
about their plans to honor her wishes to open an orphanage facility in Honduras.
Throughout the month, I'll share more of my favorite posts!