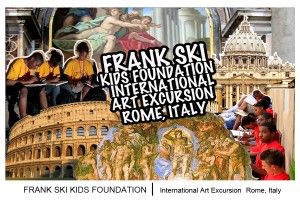 Sketch Your Way to Rome with an International Art Excursion
ATLANTA – From Bernini to Raphael and St. Peter's Basilica to the Sistine Chapel, for centuries, Rome has been home to some of history's most famous artists and architecture. This June, five promising young artists will have the opportunity to experience many of the historical wonders that have earned Rome its nickname as the Eternal City. These students will travel with the Frank Ski Kids Foundation on an 8-day excursion to Rome, Italy, the second part of the Foundation's International Art Excursion that took a group to Florence last year. The lucky students will be chosen through the art contest that begins Wednesday, April 14 and is open through April 27, 2010 at 5:00 pm EST.
On Frank Ski's and Wanda's number-one rated radio show on V-103, Frank Ski announced the kick-off to the Frank Ski Kids Foundation International Art Excursion: Rome, Italy art contest. Frank and wife Tanya, President of the Frank Ski Kids Foundation, will lead the trip and take the students on professionally guided tours of renowned museums and historic sites like the Vatican Museum, Saint Peter's Basilica, Borghese Gardens and the Roman Coliseum.
The International Art Excursion is the latest educational adventure created by the Frank Ski Kids Foundation to foster passion about learning and the world to Atlanta's youth and expose them to their future through science, technology, athletics and the arts. The Foundation's Planet Green initiative sent a group of school children to the Amazon in 2008 and the first group of American school children to the Charles Darwin Research Station in the Galapagos Islands in 2007.
How can kids take part in the Frank Ski Kids Foundation's latest trip?
Compose an original, single-authored drawing in colored or lead pencil only with a landscape motif (on paper no larger than 16x20) to the Frank Ski Kids Foundation office: 217-9 16th Street Atlanta, GA 30363.
All art aficionados ages 13-15 can apply
; submissions will be reviewed and the top 10 will be notified on April 28, 2010. The top 10 will participate in a live drawing competition at Pace Academy on April 29 from 5-9 pm in front of a panel of judges. The five students chosen to travel to Rome June 6-13, 2010 should prepare to gain a colorful palette of intimate and hands-on art knowledge.
For more details on eligibility and submissions, please visit
http://www.frankskikids.org/
.
Buon viaggio!
Special thanks to the Frank Ski Kids Foundation International Art Excursion: Rome, Italy sponsors: State Farm Insurance, Nike Store Lenox, Pace Academy and Mist Premium Spring Water.