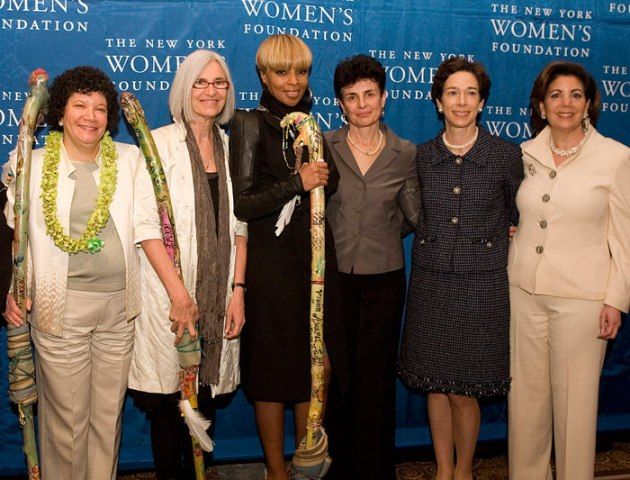 2010 Celebrating Women Breakfast Honorees Margarita Rosa, Eileen Fisher, and Mary J. Blige; New York Women's Foundation President & CEO, Ana L. Oliveira; Barbara M. Vogelstein, and Board Chair Carolyn Buck Luce at the 2010 New York Women's Foundation Celebrating Women Breakfast, May 13, 2010 in New York City.
By BlackGivesBack NY contributor Akira Barclay
On Thursday May 13th, more than 2,300 guests gathered at the New York Hilton Grand Ballroom for The New York Women's Foundation's 2010 Celebrating Women® Breakfast. The premiere fundraising event for women of conscience in New York City, the Breakfast draws thousands annually to celebrate the work of the Foundation's grantee partners and applaud the achievements of remarkable leaders in philanthropy, community-based work and women's rights.
Emceed by CNN Anchor and Special Correspondent Soledad O'Brien, this year's breakfast honored Award-Winning Singer and Philanthropist Mary J. Blige; Founder and Chief Creative Officer of EILEEN FISHER, INC., Eileen Fisher; and Social Justice Advocate and Executive Director of the Grand Street Settlement, Margarita Rosa. The Breakfast helped The New York Women's Foundation® exceed its $1.4 million fundraising goal.
The event opened with an explosive performance by NYC Bhangra followed by a video presentation that introduced guests to some of the Foundation's 68 grantee partners and the life-changing work they engage in on behalf of women and girls across New York City. As representatives from each of the grantee partner organizations proudly watched from the dais, Antoinette Coffi-Ahibo bravely told the story of how she came to the U.S. from the Ivory Coast and eventually saved enough money to purchase her first home. Shockingly, after the discovery that she had two subprime mortgages that she could not afford, her American Dream began to dissolve into a nightmare. In the midst of her despair, she remembered a piece of advice from her grandmother who said, "If you have a disease, scream at the top of your lungs and someone who knows how to cure the disease will help you. If you are quiet because you are ashamed, no one can help." The looming foreclosure of her home was Coffi-Ahibo's figurative disease. She told the crowd it was then that she began to scream out for help. Her cries were answered by CHANGER (Communities, Homeowners And Neighbors Gaining Economic Rights) (
http://changernyc.org/
) a NYWF grantee partner who helped her successfully defend the foreclosure of her home.
High school seniors and twin sisters Kate and Karry Calderon captivated the audience with their testimony about how through competitive rowing with NYWF Grantee Row New York (
http://www.rownewyork.org/
) they've learned teamwork, perseverance and to never give up. The room erupted into rousing applause when the sisters announced that despite their incredibly difficult life circumstances, they will be headed to Queens College and Bryn Mawr College in the fall.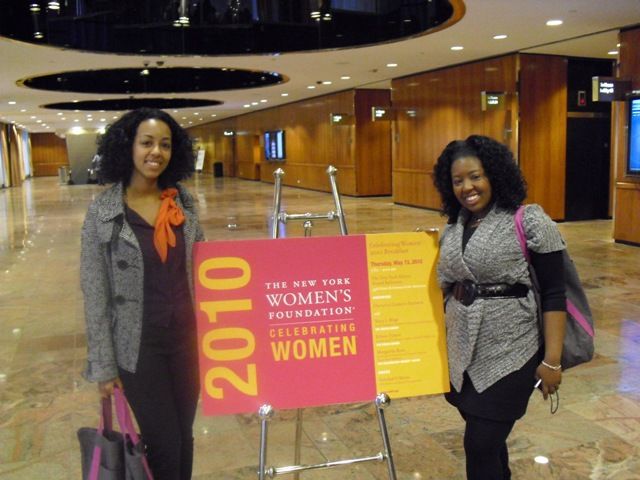 Natasha Campos and Sabine Mondesir, 2010 Celebrating Women Breakfast Volunteers
Ettice O. Womble, Chief Diversity Officer, Diversity Works International, and Chandra Anderson
Mary J. Blige was honored with the Vision Award for strategic philanthropy in praise of her latest charitable endeavor, The Mary J. Blige and Steve Stoute Foundation for the Advancement of Women Now (FFAWN). Approaching the podium full of emotion, Blige tearfully shared how from the age of five into her late teens, she saw women being destroyed all around her. She described the movie of her childhood that plays in her head as a horror film filled with screams from her mother and abusive father and a sadly similar scene for many of the other women in her building. Blige herself grew up and experienced the same abuses she witnessed as a child and suffered from low-self esteem. She used her music to work through her pain and credited the loyal support from her female fan base with helping her heal saying, "when I was at my lowest point, when I thought no one else was there, my fans gave me life and reason to love myself." Ultimately, Blige believes her suffering was not in vain but what prepared her to stand with FFAWN Executive Director, Madeline Nelson and help other women "pick their heads and their backs up," stand tall and be proud of themselves. As Blige raised her Walking Stick Award made by young women of the Youth Empowerment Mission and began to exit the stage, the audience rose to their feet and gave her a standing ovation for her heartfelt speech.
Despite the recession, The New York Women's Foundation® increased its grantmaking by 20 percent in 2009. In its Spring 2010 Grant Cycle, The New York Women's Foundation awarded $1.48 million to 31 community-based organizations that serve the needs of women and families in New York City. For 23 years, the Foundation has been a steadfast partner with over 240 community-based organizations with their dedicated, courageous leaders, and will continue its commitment to supporting efforts that address women's economic security in 2010.
To learn more about the New York Women's Foundation® visit
www.nywf.org
.
Top photo credit: NY Social Diary/Photo credit: Akira Barclay