Fashion designer Gwen Beloti (second from left) with models at her Fall 2010 collection show on May 21, 2010 in Brooklyn, New York.
By BlackGivesBack NY contributor Akira Barclay
Brooklyn Designer Gwen Beloti unveiled her Fall 2010 Collection "Hard Serenity" to an intimate group of New York fashion press, stylists, trendsetters, and VIP's on May 21st at the Chris Gandsy Showroom in Brooklyn, NY. Hosted by Media Personality Tati Amare from TV's Breaking Bread, the event included a fashion show and networking reception with cupcakes from Sweet Confetti.
In addition to the tight selection of jaw-dropping statement pieces, Hard Serenity showcased the Handy Clutch, a limited edition handbag. Merging fashion with social action, Gwen Beloti will donate 10% of proceeds from sales of the Handy Clutch to Little Dresses for Africa (
http://www.littledressesforafrica.org/blog/
), a nonprofit organization dedicated to providing relief to children living in orphanages in Central Africa.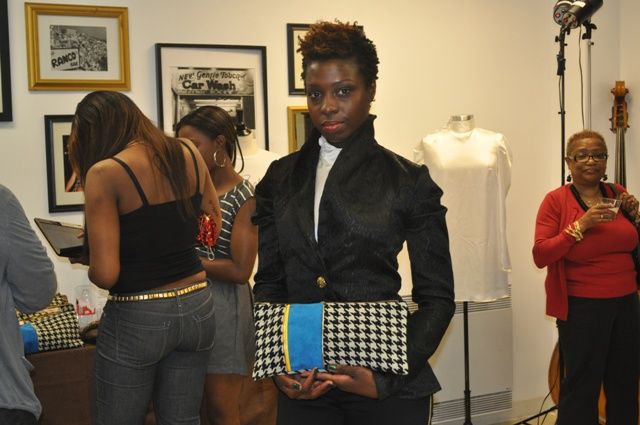 A model with the Handy Clutch
To learn more about the Gwen Beloti Collection visit:
http://www.gwenbeloti.com/
and
http://www.gwenbeloti.blogspot.com/
. See our previous post on Gwen, a former psychologist turned fashion designer
HERE
.
BlackGivesBackNY

: Follow Akira on Twitter! Get all the NY happenings at

www.twitter.com/blkgivesbackNY


Have a NY event to share with Akira? Contact akira[at]blackgivesback.com.