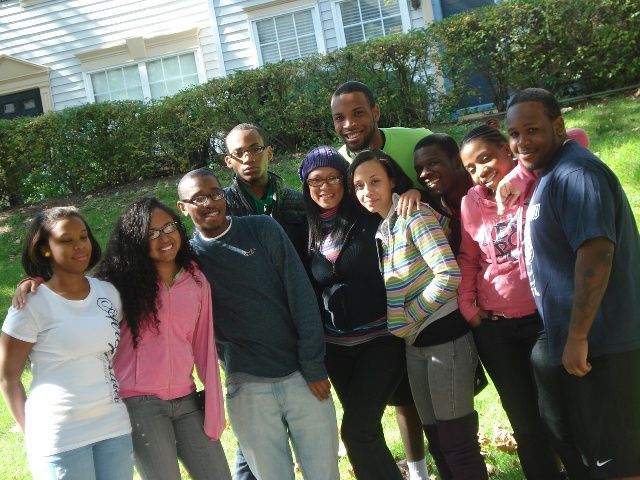 Kim J. Ford (center), writer, producer and director of the 'Get Down' PSA with teen and young adult campaign participants.

NEW YORK, April 28, 2010 – Lionqueen 192 Productions, Inc. and Bleu Life Media today announced the release of the GET DOWN public service announcement and accompanying HIV/AIDS awareness campaign. GET DOWN, written, produced and directed by Kim J. Ford (Lionqueen 192 Productions, Inc.), is an edgy new HIV/AIDS PSA that candidly portrays sexually active youth of various sexual identities who are experimenting with multiple sexual partners and the consequences they deal with as a result. The PSA also features celebrities Dawn Richard (of Dirty Money and formerly of Danity Kane/MTV's Making The Band), Demarco Majors (formerly LOGO's Shirts & Skins), and Siri Music artist Stefani Vara, who lent their time and voices to the project.
After leaving a corporate marketing job in March 2008, Ford was inspired by the writing of her then 16-year old god-daughter, Chantel Reid, whose sex- and HIV/AIDS-focused blog entry "
Coming Out
," encouraged her to step out of her comfort zone and do something. "After doing some research on the statistics of HIV/AIDS and sexual behaviors among young people, I had to get involved," said Ford. "Having spent more than 16 years marketing to the youth consumer at both VIBE Magazine and a leading experiential marketing agency, I just felt it was my turn to give back," she concluded.
The statistics are startling from various health organizations. According to the most recent Center for Disease Control (CDC) report released in 2009, as of 2007, African Americans accounted for the majority of the estimated number of AIDS diagnoses made during 2007. As of 2006, the American Social Health Association reported that one in two sexually active persons will contract a STD/STI by the age of 25, and one in four teens will contract a STD/STI. In fact, the CDC's Youth Risk Behavioral Survey 1991-2007 states that 47% of high school students have had sexual intercourse and among Hispanic and African American youth those statistics are even higher at 52% and 66.5%. As of the 2005 report, of those surveyed, 6.2% have had their first sexual intercourse experience before age 13, and while 89.5% have been taught about AIDS and HIV infection in school, only 61.5% are using condoms.
As a producer, writer and marketing veteran, Ford put her skill set to use and tapped entertainment industry friends, media mogul De'Von Christopher (President & CEO of Bleu Life Media and publisher of Bleu Magazine) and emerging screenwriter Richard "Rick" Cummings to co-produce and co-write the project. "It's really important for youth to continue to have a voice about something as critical as HIV/AIDS – especially within their communities," said Christopher. "As a generous contributor to a number of philanthropic organizations, I felt that partnering with Kim Ford on this project was another way to give back to the next generation of leaders," he concluded. Emerging director of photography Tolu Omisore, camera operator Anthony Harris, and editors Omar Williams ("Black Wheels", "Rainbow On The Green", "Weekend VIBE") and Amanda White rounded out the core team.
Behind the scenes and in front of the camera teens and young adults were involved in various aspects of the production, from story to casting and on-set production. "I wanted to make sure this was not just another 'adults talking to young people' public service announcement," commented Ford. "This is a grassroots movement and young people were involved from the beginning."
Get Down has partnered with FACES NY, a New York based non profit (formerly the Minority Task Force on AIDS) that is celebrating its 25th year in the fight against HIV/AIDS and providing care to the community. To kick off the partnership, a contingent from the GET DOWN project will walk with the FACES NY team in New York's AIDS Walk on May 16, 2010. To find out more about how to support the FACESNY/GET DOWN team, check out GET DOWN blog,
http://www.getdownpsa.blogspot.com
, and Facebook page, facebook.com/getdownpsa.