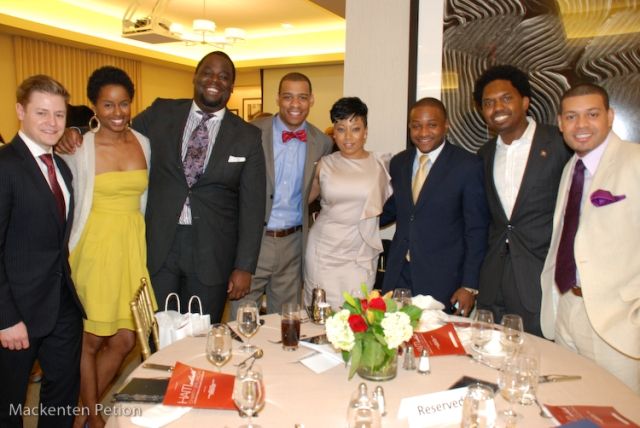 Kipton Cronkite, KiptonArt.com; Latoya A. Henry, Event Organizer; Gardy V. Guerrier, Hearts4Haiti Global Initiative; DeMarco Morgan, WNBC4 New York; Demetria L. Lucas, ABelleInBrooklyn.com; Fabrice Armand; Calcie Cooper, Haiti Is Me; Sir Charles Hill, Event Organizer
By BlackGivesBack NY contributor Akira Barclay
More than 150 New York City professionals joined forces in the Presidential Ballroom of the Columbia University Faculty House on Saturday, May 15th for the Haiti Rebirth Charity Brunch. The event, organized by Margaret Bouhairie-Martinez, Sir Charles Hill, Latoya A. Henry and an elite group of Host Committee members included a pre brunch silent auction reception, entertainment, and panel discussion that raised close to $20,000 for Habitat for Humanity International's relief efforts in Haiti.
The pre brunch silent auction reception curated by KiptonArt.com featured artwork by Haitian children that were provided by Life for the World to support the rebuilding of the Maranatha Orphanage and School. Guests also bid on auction items from New York Yankee Derek Jeter who donated an autographed photo and baseball, and they were treated to raffle prizes provided by Dr. Miracle's, Lancome and B. Marie Style.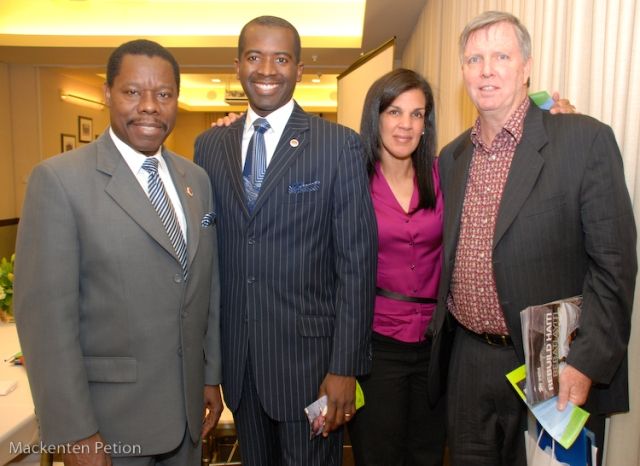 Council Member Mathieu Eugene, Joseph Champagne, The Global Syndicate; Johanna Laurent, Life for the World; Joe Mulvey, Habitat for Humanity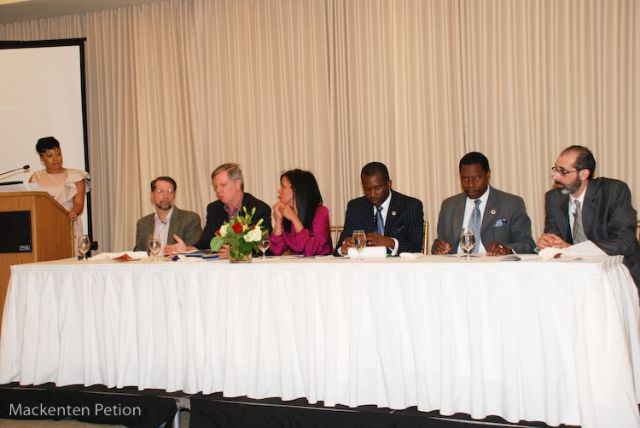 During the program, WNBC4 New York anchor and reporter DeMarco Morgan served as emcee while guests dined on authentic Haitian cuisine. Performances by up-and-coming vocalist and violinist Joya Bravo and the Ase Dance Theatre Collective garnered standing ovations from the crowd.
Essence Magazine's Demetria L. Lucas moderated a discussion of issues related to the aftermath of the Haiti earthquake with a panel of experts in the fields of philanthropy, public health, nonprofit management, law and politics. The panelists were:
Michael S. Carren
, Senior Philanthropy Manager, JP Morgan Chase & Co.
Joseph Champagne
, General Council, Global Syndicate
Council Member
Mathieu Eugene
, Brooklyn, NY
Dr. Richard Garfield
, Henrick H. Bendixen Professor of Clinical International Nursing, School of Nursing and Clinical Population and Family Health, Mailman School of Public Health, Columbia University
Johanna Laurent
, New York Executive, Life for the World
Joseph Mulvey
, Regional Development Director, Corporate Programs, Habitat for Humanity International
Demetria L. Lucas; Briana Bingham, B. Marie Style; Joseph Champagne, The Global Syndicate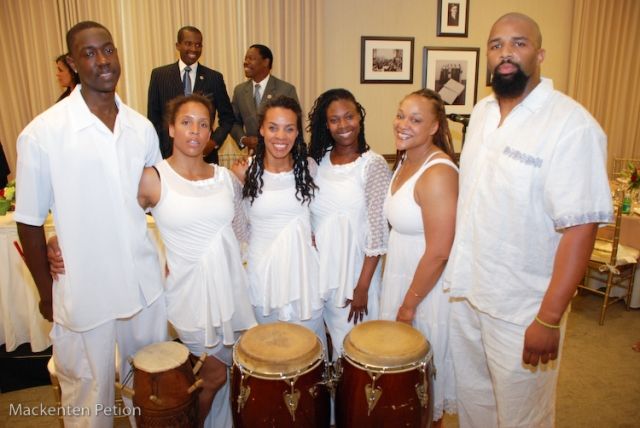 Ase Dance Theatre Collective
Over the next five years, Habitat for Humanity has made a commitment to serve more than 50,000 families affected by the earthquake that devastated Haiti on January 12, 2010. Proceeds from the Haiti Rebirth Charity Brunch and silent auction will benefit Habitat for Humanity International and its efforts to provide earthquake survivors with short-term shelter and long-term transitional homes. Those who were unable to attend the brunch but would still like to MAKE A FULLY TAX DEDUCTIBLE DONATION toward Habitat for Humanity's work in Haiti, can visit:
https://www.habitat.org/cd/giving/donate.aspx?link=254
to donate online.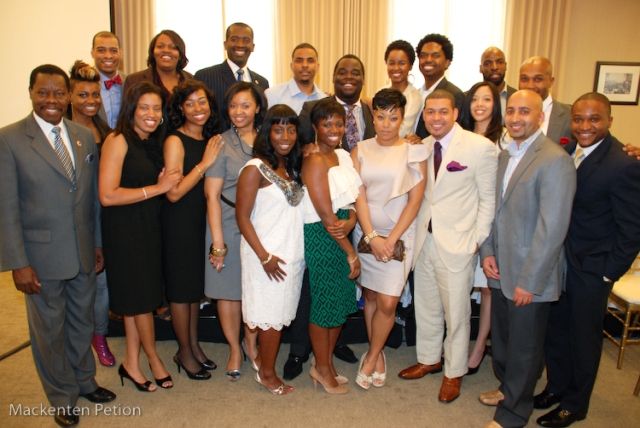 Row 1: Council Member Mathieu Eugene, Joya Bravo 1 and 2, Margaret Bouhairie-Martinez,
Event Organizer; Betina Dowdell, Citi; Shana Stephenson, Marquee Matchups; Demetria L. Lucas, ABelleinBrooklyn.com; Sir Charles Hill, Event Organizer; Ilyas Akbar, Axa Advisors; Fabrice Armand

Row 2: Joya Bravo, Singer/Violinist; DeMarco Morgan, WNBC 4 New York; Nadine Morency-Mohs; Joseph Champagne, The Global Syndicate; Aden Seraile, Citiology.com; Gardy V. Guerrier; Latoya A. Henry, Event Organizer; Calcie Cooper, Haiti Is Me; Will Davison, The Marcus Graham Project; Kara Lee, Pierre Lee Group; Ramone Bellagamba
The Haiti Rebirth Charity Brunch Host Committee:
Tracye R. Adams, Ilyas Akbar, Dwayne Ashley, Jamaal Bailey, Tai Beauchamp, Bridget Bland, Margaret Bouhairie-Martinez, Bill Campbell, Lorraine Collins, Calcie Cooper, Kipton Cronkite, William Davison, Betina Dowdell, Meghan Fennelly, Stephanie Fils, Russell Green, Ashley Hartsook, Haiti Is Me, Hearts4Haiti Global Initiative, Latoya A. Henry, Sir Charles Hill, Diana Hilson, Natema Hines, Andrea Hoffman, Tatiana Holifield, Jillian James, Nichole Kirtley, Kara Lee, Todd Leverette, Demetria Lucas, Tean Ly, Nadine Morency-Mohs, Jesse Owens, Jason Parker, Carla Payne, L. Matthew Perry, Nkrumah Pierre, Kevin Powell, Dennis Rudder, Aden Seraile, Jeannine Sikora, Shana Stephenson, Rahshib Thomas, and Shana L Wells
Photo credit: Mackenten Petion