Loraine Smith, mother of R&B singer/songwriter Ne-Yo; Ne-Yo, and Nikki Smith, singer/songwriter and sister of Ne-Yo, attend the Compound Foundation's Third Annual Celebration of Mothers on Mother's Day, May 9, 2010 in Atlanta.
By BlackGivesBack Atlanta contributor Lisa Brathwaite
More than 60 deserving foster mothers and their guests celebrated Mother's Day in loving company with Grammy Award Winning R&B Singer-Songwriter, Ne-Yo and his Compound Foundation family and friends during the 3rd Annual Celebration of Mothers on Sunday, May 9, 2010 in Atlanta.
The exclusive brunch event included a headline performance by R&B singing sensation Raheem DeVaughn and a special recognition of five exceptional foster moms who had been identified by the DHS Division of Family and Children Services as women with a demonstrated record of exceptional service to children in Georgia.
"I just want to tell you that I think you are all very special and I just wanted to make this a special day for you," said Ne-Yo to the mothers in attendance, commending them all for their efforts in serving children in need.
Luminary Moms Loraine Smith (mother of Ne-Yo), Sylvia Reed (mother of Atlanta Mayor Kasim Reed), Janice Faulkner (mother of NBA star Lou Williams) and Alfredia Scott (wife of US Congressman David Scott), as well as Nikki Smith (singer-songwriter and sister of Ne-Yo), presented sponsored gifts to the honored moms on The Compound Foundation's behalf, adding words of praise for their dedication and commitment to children in foster care. The foster parenting stories of honorees Doris Flowers, Sandy Bunn, Carsandra Favors, Sandra Ransom and Mattie Smith touched and inspired the audience.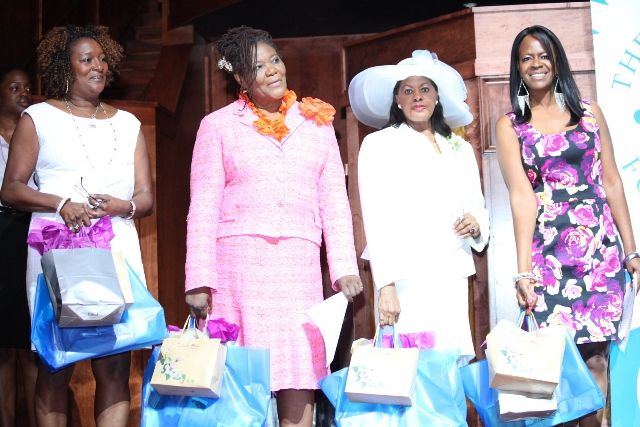 Luminary Mothers Janice Faulkner, Alfredia Scott, Sylvia Reed and Loraine Smith
Additional performers and speakers included spoken word artist Michael Molina, poet Crystal Williams—herself a foster care alumna and advocate—Saniyyah Griffin of Carol's Daughter and keynote speaker Georgia State Representative Alisha Morgan, who gave insightful words of encouragement to the foster moms and teen moms in foster care attending the Celebration.
As May is National Foster Care month, a passionate appeal was made to guests in the audience by Ama Saran, The Compound Foundation's Board Chair.
"You can decide to become a foster care parent. Yes, we are citizens of the globe. We are citizens of the universe. But do not get caught up making sure that you're taking care of other people and we do not take care of our own, because it's somehow much more enticing, somehow it's much more engaging and somehow it's got so much more 'stuff' that comes with it," she said. "The 'stuff' that we need to bring is dedication and commitment to the children here as well, and they need you now."
R&B singer Ne-Yo with Raheem DeVaughn, who gave a special performance for the mothers.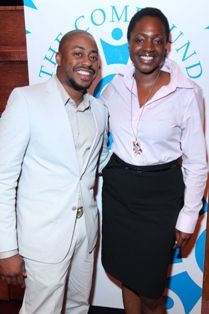 Raheem DeVaughn and Saniyya Griffin of Carols Daughter Beauty Line; Crystal Williams, Ne-Yo and Ebony Harris
Ne-Yo and Cyntelia Abrams with event sponsor Design Essentials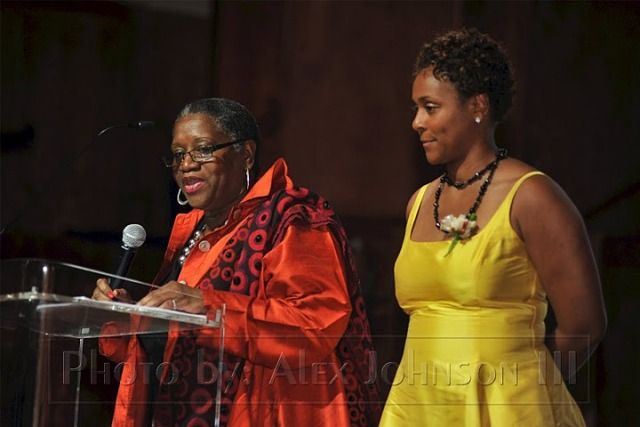 Ama Saran, Board Chair and Lannetta Easterling, Board Member of The Compound Foundation
Ebony Barley, Vickie Olasimbo, Reba Barley, and Jen Drake
Gifts to the foster moms attending were provided by Carol's Daughter beauty line, Design Essentials hair care products, Atlanta Tribune, O.P.I nail care, Nick Chavez hair care products, and LEAP Frog educational products. The Compound Foundation event demonstrated the organization's continued commitment to addressing issues facing youth in foster care, as well as providing support and resources to the non-traditional family structures for which the foster care system calls. Plans for a youth summer camp and workshops of interest around music production are also underway. You can visit
www.compoundfoundation.org
for more information.
BlackGivesBack Atlanta contributor Lisa Brathwaite highlights the many charitable events in the Atlanta area! Contact Lisa at lisa [at] blackgivesback [dot] com and follow her on Twitter for more Atlanta happenings at
www.twitter.com/blkgivesbackATL
.
Photos by: Alex Johnson III Photography and Thaddeus McAdams/ExclusiveAccess.net