Rev. Dr. Calvin O. Butts, III, Chairman of Abyssinian Development Corporation; Georgi Exinord, 8th Grade Student at Thurgood Marshall Academy for Learning and Social Change; Marian Wright Edelman, Founder and President of Children's Defense Fund; Sheena Wright, President and CEO of Abyssinian Development Corporation attend Abyssinian Development Corporation's Harlem Renaissance Day of Commitment Leadership Breakfast on June 2, 2010 in Harlem, NY.
By Akira Barclay, BlackGivesBack NY contributor
On June 2nd, the Abyssinian Development Corporation (ADC) held its Harlem Renaissance Day of Commitment Leadership Breakfast in Shepard Hall at City College of the City University of New York. Hosted by ADC founder and Pastor of Abyssinian Baptist Church Rev. Dr. Calvin O. Butts, III, the event welcomed longtime partners, friends and constituents including New York City Mayor Michael Bloomberg to come together and celebrate ADC's Education Movement and two decades of extraordinary accomplishments, programs and services that have contributed to the electrifying revival of the Harlem community.
Marian Wright Edelman, Founder and President of the Children's Defense Fund, and Thomas J. McInerney, Chief Operating Officer of ING Insurance and Chairman of the ING Foundation were honored with the Harlem Renaissance Award. Speaking of honoree McInerney, ADC President and CEO Sheena Wright said, "Tom McInerney's exemplary commitment to diversity and inclusion, children's education, and empowering the underserved speaks to the very essence of the Harlem Renaissance Award. We're so proud to honor this visionary chairman of the ING Foundation who believes, as we do, that education is an essential element to ensuring and building truly successful communities."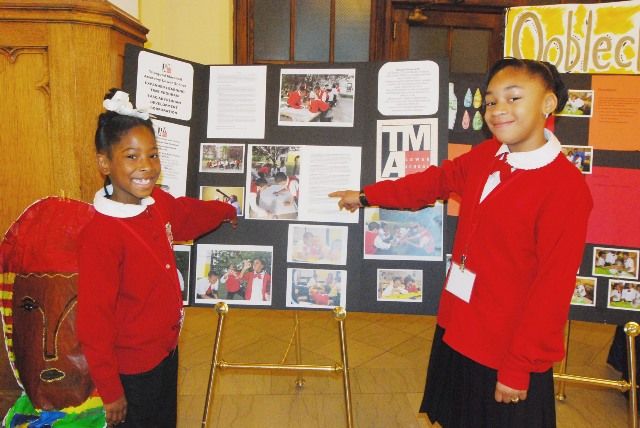 Samara Eubank and Sydeny Bush, Students from Thurgood Marshall Academy Lower School
Founded in 1989 by the historic Abyssinian Baptist Church, Abyssinian Development Corporation is a 501 (c) (3) not-for-profit comprehensive community development corporation dedicated to improving the quality of life for Harlem's cherished families. For more than 20 years, ADC has been at the forefront of revitalizing the socioeconomic fabric of the Harlem community by developing quality affordable housing, spearheading commercial development, fostering education, strengthening families and building community capacity through civic engagement. Having leveraged over $600 million in investments in Harlem, ADC has played a key leadership role in Harlem's development. ADC sponsors three high-performing public education institutions—the award-winning Abyssinian Head Start Program and the two innovative Thurgood Marshall Academies. ADC's Education Movement —a holistic approach to increasing and improving opportunities for young people to benefit from a quality education continuum is a national model for investment in public education.
For more information, please visit:
www.adcorp.org
;
www.twitter.com/adcnow
; and
www.facebook.com/AbyssinianDevelopmentCorporation
.
Photo Credit: Bob Gore Productions