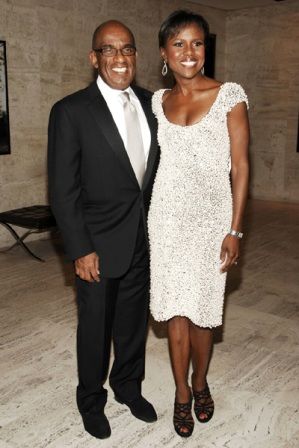 Black Alumni of Pratt Celebrate Their 20th Anniversary at the Four Seasons Restaurant, An Evening Honoring "The Creative Spirit"
Via Black Tie Magazine: (New York, NY) The Black Alumni of Pratt (BAP) celebrated their 20th Anniversary with a black tie gala at New York's Four Seasons restaurant. Pratt Institute is one of the top three visual art institutions of higher education in the nation and the only one of its kind with a Black Alumni organization.
Cynthia and Dan Lufkin with Jane and David Walentas were the evening's Co-Chairs. Gayle Atkins Perkins and Malaak Compton-Rock were the Vice-Chairs. ABC's Deborah Roberts and NBC's Al Roker, (in photo) Mr. and Mrs. in private life, were Masters of Ceremony.
Awards were presented to Annette de la Renta, Distinguished Patron of the Arts Award by Oscar de la Renta; Lee Daniels, Creative Spirit Award by Grace Hightower; Naeem Khan and Ranjana Khan, Creative Spirit Award by Linda Fargo; Marisa Acocella Marchetto, Distinguished Alumna Award by Cynthia Lufkin; Peter Max, Pinnacle Alumni in Art and Design Award by President Bill Clinton through a video presentation assisted by Dr. Thomas F. Schutte, President of Pratt Institute.
During the break for the first course, jewelry designer Kenneth Jay Lane took to the podium in a move that astonished everyone to announce, "When I was honored by Pratt, I gave nothing. I apologize. So, I would like to give $100,000 to the Black Alumni of Pratt."
Leading the applause were former New York City mayor David Dinkins and his wife Joyce; Robert DeNiro; Maria Cuomo Cole; Fe and Alessandro Fendi; Gayle and Charles Atkins; Gillian and Sylvester Miniter; Eleanora and Michael Kennedy; Mica Ertegun; Carolyne Roehm; Amy Fine Collins; Marcia and Richard Mishaan; Prudence Solomon and Jerry Inzerillo; Muffie Potter Aston; Alex von Bidder; Lisa and David Schiff; Felicia Taylor; Moises de la Renta; Becca Cason Thrash; Silvano Marchetto; Somers and Jonathan Farkas; Stewart Lane and Bonnie Comley; Heather Randall; Rene Slyer; Casey Ribicoff; Eric Javits, Jr.; Eliza Reed Bolen; Zaheen Khan; Alva Chinn; EdMundo Huerta; Alexis Clark and Lola Ogunnaike.
BAP was founded in 1990 to identify and advance scholastic and professional opportunities for Pratt alumni and talented, yet needy Pratt students of African and Latino descent. What started as a small group of humble Black alumni has evolved into an organization that has raised millions of dollars to support students who are in financial need.
Source:
Black Tie Magazine/
Photo by Nick Hunt of PatrickMcMullan.com.
Read more about BAP's co-founder, Dwight C. Johnson
HERE
. To date, BAP has awarded scholarships to 940 students, and has an endowment of over $1 million dollars.