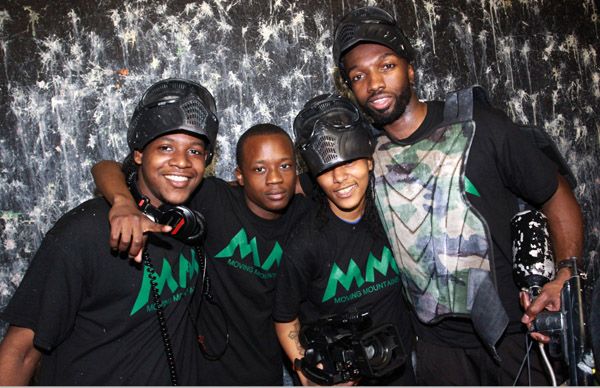 Actor Jamie Hector (R) along with youth from Moving Mountains, Inc., attend the 1st Annual Moving Mountains Weekend on June 12, 2010 in New York City.

Jamie Hector is best known for his roles on HBO's The Wire and NBC's Heroes, but he says that his favorite role is as the founder of Moving Mountains, Inc., a nonprofit organization that works to improve the lives of youth by developing their artistic talents, and encouraging them to pursue their dreams while building character.
On June 12, 2010, Jamie's celebrity friends joined him for his organization's 1st annual Moving Mountains Weekend in New York City. The weekend began with a paintball tournament at NYC Paintball in Long Island City Queens. All teams who played sponsored a package that benefited the organization's summer programming that helps to keep the youth off the streets and active within their communities.
Later in the day, guests attended an honoree's luncheon honoring NY WBLS radio personality Egypt with the Image Award, Actor Michael K. Williams and Robert Vasquez with the Humanitarian Award, and Gifted Apparel for their continued support of the Moving Mountains organization.
DJ Fa Self, Egypt, Jamie Hector, JD Williams and Michael K. Williams attend Moving Mountains Inc.'s 2010 Fund Raising Weekend on June 12, 2010 in New York City.

"It's a great thing to have all of you come out to support Moving Mountains at our first annual gathering. I want to thank you all for coming out and playing a wonderful game of paintball with us today, and I definitely want to say to all those who we're honoring today, you definitely make a difference in not only our lives at Moving Mountains, but in the lives of others as well," shared Jamie.
For more information about the Moving Mountains organization, please visit
http://www.movingmountainsnyc.org/index.php
.
Photos: Wireimage