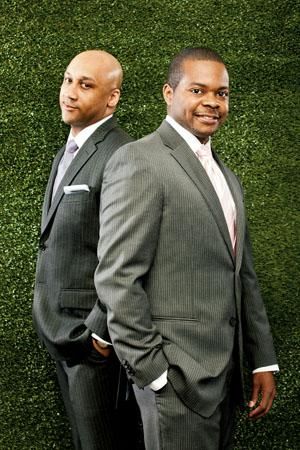 "How would you feel if you were the only minority in a room of 1000 people? Well that was me two weeks ago when I attended a huge climate change event in our nation's capital. The event was simply spectacular...a multi-platinum selling recording artist as the entertainment, premium open bar, leaders from the country's burgeoning multi-million dollar renewable energy companies and they spared no indulgences, the only strike against this stellar event was the lack of diversity. Normally, this wouldn't be a big deal, but the reason that this is a major issue, is that the clean energy movement may be the single most important economic shift of our generation and minorities can have a major stake in it, if we act now! Our first green president, Barack Obama allocated 500 million dollars for green job training programs...but who will have access to the training and the new green jobs?" --
Rhon Hayes, co-founder, GREEN DMV

Meet Rhon Hayes (pictured on the right) and Philip O'Neal, founders of GREEN DMV, a non profit organization that has made it possible for disadvantaged communities to have access to training for new green jobs. After Rhon and Philip graduated from Elizabeth City State University in North Carolina, they moved to Washington, DC and soon created the organization to ensure that inner city communities aren't left behind in the green movement.
The social entrepreneurs have created the Greater Washington Green Job Corps program, that trains individuals from disadvantaged backgrounds for jobs in the green economy. Residents are trained to weatherize homes, businesses and federal buildings, install solar panels and perform energy audits. Graduates have gone on to work in renewable energy companies and found individual success within the growing clean energy sector. Another notable accomplishment is the "Retro-Rescue" project, which retrofitted Gospel Rescue Ministries, a Washington, DC homeless shelter to reduce their energy costs and to expose a disadvantaged population to green jobs.
As a result of their work in low-income communities, the organization has been
recognized by EPA Administrator Lisa Jackson
, and Washingtonian magazine has honored them with the 2010 Green Award, which honors those who protect the environment and teaches others the importance of eco-friendly living. And, I'd like to note that Rhon and Philip are financing this organization entirely with their own funds!
In July, the organization will host a fundraiser honoring Van Jones, former Special Advisor for Green Jobs in the Obama Administration. Learn more about their other initiatives, the GREEN DMV Business Program and Green Kids! by visiting their website,
http://www.greendmv.org/
.
Photo: Matthew Worden