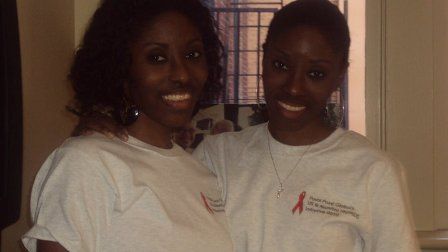 In 2009, twin sisters Hassanatu and Hussainatu Blake founded Focal Point Global, a Baltimore, Maryland based non profit organization that uses technology to link and educate youth around the world on global issues, such as poverty and HIV/AIDS. Hassanatu shared, "We decided to start an organization where youth can connect on an international level with their peers and create social change in their communities." Their goal is to create an exchange of global issues and social practices through international partnerships that strengthen youth education worldwide.
The organization recently initiated its first pilot project, the US-Namibia HIV/AIDS Education Initiative, that involved Baltimore and Namibian students discussing HIV in their respective communities via Skype, an application that allows people around the world to communicate via video and other methods. The three day Skype conference included youth from Baltimore Educational Scholarship Trust (B.E.S.T), an educational scholarship consortium in Baltimore, Maryland, and with Mondesa Youth Opportunities (MYO), an after school program in Swakopmund, Namibia. The students identified the risk factors and emerging issues of acquiring HIV/AIDS in their communities, built an international partnership through educational exchange about HIV/AIDS, and developed a key activity to initiate at their respective schools and programs that can reduce the spread of HIV/AIDS in their communities.
Hassanatu and Hussainatu Blake shared, "The world's youth are the hardest hit by HIV/AIDS. Thus, it is essential for our youth to learn from one another to become the greatest weapon to combat this disease. Focal Point Global is dedicated to developing informative youth through innovative online peer education for social change. We are fortunate to work with others around the world, who are committed to educating our youth for a better tomorrow."
Learn more about FocalPoint Global at
http://www.focalpointglobal.org/
.