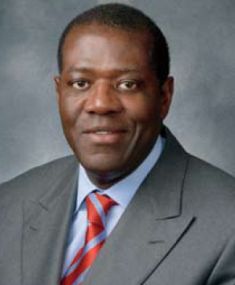 Why would philanthropists choose to spend all their money now, instead of leaving some behind?
In a new report released this week,
Turning Passion Into Action: Giving While Living
, The Atlantic Philanthropies explores the practice of "Giving While Living," and makes the case for this unique and bold type of philanthropy.
Atlantic, which by 2020 will become the largest foundation ever to spend down its endowment, defines giving while living as the decision by a donor to spend his or her philanthropic resources while alive, often as an active participant in the giving program. In this report, Atlantic aims to inspire people at varying levels of wealth to consider giving while living.
The report includes profiles of eleven philanthropists who are giving while living, and one of those featured is business executive and philanthropist Anthony Welters.
Hailing from the Bedford Stuyvesant neighborhood of Brooklyn, New York, Welters built AmeriChoice, an HMO that was acquired by UnitedHealth Group in 2002. This brought Mr. Welters and his wife Bea considerable wealth. Through their AnBryce Foundation, the Welters founded Camp Dogwood Summer Academy in rural Virginia for low income children and families, that provides academic support, character development and leadership training. The couple funds the entire operation, at a cost of $1 million per year. The Welters have also created the AnBryce Scholarships at NYU Law School, Mr. Welter's alma mater, that pays full tuition for 30 students each year, and a $10 million endowment to fund scholarships for NYU undergraduates.
Mr. Welters shares in the report, "Philanthropy isn't something that happens overnight. It builds over time. I saw an opportunity to be supportive of others, in the same way that people were supportive of me. As I became more successful, I continued sharing with others. It's what my wife and I do in the normal course of our lives."
Also included in the report,
Giving While Living
, are tips for donors considering giving while living, a breakdown of the best proven methods for a giving while living practice, and a resource guide to philanthropy advisors, seminars and web resources. Most of all, the report highlights the dramatic social impact of giving while living.
View the report
HERE
and the accompanying slideshow on Atlantic's website that features philanthropists profiled in the report, and their views on giving while living
HERE
. A full PDF of the report is available online, and to request a hardcopy of the report, please contact Tricia Rosensohn,
t.rosensohn@atlanticphilanthropies.org
.