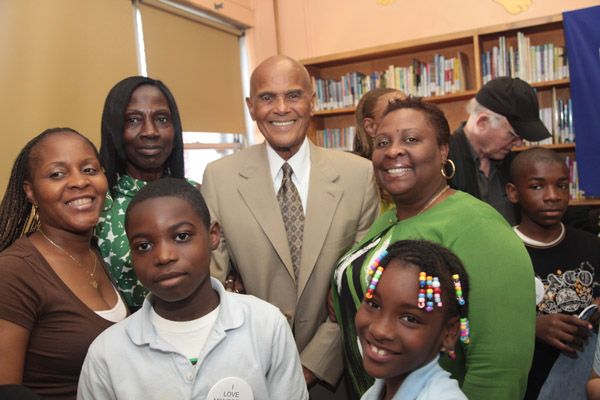 Actor Harry Belafonte (center), Mentoring USA Honorary Chair, attends the 2010 Mentoring Recruitment Call to Action at PS 154 on June 15, 2010 in New York City.

Photo: Wireimage
Mentoring Champions Harry Belafonte and Susan Taylor Joined Mentoring USA and NYC Schools Chancellor Joel Klein in Sounding "Mentoring Recruitment Call to Action"
(Tuesday, June 15th--Harlem, NY)---Nineteen Harlem public school children, who participate in the school based program of Mentoring USA, presented New York City Schools Chancellor Joel Klein with a special hand-crafted "memory book," complete with sketches and photographs chronicling their school years' "mentoring memories."
The event took place on Tuesday, June 15, 2010 at the Harriet Tubman Learning Center (PS 154) in Harlem, where the children attend school. Joining Chancellor Klein, who received this one-of-a-kind treasure because of his on-going support of mentoring programs, were mentoring champions: Mentoring USA Honorary Chair, the legendary Harry Belafonte; Board Director of HELP USA and Mentoring USA, actor and philanthropist, Charles Grodin; Founder of the National CARES Mentoring Movement and former Editor-in-Chief of Essence Magazine, Susan L. Taylor; and Chairman of Mentoring USA, Matilda Raffa Cuomo, to sound a "mentoring recruitment call to action," particularly for males, the most needed mentors.
The students listened with attention to Harry Belafonte who told them to "live up to your own expectations, we are here to help you." Susan L. Taylor told the gathering, "Our community is in trouble, we need you to stay in school, graduate, do well and come to your community to help. "We need Black men, particularly, to volunteer as mentors—the experience is invaluable for both the adult and the child."
Mentoring USA Honorary Chair, Harry Belafonte; and Susan Taylor, Founder of the National CARES Mentoring Movement
In addition, expansion of Mentoring USA programs was announced as a result of a grant from Verizon. The grant will facilitate plans for expansion in East New York, Brooklyn, Syracuse and Queens. Also attending the festivities were Jim Gerace, Verizon President of the New York Region; Linda Mann and Michelle Blake Wilson, USTA Eastern; and Whitney Brown and Aaron Miner of NYC Service. "Verizon mentors have been working with P.S. 154 students for over a decade," said Jim Gerace, Verizon President of the New York Region. "Building on the tremendous success of the P.S. 154 program, we are proud to be able to support the expansion of the program throughout New York City and into Central New York, and look forward to many years of continued partnership."
Mentoring USA, founded by former first lady of New York, Matilda Raffa Cuomo, is an effective, early-intervention mentoring program to prevent school dropout. By providing mentors at schools, community centers and foster care agencies, Mentoring USA helps children, ages 7 to 21, improve their self esteem through financial literacy training, nutrition and wellness, and anti-violence education. The Mentoring USA model has proven to be effective in helping a child to reach his or her full potential. When each child is matched with a trained, caring, adult volunteer mentor on a one-to-one basis, the child's grades improve, school absenteeism minimizes, and children gain confidence and hope for the future.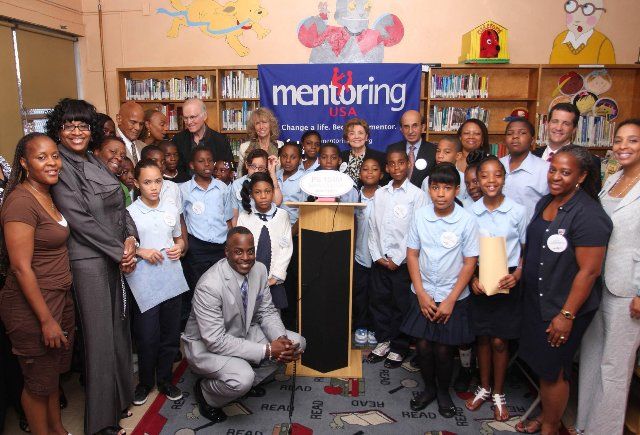 Mentoring USA special guests and supporters from the USTA Eastern and Verizon join NYC Schools Chancellor Joel Klein, Mentoring USA Founder, Matilda Raffa Cuomo, and Stephen Powell (front left, kneeling), Executive Director of Mentoring USA for a group photo.
For more information, visit
http://www.mentoringusa.org/
.
Photo credit: Martyna Borkowski