The Insider series is back! This feature is a behind the scenes look at the movers and shakers in philanthropy, as well as the non profit sector, education, grantmaking and other related fields. You'll meet social entrepreneurs, individuals who work for foundations, leaders of your favorite celebrity foundations and more. Let's meet our latest Insider, Karol A. Mason! This seasoned grantwriting professional has generated $5 million dollars in grant funds, and specializes in small to mid-sized nonprofits established by persons of color and/or working specifically to address the needs of communities of color related to arts/culture, education, and social services.
By Akira Barclay, Contributor
BlackGivesBack NY
In the philanthropic community, the need for creative, thoughtful and highly trained professionals in fundraising and grantmaking is now greater than ever. Many professionals, both current and aspiring have turned to specialized academic and training programs to sharpen their skills. In New York City, the Heyman Center for Philanthropy and Fundraising at New York University gives fundraisers, grantmakers and individual philanthropists the opportunity to earn a M.S. degree and perfect their craft in one of the world's most vibrant philanthropic communities.
Karol A. Mason is one such professional. An experienced writer and President/Wordsmith of
Word to the Wise
, a Philadelphia-based writing services company specializing in grant proposal writing; Karol is a 15-year veteran of the nonprofit sector. The proud Baltimore native tells BlackGivesBack why she chose to pursue the M.S. degree and shares some of her wisdom on proposal writing success. Read on to learn more about our latest Insider.
How did you get your start in philanthropy?
Like many, my career in philanthropy did not begin on a typical path. I spent nearly 15 years working in the nonprofit sector as a public relations/communications professional in Baltimore, Maryland. I used my undergraduate degree in telecommunications from Morgan State University to its fullest advantage, serving as interim public relations director for the Baltimore Bicentennial Celebration, Inc., chief speechwriter for the Baltimore City Public School System, and public relations manager for the African American Cultural Center of Towson University. While pursuing a MA in mass communications from Towson University, I became a volunteer member of the grants committee for my church's enrichment academy. The program received funding and from that point on I became enthralled with the grant writing process.
After completing my degree, I moved to Philadelphia and started my writing service company, A Word to the Wise, specializing in grant writing and fundraising/development communication. I decided right away that my niche market would be small to mid-sized nonprofits established by persons of color and/or working specifically to address the needs of communities of color related to arts/culture, education, and social services. My first client was the Grace Baptist Church of Germantown After School Program and they too received funding. Within weeks of receiving that initial funding, I applied for a scholarship for a 12-week fundraising course with the Association of Fundraising Professionals in conjunction with Villanova University. After that, I attended as many free and paid fundraising and grant writing workshops/seminars as possible.
While growing my business, I accepted a full-time grant writing position with the National Adoption Center (NAC) and its local affiliate, the Adoption Center of Delaware Valley (ACDV). I really honed my skills during my time there. From there, I moved on to serve as development director for Breakthrough of Greater Philadelphia. Now, nearly some eight years later my company continues to thrive and I have surrounded myself with an outstanding group of women in philanthropy including my original philanthropic mentor, Kelly Resinger, Director of Development and Community Relations for Crossroads Program Inc; Kristina D. Palmer, Director of Individual Gifts for the Apollo Theater Foundation, Inc; and Aisha Winfield, Executive Director for the Blues Babe Foundation and Founder of Jr. Music Executive. Mr. Jim Reed, Director of External Affairs for Verizon was also instrumental in my career, because he gave me some sage advice. And I am paraphrasing here: "Karol, you have found something in fundraising that you really love – grant writing. Stick to it. Master its ins and outs. Too many fundraisers try to be pros at everything. You can't. Fundraising is time-consuming. Be the best at this one thing and I guarantee that you will never be without work. " His advice has proven golden. I am really looking forward to what fruit the next chapter of my philanthropic career will bear.
You have been successful raising major funding through grants. What is the key to your success?
Yes, I have been quite successful in raising major funding for various small to mid-sized nonprofits in the mid-Atlantic region including the
Blues Babe Foundation
, the
African American Museum in Philadelphia
, Breakthrough of Greater Philadelphia, the National Adoption Center, the Adoption Center of Delaware Valley – just to name a few. In my nearly eight years of experience my efforts have generated approximately $5 million dollars in grant awards overall. This is no small feat! It has meant that I have spent countless hours in meetings with development directors, program leaders, executive directors, and financial officers and prepared thousands of proposals, letters of request, letters of intent, budgets, budget narratives, etc. It also means that sometimes I have spent anywhere from 8 to 15 hours per day doing nothing but writing. You have to love grant writing! It is really a commitment.
(In photo: Cameron Washington, Premier Event Designer and Fashion Specialist of Cameron Washington, Inc. and Karol at the 4th Annual Heritage Gala of the African American Museum in Philadelphia).
Faith, hardwork, and integrity are the keys to my success. I believe that a business woman/man has to believe in the unseen and work towards that goal. For me, that has meant research, planning, implementing, and evaluating all aspects of my business – including choosing my company name and logo to identifying prospective clients. I choose my clients as much as they choose me. I have learned to trust my intuition. I ask the hard questions and I will challenge anything that may be considered unethical. My clients know from the onset that we will operate above the board or as my contracts indicate, I will terminate services within the proper confines of the agreement. The final key to my success is the unwavering support of my family and closest friends. My parents, Edward and Sheila Mason, and my life-long friend, Wayne Sykes were the initial backers of my business. Several of my uncles and aunts were also very supportive.
What is your advice for crafting a winning proposal?
My advice for creating a winning proposal is simple – read the guidelines and follow the directions! No one is guaranteed funding. I tell this to my clients all of the time. Grantwriting is like the stock market – it is an investment. Sometimes you win and sometimes you lose, but you can better your chances if you do your homework. Give the grantmakers what they ask for. If they say five pages, double-spaced, arial font, bound with a single paperclip in the upper left hand corner; that is exactly what they want. Submit something else and automatically you are weeded out. The belief is that if you can't follow directions in preparing the submission/proposal, you will not follow directions with administering the funds. Secondly, employ some form of follow up communication whether you receive funding or not. If granted an award, send a thank you note and/or call. If you are denied, send an email requesting feedback on how to improve your future submissions.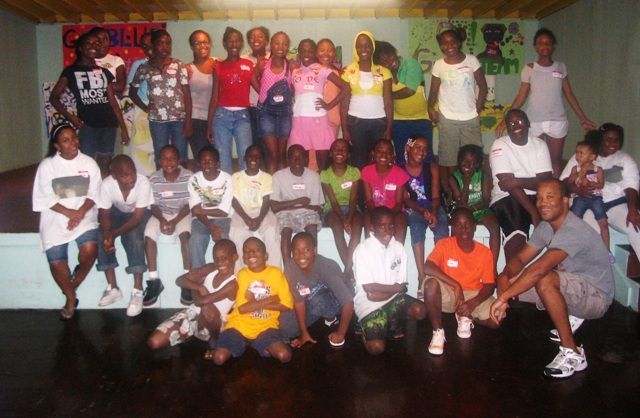 Campers and Staff of Camp Jill Scott (R&B singer), the Blues Babe Foundation
You are currently a Masters Candidate in the NYU Heyman Center for Philanthropy. Why is it important to you to earn this specialized advanced degree?
A specialized advanced degree from NYU Heyman Center for Philanthropy provides additional professional credibility. It sets me apart from colleagues by showing that I have not only the professional experience, but also the academic foundation thereby making me a strong and balanced fundraiser. Furthermore, New York City is recognized as the nation's and I would contend, the world's philanthropic nexus and attending NYU puts me in the epicenter of opportunity. Since beginning the program, I don't even worry when I run out of my business cards at functions, I just pass out my Heyman Center business cards. Though I have a solid and growing reputation in the philanthropic sector, NYU is NYU! A smart businessperson knows an advantage and uses it to open doors just a little wider!
What do you like most about the program?
I like that the program is challenging and led by renowned, working fundraising professionals. Students are really being taught by the best of the best! I relish learning from such top-notch working professionals.
Please tell us about some of your most recent projects.
Currently, I am working on capacity building grants and programmatic materials for the Blues Babe Foundation, preparing fundraising/development collateral materials for LBV Foundation (a newly established organization), and preparing for the June 15th launch of my blog, Insights from the Grant Guru. Additionally, my company is expanding to include the midwest region, under our newly named Vice President and Partner, Tiffany Edwards. Tiffany also has 15 years of senior management and executive experience in both nonprofit and for profit organizations. Her experience encompasses strategic fund development, sales, marketing and grant writing. She holds a Certified Fund Raising Executive (CFRE) certification and is currently pursuing a Masters in Philanthropic Studies at Indiana University Purdue University Indianapolis.
To reach Karol and Tiffany at A Word the Wise, email whoiswise@aol.com or call 215-439-7505. Beginning June 15th, tune into Karol's blog Insights from the Grant Guru at
http://www.grantguru.blogspot.com/
.