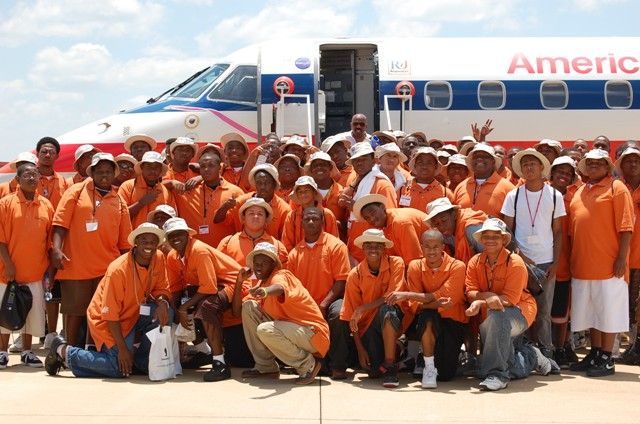 Steve Harvey with young men from the 1st Annual Steve Harvey Mentoring Weekend (Photo credit: Patrice Tudor)
Steve Harvey Welcomes 100 Teenage Boys to Dallas for 4-Day, 3-Night Mentoring Experience
On June 17-20, 2010 in Dallas, comedian, best-selling author and top radio personality Steve Harvey will host a blowout Father's Day Weekend with a second unforgettable year of the Steve Harvey Mentoring Weekend for Young Men. A 4-day, 3-night transformative experience, the 2nd Annual Steve Harvey Mentoring Weekend for Young Men will serve 100 teenage boys with empowering presentations and summertime activities that build their road to the future. A mentoring initiative to inspire the next generation of men with opportunities not found in any classroom, Steve Harvey will welcome special guests such as Dr. Steven Perry, Lee Haney, Stephen A. Smith and other leaders from the business and entertainment worlds.
A sprawling interactive experience on Harvey's ranch in Dallas, the Steve Harvey Mentoring Weekend for Young Men is the brainchild of Steve Harvey to bring guidance to young men who are without fathers in their lives, to help encourage their dreams and uncover their strengths to build the future they want. Bringing together 100 teenage boys aged 13-18, between grades 8-11 from single-mother households across the country, the Steve Harvey Mentoring Weekend will teach and share the Principles of Manhood and dream building with other life-affirming sessions. Addressing the needs that will enable them to become better men who are emotionally, politically and economically strong, the motivating sessions include fitness and health, college, a Do It Yourself session, entrepreneurship, finance, style, manhood, dream building, and activities such as tennis, fishing, golf and paintball. Serving 100 teenage boys in the first Steve Harvey Mentoring Weekend last year, ten (10) of last year's participants will return to Dallas this year to serve as junior counselors.
Steve Harvey shared about the importance of this weekend: "The real necessity for the mentorship program is the lack of fathers just being fathers. If every father were to accept the challenge before him as a father, there would be no need for mentoring. That is another program I'm keenly interested in developing, how I can help share with fathers how to step up into the role. I myself had to grow, and understand the difficulties that some fathers face, but we need to find ways that a man can take to finally fulfill his role as a father."
We'll have event highlights from our newest contributor, Froswa' Booker Drew. Froswa' was previously featured on BlackGivesBack
HERE
, as the first person profiled for the Insider series. Welcome BlackGivesBack Dallas!
For more information about The Steve Harvey Mentoring Weekend for Young Men or to make a donation, please visit
http://www.steveharveyfoundation.com/
.
Wendy's Helps Give the Gift of Love This Father's Day:
While you're out this weekend, stop by Wendy's for the 2010 Father's Day Frosty Weekend. The campaign celebrates dads and raises money for adoption. Wendy's will donate 50¢ for every Frosty and $1 for every Frosty pin-up sold to the Dave Thomas Foundation for Adoption (DTFA).
Money raised online in the weeks leading up to Father's Day weekend and in-store during the holiday weekend will directly support Dave Thomas Foundation's signature program – Wendy's Wonderful Kids (WWK). The program awards grants for adoption agencies to hire recruiters to aggressively work to place foster children into adoptive families. Wendy's Wonderful Kids is active in all 50 states to place foster children with the loving families they deserve. For more information, visit
http://www.frostycard.com/
.