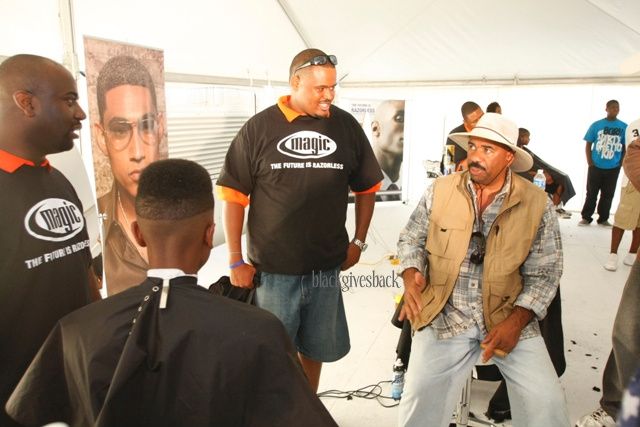 By BlackGivesBack Dallas contributor Froswa' Booker-Drew
Comedian, best-selling author and top radio personality, Steve Harvey, provided 100 teenage boys the experience of a lifetime during his 2nd Annual Steve Harvey Mentoring Weekend. Held during Father's Day weekend on June 17-20 in Dallas, Texas, the event encouraged the young men to explore their potential and possibilities. With the support of many sponsors such as SoftSheen-Carson, the Mentoring Weekend offered participants an experience that they would never easily forget.
According to Kevin Folkes, Vice President of Sales at SoftSheen-Carson, the weekend provided a great opportunity to engage with young men and offer options outside of their normal environment. "If we touch a portion of young people here to have different insight, we have been successful." Folkes stated the event was designed to make sure that young people take responsibility for their own future. Participants are expected to be accountable and conduct their lives in a professional manner based on the skills given to achieve success. "The young men have a good understanding of success but they lack the resources and role models to do what it takes to ultimately become successful." For Folkes, this goal of the event has parallels to his own life journey. "I had tremendous opportunities to have mentors in my life. I had a teacher in junior high school take four to six kids to his property where he had a lake and we fished. This gave me the opportunity to see what the other side of America looked like and it opened my eyes." The same concept is what the Mentoring Weekend was created to provide.
Kevin Folkes, Vice President of Sales, SoftSheen-Carson, speaks to the young men during a panel session.
The weekend began with haircuts and grooming for the young participants at the Harveytown Barbershop provided by SoftSheen-Carson, and a welcome dinner sponsored by Glory Foods and Hillshire Farm. Panel sessions featured community leaders and corporate executives who shared advice on topics such as, 'What It Takes to Get Into and Stay in College,' by Dr. Steve Perry of the Urban Prep Academy and Clifton Crosby of College Summit; and 'You Can Be Me,' featuring Earl Lucas, Design Manager for Ford Motor Company; Kevin Folkes of SoftSheen-Carson and Todd Bullock of Hillshire Farm. 'Manhood 101' and 'Roles and Requirements of Men' featured Steve Harvey as the speaker, and a screening and discussion of "Fair Game," an innovative documentary featuring interviews with prominent black males was sponsored by the 21st Century Foundation and Kentucky Fried Chicken. And the weekend just wasn't for the young men, but their parents and guardians also received helpful information. The FBI sponsored sessions on gang awareness/identification and how to keep their children safe on the internet that were conducted by FBI special agents.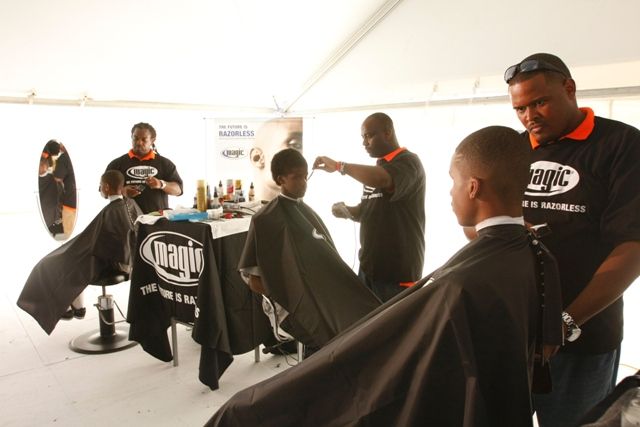 In photo above: Young men receive grooming and haircuts at the Harveytown Magic Barbershop, courtesy of SoftSheen-Carson, the #1 ethnic haircare brand in the world. The company provided a full-service barbershop and provided professional grooming tips for all attendees. The barbershop was a fully functioning pop-up barbershop featuring free barber services, including cuts, shaves and trims from professional barbers. In addition to services, the young men were given tips and tricks for proper grooming from the pros. Each guest was given an exclusive gift bag featuring Magic shave and other mens grooming products to follow-up their grooming routine after the event.
Other activities included fishing, physical fitness activities with US Army Drill Sergeants, football, cardio tennis with USTA, paintball, golf, visiting American Airlines for a tour of a plane, and an interactive construction experience with Home Depot. "All of the sponsors have a point of reference or some part of their life in which they can relate to the young men. This is a way to reach out to the next generation of leaders," said Folkes. Additional sponsors included Comfort Inn, State Farm Insurance, Ford Motor Company, Glory Foods, Budget, Kmart, Outback Steakhouse, and Sam's Club.
In addition to the annual weekend, follow up is conducted to ensure that participants remain focused to continue in the program. Participants are invited back to serve as junior counselors the following year.
Folkes offers a suggestion for those who want to make a difference in their communities. "The key objective is to take the basic value of this program which is universal. The same thing can be done working one on one as a mentor or being involved as an entire community. Share your life or career skill to make a difference." Director of Marketing for SoftSheen-Carson, Jennifer Matthews, was also elated to be a part of the event. "The level of organization is amazing. We wanted to be here. We want the young men to take something away that will be with them for the rest of their lives."
About The Steve Harvey Foundation & Mentoring Weekend
The mission of the Steve Harvey Foundation is to mentor young men through the Principles of Manhood to enable them to achieve their dreams and become better citizens and better men who are emotionally, politically and economically strong. Hosting the inaugural Steve Harvey Mentoring Weekend for Young Men during Father's Day Weekend in 2009, Harvey brought 100 teenage boys and their guardians from around the country to his ranch in Dallas. The program's success inspired Harvey to expand his mission nationwide and create 10 satellite mentoring programs for 2010 in New York, Atlanta, Chicago, Tampa, Washington DC, Charlotte, Detroit, Philadelphia, New Orleans and Shreveport. For information about The Steve Harvey Mentoring Weekend for Young Men or to make a donation, please visit
http://www.steveharveyfoundation.com/
.
Photos courtesy of Bratskeir & Company and W&W Public Relations, Inc.