By BlackGivesBack Atlanta contributor Lisa Brathwaite
In 2008, Washington Redskins defensive end Vonnie Holliday lost his sister-in-law to brain cancer. Chandria Kent's five year battle has inspired the football player to donate time and money to research and a cure for the disease. In the photo above: Jeannie Rouse, mother of Chandria Kent and Eboni Holliday; Vonnie Holliday, Eboni Holliday; Darin Kent, husband of Chandria Kent; Dr. Wally Curran, executive director of the Winship Cancer Institute of Emory University and associate vice president for cancer, Emory University Woodruff Health Sciences Center.
On June 10, 2010, The Vonnie Holliday Foundation and Saks Fifth Avenue at Phipps Plaza in Atlanta, Georgia held a benefit night of fashion and football, raising money for the Brain Tumor Program at the Winship Cancer Institute at Emory University. Guests wore gray, the signature color of the evening in recognition of brain cancer, and nearly $10,000 was raised at the event. NFL Hall of Famer Harry Carson and CBS Sports Commentator Shannon Sharpe were among the night's many supporters, browsing themed sports tables and bidding on silent auction items from spa and travel packages to autographed sports memorabilia.
Vonnie Holliday and NFL Hall of Famer Harry Carson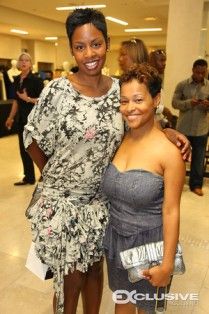 Vonnie Holliday of the Washington Redskins; Eboni Holliday, wife of Vonnie Holliday and sister of Chandria Kent and Brandi Williams, PR strategist for studio b public relations
*
blackgivesback opportunity alert
* Contributions to this cause are still being accepted. For more information, please contact Brandi Williams at brandi@studiobpr.com, or call 704-779-1100. To learn more about the work of the Winship Cancer Institute at Emory University, visit
http://winshipcancer.emory.edu/
.
Photo credit: ExclusiveAccess.Net