By BlackGivesBack Atlanta contributor Lisa Brathwaite
The message of the Big Kidz Foundation's Art of Life Canvas for Kidz Celebrity Art Auction & Experience held on July 17, 2010 was, "Life is a big canvas. Throw all the paint on it you can!" So artists and guests representing Atlanta's social, corporate, and philanthropic communities came out to the Mason Murer Fine Art Gallery and did just that.
Outkast member Antwan "Big Boi" Patton, Founder of The Big Kidz Foundation, put his paint brush where his left foot was and created one of the focal pieces of the organization's signature fundraising event. Art enthusiasts and novices alike were encouraged to bid on additional one-of-a-kind, authentic art offerings from over 20 celebrities such as Ludacris, George Lopez, Julius "Dr. J" Erving and the Real Housewives of Atlanta, as well as known artists, Fahamu Pecou and Andre Thompson—while exploring global art displayed throughout the gallery. Comedian/actor Faizon Love served as the evening's Emcee/host, and event sponsors included Aaron's, Grey Goose, Rolls-Royce Motor Cars Atlanta, BMI and Origen Partners.
"We're so excited about the support that we've gotten from the city, from the art community as well as celebrities. The city has supported us so much that our own Mayor Reed has created a canvas for this event," said Jennifer Lester, Executive Director of The Big Kidz Foundation. "And it's occurring during the height of the National Black Arts Festival—what a way to end it with our Canvas for Kidz, and the celebrities coming through to support Big Boi, Big Kidz Foundation and the arts."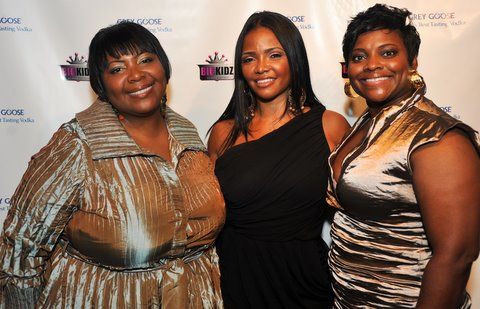 Jennifer Lester, Big Kidz Foundation Executive Director; Sherlita Patton and Dr. Joi Edwards, Big Kidz Foundation Vice Chair
Big Boi next to his work entitled, "Sir Lucious Left Foot" (featuring his own left foot), which fetched an easy $1,600; Artist Brandon Sadler with one of his works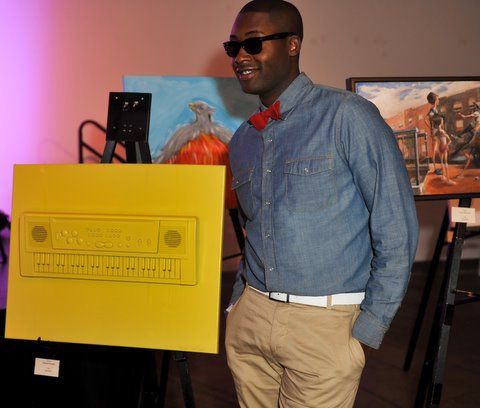 Fashion designer Michael Knight with his untitled work auctioned for the evening, along with the untitled pieces (L-R) of Atlanta Mayor Kasim Reed and artist Frank Morrison in the background
Tony Jones, Big Kids Board Member and Host Committee Chair with Emcee/host Faison Love, comedian/actor; Big Boi and Tiphanie Watson, Pulse Entertainment Group
Tommy Lester, Jennifer Lester, Natalie Hall and Big Kidz Board Member Kwanza Hall, Atlanta City Councilman - District 2
The Big Kidz Foundation's mission is to nurture the intellect of youth by providing them with culturally diverse experiences in the field of humanities, which will expand their leadership abilities and create socially conscious individuals. Hence, the night was a celebration of self-expression, showcasing music and dance as well as visual art.
"Once I started doing music, I always knew I wanted to give back. This is my way of giving back," said Big Boi, regarding his Foundation and the event. "I think it's important for kids to learn how to express themselves... My whole thing is, it's easier to mold a young mind than it is to repair a broken one, so we start them out young. My mother instilled this in me, and it's something I've always wanted to do."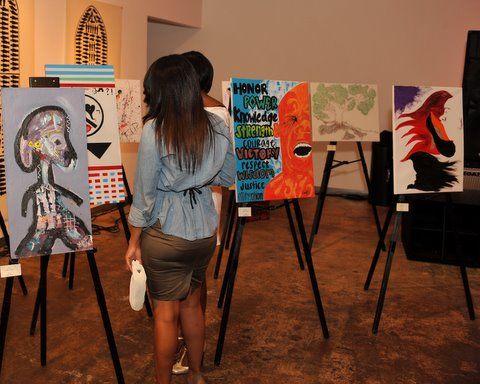 *blackgivesback opportunity alert*
$100 sponsors a child for a year of programming through the Big Kidz Foundation, with Big Voices, Big Moves, Big Talent, Big Business, Big Dreams and Big Hearts offerings. If the belief that, "cultural exposure, musical and literary expressions, and the invaluable experiences of travel makes a well-rounded person," resonates with you, put up your cash and give a kid a chance. More information on The Big Kidz Foundation can be found at
http://www.bigkidzfoundation.org/
.
Photo Credit: Alex Johnson III Photography, ajiii3@aol.com