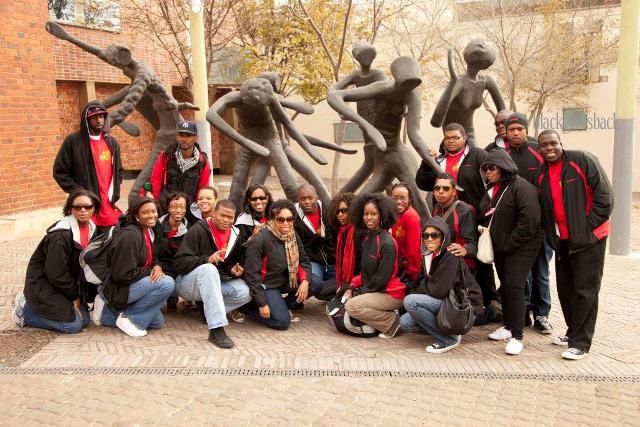 It sounds like a dream college course description: embark on cultural adventures against the backdrop of the world's biggest sporting event. No prerequisites, no professor, no syllabus, no books and no tests required. But for 21 students from 12 historically black colleges and universities (HBCUs), this "dream" is a real once-in-a-lifetime journey to South Africa.
The students are winners of the Coca-Cola "Open Happiness Tour," a video contest that sought creative and inspirational answers to the question: How does the Coca-Cola RAIN program inspire you? The Coca-Cola RAIN "Water for Schools" initiative helps provide safe drinking water for schoolchildren in Africa and around the world. Coca-Cola sent the 21 video contest winners to South Africa on June 25th for five days, to learn more about Africa's water crisis first-hand when they visit a local orphanage whose water system is in dire need of repairs. The Company will make a donation to assist with the repairs of the water system and, once the project is completed, the orphanage will have clean running water for cooking, bathing and other necessities.
They will also meet with actor Idris Elba, whose father is from Sierra Leone and mother is from Ghana. Elba will spend time with the students throughout the trip, discussing water stewardship and its importance to Africa and his passion for the World Cup, as well as providing his unique perspective on the local culture.
"I look forward to sharing my love for Africa with the students," said Elba. "Through experiencing Africa's rich history and the wonderful diversity of its culture, the students will be amazed and enriched. I hope they grow to love Africa as much as I do."
During their visit, the students will meet with executives from Coca-Cola South Africa, who will share what the Company is doing in support of the RAIN project as well as learn about other initiatives throughout Africa, including HIV/AIDS and malaria prevention, access to education, job creation and humanitarian assistance.
The students also will have the opportunity to explore more facets of South African culture when they take a trip to the Nelson Mandela National Museum, go on a Safari and attend a FIFA World Cup match. In the photo above, the students visit the Constitutional Court Building, once the site of a prison where Nelson Mandela was detained.
"The Open Happiness Tour allows Coca-Cola the opportunity to engage and inspire young African Americans while connecting them with their roots," said Yolanda White, assistant vice president, African American Marketing, Coca-Cola North America. "We hope experiencing the diverse culture and meeting people who will be in South Africa for World Cup will inspire these students to view the world differently and make a commitment to creating a better place for everyone to live."
Pictured are student winners:
Funbi Oluwole
,
Clark Atlanta University
;
Alisa Routh & Justin Smith,
Florida A&M University
;
Tatiana Mosley & Junious Smith III
,
Fayetteville State University
;
Jasmine Singleton & Graylin Taylor
,
Ft. Valley State University
;
Jelyse Dawson & Derrill Miller
,
Grambling State University
;
Lael Clark & Tremone Jackson,
Johnson C. Smith University
,
Stephen Love
,
Morehouse College
;
Ashley Canty & Victor Pimentel
,
Norfolk State University
;
Edifon Ette & Sherron Douglas
,
Southern University
;
Karen Evans
,
Spelman College
,
Cherish Rush & Ryan Small
,
Texas Southern
,
Theresa Scales & Steve Morgan, Jr
.,
Xavier University
.
For more information about the Coca-Cola water stewardship programs, including the RAIN program, please visit
www.coca-colacompany.com/citizenship
.
Source and photo: Coca-Cola