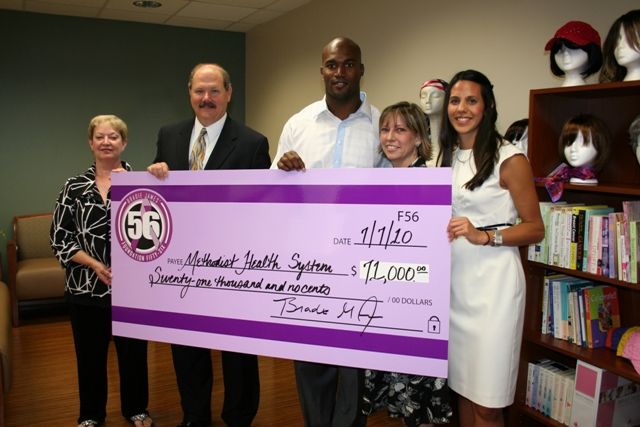 By BlackGivesBack Dallas contributor Froswa' Booker-Drew
Breast cancer patients and their loved ones have a new resource in their support system, thanks to a partnership between Dallas Cowboys Linebacker (#56) Bradie James and the Methodist Health System Foundation. James joined Methodist leaders on July 7, 2010 to unveil the new Bradie James Breast Cancer Resource Center at the Methodist Dallas Medical Center campus, and to present a check for $71,000 from his Foundation 56 to the Methodist Foundation. James' contribution provides key funding for the new center and other ongoing breast cancer outreach services in his partnership with Methodist.
The new center provides breast cancer patients with access to on-site and online educational information and resources, including a private setting for one-on-one consultation services. Resource center services includes staffing by an American Cancer Society volunteer who can also provide personalized assistance with fitting wigs, scarves, and prosthetics.
The pledge from James' foundation for creation of the resource center within the Women's Imaging Center at Methodist Dallas, 1441 N. Beckley, was announced in May when renovation work began. Through his foundation and an expanding partnership with Methodist, the project also includes a breast cancer support group, and other outreach initiatives to expand screening, education, and detection services. One of the funded activities includes purchase of new digital mammography equipment for Methodist's existing mobile mammography unit to expand outreach efforts into the community.
The well-known Cowboys linebacker lost his mother to breast cancer while he was a student at Louisiana State University. He has since become a passionate advocate in the fight against breast cancer through the foundation he established to honor her life.
James and Methodist also partnered last October in a luncheon education event and mammogram sessions in which services were provided for 27 women who needed financial aid to obtain the potentially lifesaving screenings. The event is under development into a potentially annual project.
Pictured in above photo: Methodist Health System Foundation Grant Development Administrator Jennie Ball-Tissing, Methodist Dallas Medical Center President Michael A. Mayo, Bradie James, Methodist Mobile Mammography Manager Buffie Pleasants, and Methodist Dallas Assistant Vice President Operations Jessica Rangel.
About the Bradie James Foundation 56
James is currently partnering with agencies and expanding his outreach efforts throughout North Texas through his Foundation 56 to assist with financial outreach services and resources specifically aimed at reducing the impact of breast cancer on the lives of those with limited access to medical resources. To find out more go to
http://www.bradiejames.net/
.
Source: Press release