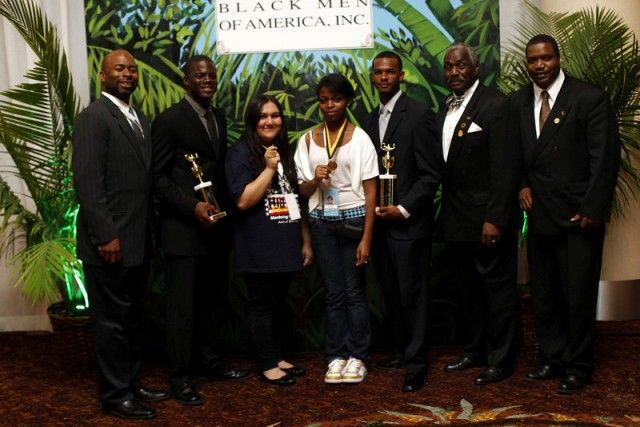 This photo was sent in by the 100 Black Men of Long Island, NY, to share with our readers that two of their students placed second in the 100 Black Men of America, Inc.'s national competition of its Dollars & Sense Program. They each were awarded $1000 scholarships at their 24th Annual Conference that was held on June 16-20, 2010 at the Westin Diplomat Resort and Spa located in Hollywood, Florida. Phil Andrews, President of 100 Black Men of Long Island shared, "The annual conference serves as a tremendous experience for both the mentors and mentees and enhances our ability to 'Mentor Across A Lifetime.' " For more information, visit their blog at
http://100blackmenoflongislandinc.blogspot.com/
.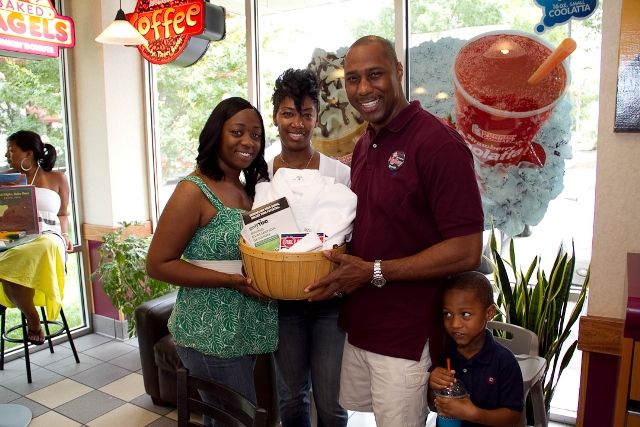 Charlotte, North Carolina: The IT Factor Media Group, LLC (IFMG) in collaboration with Dunkin' Donuts hosted "Dunkin' for Dads," in celebration of Fathers Day and to kick-off a summer reading initiative. Held on Father's Day, the community event showcased the importance of reading for all ages by displaying books and encouraged children and parents to sign up for a library card if they had not already done so. The morning was a huge "thank you" and Happy Father's Day to all of the men in attendance. In the photo above, Tonjameka Turner and Felisha Fletcher of IFMG awarded a Father's Day gift basket to Mark Pendergrass.
Those who brought children were truly excited by the Yo Gabba Gabba! coloring books sponsored by Bojangles Arena and Ovens Auditorium. Parents were given Dunkin' Donuts coffee mugs, and the gift baskets were complete with an Ovens Auditorium robe, Wii or Xbox 360 video game, 2 AMC movie passes, and coupons from Fuel pizza. One lucky father's basket had a GolfTec one hour session with a certified coach and PGA Member. Photos courtesy of IT Factor Media Group.
Upcoming Events
:
Check out the Events Page
HERE
for more information on these upcoming events and more!
Actress Terri J. Vaughn announces the Take Wings Foundation's 7th annual Angel Awards Benefit, hosted by Lamman Rucker and Denise Boutte with a special performance by songstress Angie Stone. The gala will be held on Saturday, August 21st in San Francisco. See previous post on the foundation
HERE
.
The
Special Needs Network
hosts their 5th Anniversary "Evening Under the Stars" Gala, a magical, musical night with special surprise musical guests benefiting children with autism and related developmental disabilities. The gala will be held on Sunday, October 10th in Los Angeles.