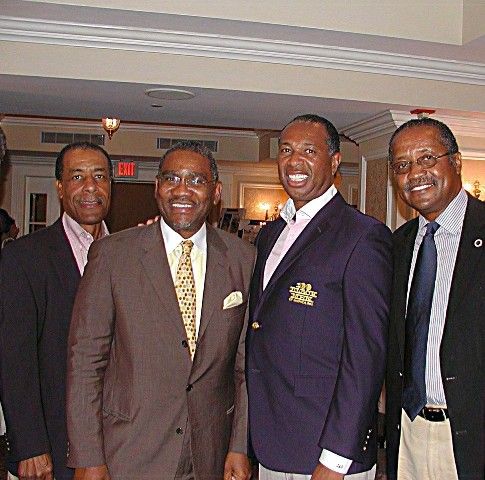 One Hundred Black Men Board members Felton "Buddy" Johnson, Congressman Gregory Meeks, Second VP Rev. Jacques DeGraff and President Phil Banks, Jr.
NEW YORK, NY, August 4, 2010– Building on the outstanding success of the last event, The One Hundred Black Men, Inc. of New York City (OHBM) held its Third Annual Golf & Tennis Outing on Monday, August 2, at the elegant Pelham Country Club, 940 Wynnewood Road, Pelham Manor in New York. On a picture-perfect day in Westchester County, 100 golf and tennis players descended on the links and courts at the Pelham Country Club with guests that included Congressman Gregory Meeks, Hon. Ken Jenkins, Westchester County Legislator; Reginald LaFayette, Westchester County Democratic Committee Chairman; former New York City Comptroller William Thompson; Nielsen's Ed Dandridge, Rev. David Kelly, members of the OHBM and dozens more. Guests were served a sumptuous buffet awards dinner and NBC4 News anchor DeMarco Morgan served as master of ceremonies.
OHBM Executive Director Craig Simmons, 2010 Honoree Paul T. Williams (second from right) with daughter Marlowe (2nd from left) and wife Amy, and 2010 Honoree New York State Comptroller Tom DiNapoli.
Following an invocation by OHBM 2nd Vice President Rev. Jacques DeGraff, OHBM President Phil Banks, Jr. took the stage to honor former OHBM President Paul T. Williams, Jr., President and Chief Executive Officer of the New York State Dormitory Authority with the "Service Award for MWBE Advocacy." New York State Comptroller Thomas DiNapoli was honored with the "Outstanding Government Reformer" Award, and Democratic Majority Leader and State Senator John L. Sampson was honored with the "Outstanding Leadership in the New York State Senate" Award.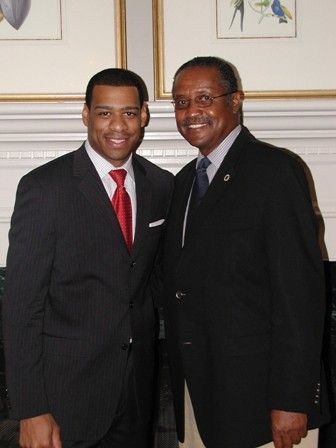 Golf and Tennis awards dinner master of ceremonies NBC4 Anchor DeMarco Morgan with Phil Banks, Jr., President of One Hundred Black Men, Inc. of New York
"One Hundred Black Men, Inc. is delighted to honor three remarkable men who have done so much for our State at this Third Annual Golf & Tennis Outing. Not only do we get to enjoy a day of sports, but we also get to raise money for an extraordinary cause," said OHBM President Philip Banks Jr. Horace Barker served as Chairman of the event and Phil Banks, III served as Co-Chairman. Honorary Chairs were former New York City Mayor David Dinkins and New York President of TCB Enterprises R. Lee Dunham. One Hundred Black Men, Inc. wishes to thank the following generous sponsors for contributing to the success of the event: BlueCrossBlueShield, Siebert, Brandford, Shank, LLC; and Barclays Capital. T-box sponsors were M.R. Beal & Company, Medgar Evers College and Pat Lynch Associates. Gift sponsors were TD Bank, News Corp., Moet Hennessy, UPTOWN Magazine, Legacy Magazine, and JPMorgan Chase.
Tameeka Norville and Tijuana Staley, owners of The Perfect Guest, LLC, event organizers of the Golf Tournament, welcome the players at the registration tent.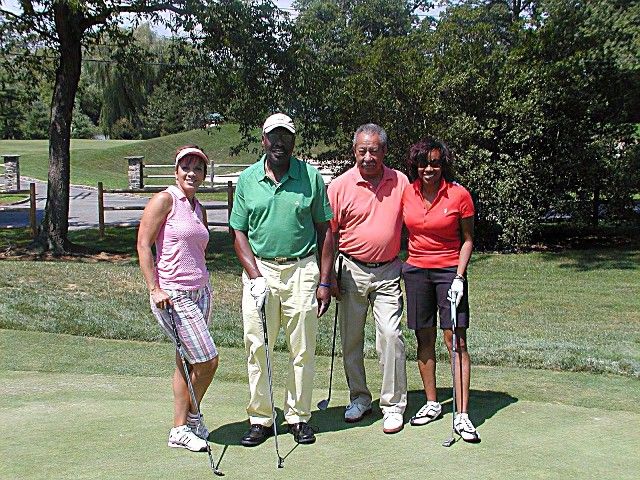 Carra Wallace, Bernard Beal, Earl Andrews and Michelle Chow-Tai
To get more information on next year's Golf & Tennis Outing, call (212) 777-7070 or email:
executiveassistant@ohbm.org
or visit the website at
http://www.ohbm.org/
. Also see the Facebook page at facebook.com/pages/One-Hundred-Black-Men-Inc-NYC.